House Speaker Nancy Pelosi (D-Calif.) didn't elaborate on whether she plans on delaying sending two articles of impeachment against President Donald Trump to the Senate, but again signaled that she isn't ready to commit.
"We don't know the arena we're in," she told reporters on Thursday morning, adding that "I don't care what the Republicans" in the Senate would do, accusing Senate Majority Leader Mitch McConnell (R-Ky.) of going "rogue" along with a "rogue president."
Pelosi said she won't choose impeachment managers or send the two articles to the Senate until the upper congressional body comes to an agreement on trial rules.
"When we see what they have, we'll know who and how many to send over," Pelosi told reporters. "The next thing for us … is when we see the process set forth in the Senate. We will have the monitors set forth and who we will choose."
Several reporters attempted to ask more questions about potential impeachment tactics, but she didn't elaborate on whether House Democrats will delay transmitting the two articles of impeachment: abuse of power and obstructing Congress.
But earlier in the day, another top Democrat in the House suggested that his caucus could withhold the articles indefinitely. Last night, Pelosi also wouldn't rule out whether they will be held in the House.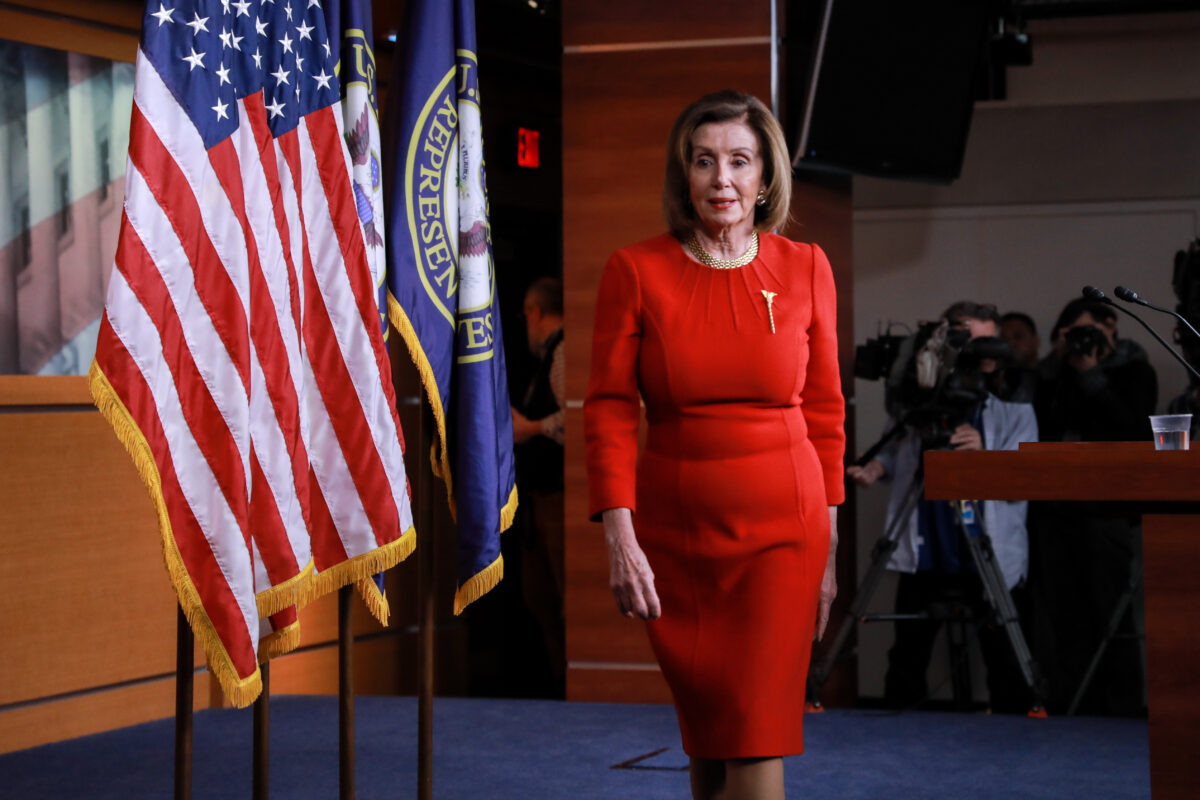 "The delay is made necessary because the majority leader of the Senate has made it very clear that he's not going to be impartial, he's not going to be fair, he will collude, if you please, with the White House—at least the White House's attorneys—to decide how he will go forward,"  Rep. Jim Clyburn (D-S.C.), the House Majority Whip, told CNN. "Why would the speaker of the House step into that without trying to determine exactly what the majority leader plans to do?"
Rep. Jackie Speier (D-Calif.), a member of the Intelligence Committee, told reporters Pelosi's delay strategy is a wise move.
"I think it gives her leverage; it gives the House leverage in terms of making sure that it's not going to be a kangaroo court over there," she told reporters. "If, in fact, they intend to not be an impartial reviewer of the facts, then it becomes a joke. And we're not party to a joke."
However, some Democratic members of Congress dismissed the idea that articles would be forever held in purgatory.
"I would doubt that," said Judiciary Committee Chairman Jerrold Nadler (D-N.Y.).
"I don't think there's anything that the Speaker said last night [to] suggest that it's permanent," noted Rep. Emanuel Cleaver (D-Mo.).
Amid the update on impeachment, McConnell suggested Pelosi is fearful of releasing the articles to the Senate.
"Speaker Pelosi suggested House Democrats may be too afraid to transmit their shoddy work product to the Senate. It looks like the prosecutors are getting cold feet in front of the entire country and second-guessing whether they should actually go to trial," McConnell said on the Senate floor on Thursday.
"If the Senate blesses this slapdash impeachment… if we say that from now on, this is enough… then we will invite an endless parade of impeachment trials," he said, adding, "We'd be giving future Houses of either party unbelievable power to paralyze the Senate at their whim."
Senate Minority Leader Chuck Schumer (D-N.Y.), speaking on the floor after McConnell on Thursday, accused the Senate leader of being partisan while alleging that McConnell couldn't defend Trump because arguments in favor of the president were "weak."
"Leader McConnell claimed the impeachment was motivated by partisan rage. This from the man who said proudly, 'I am not impartial, I have no intention to be impartial in the trial of President Trump.' What hypocrisy!" Schumer said.
Some legal experts have said that the move to delay sending the articles of impeachment is unethical, while others have noted that the Senate has the power to hold a trial over impeachment cases.