In a hotly contended special election to occupy a vacant House seat for the last four months of the current Congressional session, Democrat Ulster County Executive Pat Ryan defeated Republican Dutchess County Executive Marc Molinaro defeated.
Both Molinaro, New York's Republican 2018 gubernatorial nominee, and Ryan also won Aug. 23 primaries in different congressional districts and will be on November ballots seeking full terms in Congress.
Among losers in the state's preliminary nominations for November general election berths is Democratic incumbent Rep. Carolyn Maloney (D-N.Y.) who lost to Rep. Jerrold Nadler (D-N.Y.) in a showdown between veteran congressional reps with more than 60 years of combined experience in Washington, D.C.
New Yorkers cast Aug. 23 ballots in primaries for 63 state senate and 26 U.S. House seats. It is the state's second round primaries after state senate and congressional district maps approved by the Democrat-controlled General Assembly had to be redrawn under court order by a special master.
Going into the 2020 Census, New York had 27 congressional seats with 18 occupied by Democrats.
But the state lost its 27th congressional seat in post-Census reapportionment and the 26-district map adopted by the General Assembly was rejected as gerrymandering in court rulings.
The maps crafted by a special master now provide Republicans with a legitimate shot at winning up to 13 seats, according to some analysts.
Because the maps weren't approved until May, party contests for statewide positions, such as governor, were staged June 28 with congressional and state senate primaries set for Aug. 23.
Unlike many of the preceding primaries across 42 states, turnouts for New York's Aug. 23 primaries, staged just as many families vacation before school begins, appeared to relatively low and in line with 20-30 percent participation typical of non-presidential election year turnouts.
The Molinaro-Ryan race in the state's Congressional District 19 (CD 19) was one of two special elections on New York's Aug. 23 ballot and drew national interest because it is the first election for a competitive seat since the U.S. Supreme Court overturned Roe v. Wade in June.  Both parties viewed the decision as a momentum-builder going into the general election.
The Molinaro and Ryan campaigns spent $3.2 million in their clash to fill the seat vacated by Rep. Antonio Delgado (D-NY) when he resigned in May to become lieutenant governor.
With more than 95 percent of the CD 19 special election vote tallied, Ryan earned 52 percent of the vote.
Ryan also defeated two party rivals in the CD 18 Democratic primary and will square off in the November general election against state Assemblyman Colin Schmitt (R-New Windsor), who was not tested in a primary. CD 18 is rated a "tossup" district by analysts.
The other Aug. 23 special congressional election unfolded in CD 23 where Steuben County Republican Committee Chair Joe Sempolinski defeated Tioga County Democratic Committee Chair Max Della Pia and will serve the remaining four months of Rep. Tom Reed's (R-N.Y.) term. Reed resigned in May.
Unlike the Molinaro-Ryan affair in CD 19, however,  Sempolinski has agreed not to run for a full-term in November, making it a sideshow to what was the noisiest, most contentious primary on New York's Aug. 23 slate between Buffalo-area real estate developer Carl Paladino, a colorful and controversial frequent candidate, and former state Republican Committee chair Nick Langworthy.
With more than 95 percent of the CD 23 Republican primary vote tallied, Langworthy won by 2 percentage points and will be the favorite against Della Pia in the November general election.

Nadler Ousts Maloney
With more than 95 percent of the vote tallied at 5:33 a.m. ET, Nadler defeated Maloney by more than 30 percentage points. Nadler is now bound for a November election in which he will be the prohibitive favorite.
This incumbent-vs-incumbent primary clash was fostered by post-2020 Census reapportionment and pit two liberal lions each with three decades of congressional experience against each other.
Nadler, first elected in 1991, had long represented Manhattan's Upper West Side in CD 10 but was forced by redistricting to face off with Maloney in CD 12, an Upper East Side seat she's occupied since 1993.
The race garnered more than $8 million in campaign spending. Maloney is the sixth sitting Congressional representative seeking reelection in the 2022 midterm cycle to fall to a fellow incumbent after post 2020 Census reapportionment placed them in the same congressional district.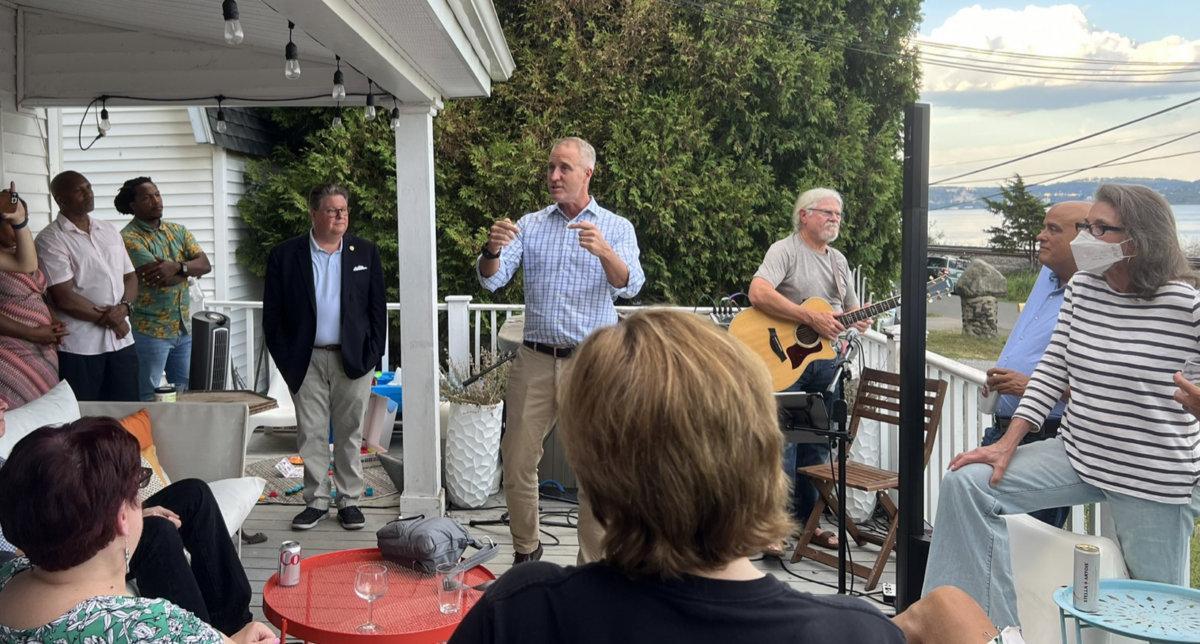 Sean Patrick Maloney Wins
Five-term incumbent Rep. Sean Patrick Maloney (D-N.Y.) defeated progressive state Sen. Alessandra Biaggi (D-Bronx) by more than 30 percentage points in a contentious contest between "establishment" centrists and the party's far-left wing.
Maloney had won five elections in CD 18—a purple district regarded as a November "tossup"—but is running for a sixth term in neighboring CD 17, another competitive Hudson Valley district that is slightly more favorable for Democrats.
In doing so, Maloney, who chairs the Democratic Congressional Campaign Committee, forced Rep. Mondaire Jones (D-N.Y.), a progressive who is CD 17's actual sitting incumbent, to seek reelection in deep-blue Manhattan's CD 10, where he lost in a stiff primary battle to Dan Goldman.
State Assemblyman Mike Lawler (R-Pearl River), a former New York Republican Party executive director, outpolled five Republicans and will take on Maloney in November.
Lawler joins Molinaro in CD 19 and Schmitt in CD 18 as a strong cadre of Republican candidates in the three battleground Hudson Valley districts where November races are rated as "tossups."

Goldman Advances Despite Trump Endorsement
Dan Goldman, an impeachment investigator in former President Donald Trump's trial who pumped $4 million of his own money into his campaign, has won the crowded Manhattan race to claim the seat Nadler left to run in CD 12.
Former President Donald Trump endorsed Goldman in an apparent attempt to undermine his bid.
In the end, Goldman outpolled Jones, who shifted districts when Sean Patrick Maloney sought reelection in CD 17 rather than CD 18. With the loss, Jones joins Maloney as the 12th and 13th incumbents to lose reelection bids in primaries.
Goldman will  be the hands-on November favorite to win the deep-blue district's congressional seat.
Other Highlights
Nick LaLota, a former Amityville Board of Trustees member who currently serves as Suffolk County Legislature chief of staff, has defeated cryptocurrency executive Michelle Bond in their GOP primary clash to occupy the seat vacated by Rep. Lee Zeldin (R-N.Y.) when he won the GOP gubernatorial primary in June.
LaLota, a Navy veteran, in November will face Suffolk County Legislator Bridget Fleming, who was not tested in a Democratic primary. A former prosecutor and Southampton Town councilwoman, she, is expected to run a competitive campaign in the purple district spanning the east end of Long Island.
Cazenovia businessman Steve Wells defeated California tech entrepreneur and Sennett farmer Brandon Williams in their CD 22 GOP primary,
Rep. Claudia Tenney (R-N.Y.) won this district in 2020 against Democrat Anthony Brindisi in a race so close that a winner wasn't declared until February 2021. But like Maloney in CD 17 and Nadler in CD 10, Tenney is running as an incumbent in CD 24, where incumbent Republican Rep. John Katko (R-N.Y.) is retiring.
Wells is endorsed by Trump ally Rep. Elise Stefanik (R-N.Y.) and will be the favorite in November against Democratic primary winner Francis Conole.
Correction: a previous version of this article incorrectly state who won the special election in New York's 19th Congressional District. Ryan defeated Molinaro. Molinaro was uncontested in the Republican primary for the same district. The Epoch Times regrets the error.