"My Only Regret Is I Did Too Little Too Late"
December 15, 2005 12:00 am Last Updated: December 15, 2005 12:00 am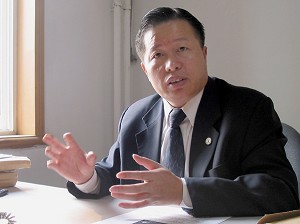 The Beijing Judicial Bureau recently officially issued a notice to close attorney Gao Zhisheng's office for one year on November 30, 2005. Representatives from Mr. Gao's office expressed frustration and anger over the government's treatment [of Mr. Gao], and said that they will continue to appeal the decision to higher authorities. Many attorneys have called the shut-down illegal and unethical.
Legal or Political Issue
A statement issued by the Beijing Judicial Bureau on November 6, 2005 said that Gao's office was shut down for two reasons: First, "Failure to register a change of address within the allowed time," and second, "Issuing blank reference letters to attorneys who are not employed at Gao's office." The statement said that the two incidents are serious violations of the law.
At a public hearing held by the Beijing Judicial Bureau on November 16, 2005 Dr. Xu Zhiyong and attorney Li Heping, representing Gao Zhisheng's office, persuaded the legal community with their outstanding testimonies; yet the Beijing Judicial Bureau still issued an official order on November 30 to shut down Gao's office, suspend Gao's license and the licenses of all the lawyers in Gao's office, and prohibit them from offering any services as attorneys for one year.
Attorney Li Heping said he was surprised by the Beijing Judicial Bureau's ruling, which was illegal and not based on facts. Dr. Xu Zhiyong said he thought that the hearing was a "kangaroo court" and that the outcome was not based on law. Both representatives said they would pursue the appeal process as granted by China's law.
Zhang Sizhi, a renowned attorney who has defended a number of high-profile political prisoners, supported Gao. He wrote a letter to Li Dajin, director of the Beijing Lawyers Association, and pointed out that the Gao case was not a legal issue.
Guo Guoting, another well-known human rights attorney, said that it is a common tactic of the government to use any excuse to punish people [it considers a threat]. Mr. Guo's business was shut down by the Shanghai Judicial Bureau in February 2005 because he published articles on the Internet in support of Falun Gong and defended six Falun Gong practitioners in court. Mr. Guo said, "When they were trying to punish me, they didn't mention Falun Gong. Instead, they accused me of attacking the 'four basic principles .' I have been attacking the 'four basic principles' for twenty years, yet they left me alone for so long. Why did they start to crack down on me as soon as I accepted Falun Gong cases?"
Mr. Guo said that the reason behind the shutdown was the government's fear that the people would learn the truth. Although the government may occasionally tolerate articles published outside of China that defend the rights of Falun Gong practitioners, they would not allow these views to be spread within China. Mr. Gao Zhisheng wrote an open letter to Hu Jintao and Wen Jiabao, in which he exposed the persecution of Falun Gong, and stated that he planned to defend Falun Gong practitioners openly and with dignity in court. Such rational thinking is what the government fears the most.
"The Government Doesn't Take the Law Seriously at All; This Breaks our Hearts."
In China, human rights attorneys protect the most fundamental rights of prisoners of conscience and religion, and other underprivileged groups. It is the officials who are in power that violate the rights of these groups. This means that human rights attorneys almost always have to operate in a hostile judicial environment.
More than a dozen lawyers and other staff members now have no jobs because Gao's office was shut down. The government told Gao to negotiate with his company's current clients to refund their fees or compensate them for their losses.
Xu Zhiyong is concerned that in the future, if the Beijing Judicial Bureau sends a message to the legal community, no other attorney firms will dare to hire Gao Zhisheng. The career of an excellent lawyer could be terminated by the government in the name of the "law."
Guo Guoting said if Gao Zhisheng continues to fight for human rights, the government might permanently shut down the office. On the other hand, if Gao decides to compromise his position, it might take less than a day for the government to restore his office.
Gao Zhisheng said, "All we are doing is asking that the government obey the laws of this country. For this, they regard us as their nemesis. The government doesn't take the laws seriously at all. This breaks our hearts.
"I Only Regret That I Did Too Little Too Late."
Gao Zhisheng told the media that the real reason for the shutdown would be any of the three following reasons: his open letter to Hu Jintao and Wen Jiabao, the local people's efforts to protect their own interest in the oil fields in northern Shaanxi Province, or the citizens' unsuccessful movement in Taishi Village to try to change the village leadership. Gao's firm was providing legal services to the latter two groups.
Gao Zhisheng received a phone call on October 26 from Chai Lei, a deputy division head of the Beijing Judicial Bureau, who said Gao's letter to Hu Jintao and Wen Jiabao seriously tarnished the image of the nation and the government, tarnished the image of all lawyers in China, seriously violated the professional ethics of Chinese lawyers, and must be retracted. Gao said that he could neither technically, nor on principle, retract his open letter.
Gao was not surprised by the government's suppression. He said, "Even if I can't be a lawyer, I can still write articles and do my work to protect the citizens' rights."
In China, if a lawyer acts as a citizen to defend a case while his license is suspended, he runs the risk of having his license permanently revoked. Gao said that this is a risk he is willing to take. He will defend Guo Feixiong, who was a special consultant to Gao's office, as an ordinary citizen. Guo Feixiong was arrested and is facing charges for assisting the villagers of Taishi Village in September 2005.
Despite all the harassment, Mr. Gao has not lost his sense of humor. During an interview with the Sound of Hope Radio, he said that he has been receiving "presidential treatment," as security officers have followed him everywhere. He said he was not lonely at all; instead, he was well-accompanied and looked like a celebrity. On the other hand, he repeatedly reminded people that he was surrounded by the police, and that his friends should stay away. Since the government shut his office down, a lot of people have phoned or visited him. They have not shunned him because of the police presence.
Mr. Gao also told the media, "My only regret is that I did too little too late!"