Severa Illinois men were caught on camera struggling to save an elderly man stuck in his vehicle as floodwaters threatened to pull his car into a fast-moving creek.
"My dad's a hero," exclaimed Brianna Pickett, who recorded the cellphone video of her father, Mark Pickett, as he helped rescue Bruce Salley during a flash flood in Rockford on June 18, 2018.
According to the Chicago Tribune, Rockford was hit with up to 5 inches of rain Monday, causing a series of flash floods in the area.
Pickett and his friend, Ryan Craig, were out investigating how badly flooded the area around their homes was when they spotted a vehicle on a bridge over Keith Creek, which was overflowing.
Salley had earlier taken refuge from a downpour at a nearby McDonald's, but at one point decided to get in his car and try to drive away.
He got as far as the bridge, but got stuck.
"I guess he thought he was gonna drive through (the water)," Pickett said in a telephone interview for the Chicago Tribune on Tuesday. "He didn't know what he was getting himself into."
Salley's 2005 Cadillac DeVille had been lifted by the floodwater and pinned against a guardrail on the bridge, but it slowly began to sink.
Pickett and Craig feared that at any moment, the Cadillac might become dislodged and get pulled into the fast-flowing water of the creek.
Salley, an area mortician, told the Chicago Tribune what was going through his mind as floodwaters kept rising and he couldn't get out of his car.
"I couldn't get the doors open or anything, and I couldn't roll the windows down," he said.
"I was prepared and I thought, 'Well, if it's my time, it's my time,'" Salley added.
A short distance downstream, the creek dips under a viaduct and doesn't re-emerge for several hundred yards. If Salley's car were to get pulled in, the result would likely have been deadly.
Pickett and Craig waded over to help. They were joined by a third unidentified man.
The men jumped onto Salley's car, broke the back window and tried to get Salley out.
"When he stuck his arms out, Mark grabbed one and I grabbed the other," Craig said.
"When they were taking me out, they were wearing out," Salley said. "I was wearing out, but if I let go, I was dead."
Meanwhile, Pickett had been filming the dramatic rescue from the cab of her father's pickup truck.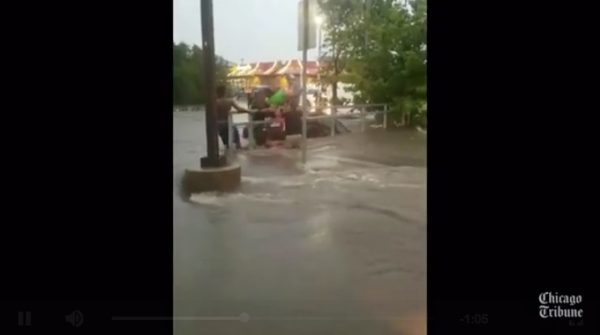 "I never intended to go viral," she said. "I had been recording way before that. It just all happened so fast. I didn't even know what to say, what to do, what to think. I was just scared as hell because of that drainage ditch. I was so scared they were going to go in."
"One of them said, 'We gotta get you out of here or we're both going to drown,'" Salley said.
The men finally managed to get Salley out, who was later treated at an area hospital for minor injuries.
Craig received over a dozen stitches to close a cut he sustained while trying to break the window.
"You have to be grateful you survived," Salley said.
Watch Next:
Officer Saves Woman Who Was Pinned