SAN BERNARDINO, Calif.—Authorities on Thursday were trying to learn why a couple left behind their infant daughter and carried out a shooting rampage that left 14 people dead and seriously wounded more than a dozen others in one of the nation's worst mass shootings.
The pair were killed in a shootout with police hours after they carried out their precision assault. The possible motive for the attack included workplace violence or terrorism.
Wednesday's shooting happened at a social services center for the disabled where the suspect's colleagues with the San Bernardino County Department of Public Health were renting space for a celebration. It was the nation's deadliest mass shooting since the attack at a school in Newtown, Connecticut, three years ago that left 26 children and adults dead.
San Bernardino Police Chief Jarrod Burguan identified one dead suspect as Syed Rizwan Farook, 28, the other as Tashfeen Malik, 27, his wife or fiancee. Burguan said Farook was born in the United States; the chief said he did not know Malik's background.
The attackers invaded the Inland Regional Center about 60 miles east of Los Angeles around 11 a.m., opening fire in a conference area where county health officials were having an employee banquet, said Marybeth Feild, president and CEO of the nonprofit center.
"They came prepared to do what they did, as if they were on a mission," Burguan said.

Farook attended the event before leaving — and returning to kill.
Co-worker Patrick Baccari said he was sitting at the same table as Farook, who suddenly disappeared, leaving his coat on his chair. Baccari said when the shooting started, he sought refuge in a bathroom and suffered minor wounds from shrapnel slicing through the wall.
Baccari described Farook as reserved and said he showed no signs of unusual behavior. Earlier this year he traveled to Saudi Arabia and returned with a wife, later growing a beard, Baccari said.
The FBI is investigating several possible motives, including workplace violence and terrorism, according to David Bowdich, assistant director of the bureau's Los Angeles office. He did not elaborate.
Farook was a restaurant inspector for the health department, according to public records. Police chief Burguan said he had been a county employee for five years.
The couple dropped off their 6-month-old daughter with relatives Wednesday morning, saying they had a doctor's appointment, Hussam Ayloush, executive director of the Council on American-Islamic Relations, said after talking with family. Farhan Khan, who is married to Farook's sister, told reporters he last spoke to his brother-in-law about a week ago. He said he was in shock, condemned the violence, and had "absolutely no idea why he would do this."

About four hours after the morning carnage, police hunting for the killers riddled a black SUV with gunfire in a shootout 2 miles from the social services center in this Southern California city of 214,000 people. Farook and Malik were found with assault rifles and semi-automatic handguns, and were wearing "assault-style clothing" with ammunition attached, authorities said.
Television news helicopters captured the aftermath, as officers slowly approached the mangled SUV.
In the morning, as the day's first bursts of gunfire echoed through the large three-building complex, some people locked themselves in offices, desperately waiting for police and texting or making hushed phone calls to loved ones.
"People shot. In the office waiting for cops. Pray for us. I am locked in an office," Terry Petit's daughter, who works at the center, texted him.
Petit choked back tears as he read his daughter's words for reporters outside the center, where social workers find jobs, housing and transportation and provide other services to people with disabilities such as autism, cerebral palsy and epilepsy.
Olivia Navarro said her daughter, Jamile Navarro, a case manager at the social service center, called her and whispered that she was hiding in a locked room.
"I said, 'All right, I'll be there, turn off the lights, don't make a sound,'" Navarro said. "And that was it."
Her daughter survived.

That the violence happened at a place dedicated to helping people with developmental disabilities — even if they were not targeted — made it even harder for some to comprehend.
"These are all disabled kids, very disabled," said Sherry Esquerra, who was searching for her daughter and son-in-law, both of whom work at the center. "She gets all the services she possibly could for these kids. So I just don't understand why somebody would come in and start shooting."
According to its web page, the center has a client base of more than 30,000 people and their families. It is a privately run nonprofit, the largest of its kind in California with about 670 employees.
FBI agents and other law enforcement authorities converged on the center and searched room to room for the attackers. Triage units were set up outside, and people were wheeled away on stretchers.
Seventeen people were wounded, according to authorities. Ten were hospitalized in critical condition, and three were in serious condition, Fire Chief Tom Hannemann said.
Others were marched from the building, hands raised so police could search them and make sure the attackers weren't trying to slip out.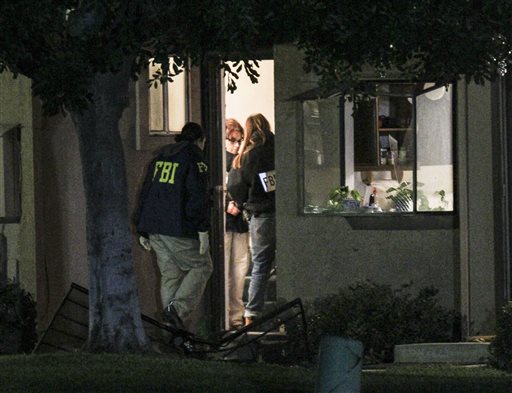 They had indeed escaped. One witness, Glenn Willwerth, who runs a business across the street, said he heard 10 to 15 shots and then saw an SUV with tinted windows pull out "very calmly, very slowly" and drive off.
As the manhunt dragged on, stores, office buildings and schools were locked down in the city, and roads blocked off.
With police looking for a dark SUV, officers staking out a home in the nearby city of Redlands saw a vehicle matching that description. Public records show the home is a possible residence of a family member of Farook.
Authorities pursued the SUV, and a gunbattle erupted around 3 p.m. One officer among nearly two dozen involved in the shootout suffered a minor injury.
A fake bomb — a metal pipe stuffed with cloth — was thrown from the SUV during the chase, said Agent Meredith Davis of the Bureau of Alcohol, Tobacco, Firearms and Explosives.
Three explosive devices — thought to be real and all connected to one another — were found at the social service center and later detonated by a bomb squad, police said.
A third person who was spotted running near the gunbattle was detained, but Burguan said it was unclear if that person had anything to do with the crime. At a late-night news conference, Burguan also said that early witness accounts of three shooters were probably wrong: "We are reasonably confident at this point that we have two shooters and we have two dead suspects."
President Barack Obama urged the country to take steps to reduce mass shootings, including stricter gun laws and stronger background checks.
"The one thing we do know is that we have a pattern now of mass shootings in this country that has no parallel anywhere else in the world," Obama told CBS.
Federal authorities said that the two assault rifles and two handguns used in the violence were purchased legally, but they haven't said how and when they got into the hands of the two shooters.
The social services center has two large buildings that require a badge to get in, said Sheela Stark, a member of its board of trustees. However, the conference room that hosts public events such as Wednesday's banquet is usually left open when visitors are expected.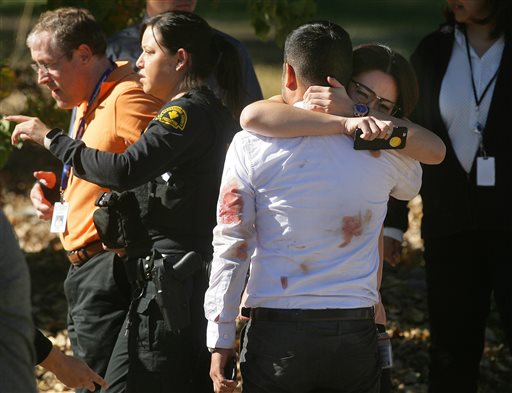 Q & A About the Suspects
WHAT PROMPTED THE GUNFIRE?
Police do not have a motive for the shootings, which ended with a gun battle on aSan Bernardino street that left 28-year-old Syed Rizwan Farook and 27-year-old Tashfeen Malik dead. Authorities say they were the only two shooters, and relatives said the two were married. Investigators have not ruled out a link with terrorism and are also looking into the possibility that a workplace dispute triggered the massacre at a social services center for the disabled.
___
WHO ARE THE SUSPECTS AND HOW DID THEY MEET?
Farook was born in Illinois and raised in Southern California, said Hussam Ayloush, executive director of the Council on American-Islamic Relations. His family is originally from Pakistan, Ayloush said. Farook traveled to Saudi Arabia earlier this year and returned with a wife, said co-worker Patrick Baccari, who attended the holiday party Wednesday but was in the bathroom when the shooting started. Baccari says Farook was gone for about a month in the spring, and when he returned word got around Farook had been married. The woman he described as a pharmacist joined him in the U.S. shortly afterward, and they soon had a baby. Police described Malik as Farook's wife or fiancee.
___
HOW DID IT HAPPEN?
Baccari, who was sitting at the same table as Farook, said employees at the holiday party were taking a break before snapping group photos when Farook suddenly disappeared, leaving a jacket draped over his chair. Baccari stepped out to the bathroom when he heard explosions.
"I'm getting pelted by shrapnel coming through the walls," he said. "We hit the ground."
The shooting lasted about five minutes, he said, and when he looked in the mirror he realized he was bleeding. He was hit by fragments in the body, face and arms.
"If I hadn't been in the bathroom, I'd probably be laying dead on the floor," he said.
___
HOW DID THE FAMILY REACT?
The suspects Farook and Malik left their 6-month-old baby girl with Farook's mother early Wednesday morning, saying they had a doctor's appointment, Ayloush said. Ayloush based his comments on conversations he had with Syed Rizwan Farook's brother-in-law Farhan Khan, who appeared at a news conference late Wednesday as a family representative.
The young parents did not return to get their daughter for several hours, however, and their family became worried when they could not reach them after seeing reports on the news about the shooting. The family at first was concerned that Farook might be a victim of the shooting because they knew he worked as an environmental inspector at the county's health department and sometimes worked at the Inland Regional Center, Ayloush said.
The family only began to piece together the events around 2 p.m. — three hours after the shooting — when a reporter called with questions, Ayloush said. Family members were being questioned by police late Wednesday.
"We don't know the motives. Is it work, race-related, is it mental illness, is it extreme ideology? At this point, it's really unknown to us and at this point it's too soon to speculate," Ayloush said.
___
WHAT DID FAROOK'S CO-WORKERS THINK OF HIM?
Baccari said his co-worker, who said he was raised on a farm with goats and chickens, was reserved, rarely starting a conversation on his own. Several months ago Farook grew out his beard. He appeared committed to his family, and never displayed any unusual behavior or discussed any radical political views. Co-workers told the Los Angeles Times Farook was a devout Muslim but didn't talk about religion at work. Griselda Reisinger, who worked with Farook before leaving her job in May, told the Times he "never struck me as a fanatic, he never struck me as suspicious."