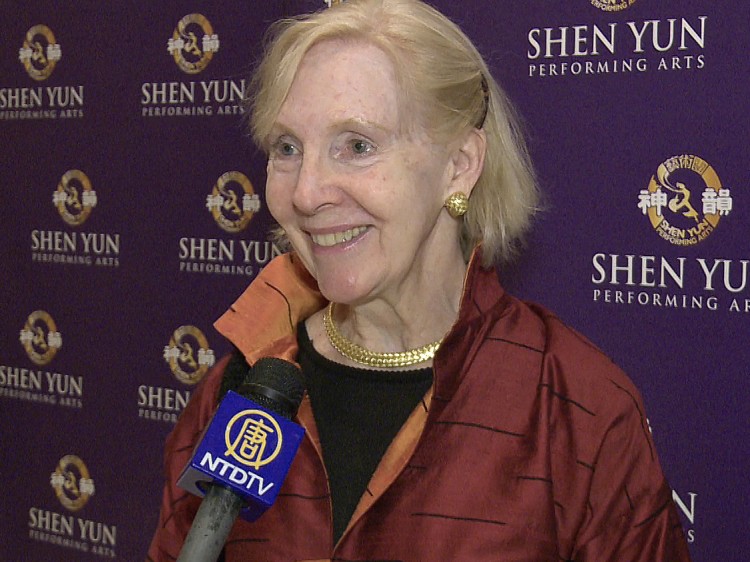 NEW YORK—Shen Yun Performing Arts is unique in many ways but for Holly Bodman, one of the most notable is its blending of the "disparate sounds of East and West" music forms.
Holly Bodman is a musicologist who specializes in ancient Chinese musical instruments. She saw Shen Yun at Lincoln Center on April 22.
"The performance is staggeringly beautiful," Ms. Bodman said, "Such good dancing, such beauty and color and wonderful sounds of some of the Chinese instruments in the orchestra. The pipa, the erhu—it is a wonderful performance, I am so glad to be here."
The pipa is also known as the Chinese lute, and the erhu, is a two-stringed instrument recognized as a type of Chinese violin. Both are thousands of years old and are included in the 40-piece Shen Yun Orchestra which combines classical Chinese instruments and classical Western instruments.
The Western philharmonic section plays the foundation, while traditional Chinese instruments lead the melodies, the Shen Yun website says, the ensemble at once expressing "both the grandeur of a Western orchestra and the distinct sensibilities of China's 5,000-year-old civilization."
Ms. Bodman saw a host of messages in the performance, ones with universal meaning.
"For me, the history, the sense of history and continuity and stability and respect for music, respect for beauty, respect for culture, [and] respect for tradition is very strong," she said. "It is still lively, too, so I think it is a strength with liveliness and relevance for today, because these things still appeal to everybody."
The entire performance had an effect Ms. Bodman she said.
"It makes me a little nostalgic because even though I am not Chinese, I can have a sense of the tradition," she said. "Everybody who sees it, I hope, will have a stronger feeling the importance of it and the beauty of it."
Shen Yun tours more than 100 cities each year, including Paris, Tokyo, Vancouver, Los Angeles, and Washington D.C. The company's website explains that it was formed to "restore and revive Chinese traditional culture," which "after more than 60 years of communist rule in China, and especially after the Cultural Revolution … has been all but completely demolished."
Reporting by NTD Television and Zachary Stieber.
Shen Yun Performing Arts, based in New York, has three touring companies that perform simultaneously around the world, with a mission to revive traditional Chinese culture. Upcoming performances in the United States include Chattanooga, Tennessee, on April 24, and Columbus, Ohio, on April 26 and April 27.
For more information, visit ShenYunPerformingArts.org.