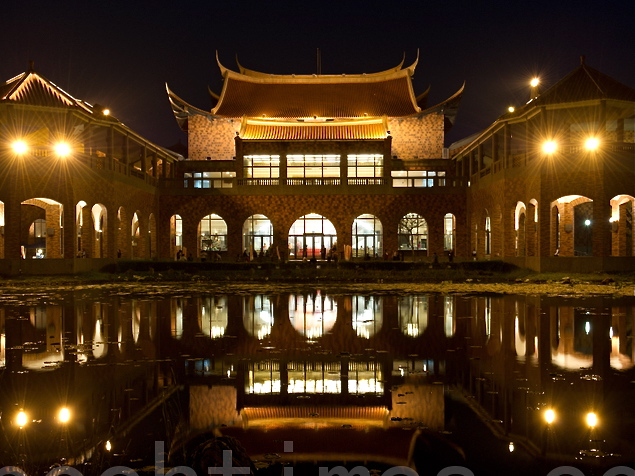 CHIAYI, Taiwan—Mr. Yingchieh Hsieh, a musician, returned to Taiwan from Vienna and attended the Shen Yun Performing Arts New York Company's performance at Chiayi Performing Arts Center on April 3. He clapped his hands and said, "I had heard so much about Shen Yun, and today it's my first time to see the performance. I believe that Shen Yun really deserves its name. It's worth the trip."
Mr. Hsieh said that he had looked forward to seeing Shen Yun for years, but failed to have the opportunity to do so. After seeing the performance for the first time, he felt it very wonderful, harmonious, and well-coordinated. The coordination of the soft and vigorous music and dances was perfect, he said. He mentioned that the formations of the dancers were also wonderful.
As a graduate from the Department of Music at the National University of Arts (former National College of Arts), Yingchieh Hsieh majored in trumpet playing and composition. He went to Austria for further studies in 1971 and had taught music there for several years.
He said, "The entire performance was world-class. Whether it was the orchestra conductor or the dances, the whole performance was breathtaking. Especially the somersault with one hand was really amazing. I was deeply moved on the spot and believe that after viewing the performance, my music innovation has been lifted into another dimension."
He added that Shen Yun's coordination of music and dance was marvelous. He said that artists are supposed to be rather picky, but as a picky musician sitting in the front row, he couldn't find any shortcomings throughout the entire performance. He felt it was very touching.
Yingchieh Hsieh said, "Shen Yun is not foreign to me, but it's my first time to see it in person. It is indeed wonderful to be here in a group. It's really wonderful, and the trip was very worthwhile!"
Reporting by Chiehying Li & Joseph Wu.
Shen Yun Performing Arts, based in New York, tours the world on a mission to revive traditional Chinese culture. Shen Yun Performing Arts New York Company will perform in seven cities in Taiwan until April 8 and then continue to top venues in Australia and New Zealand.
For more information visit ShenYunPerformingArts.org
Read the original Chinese article