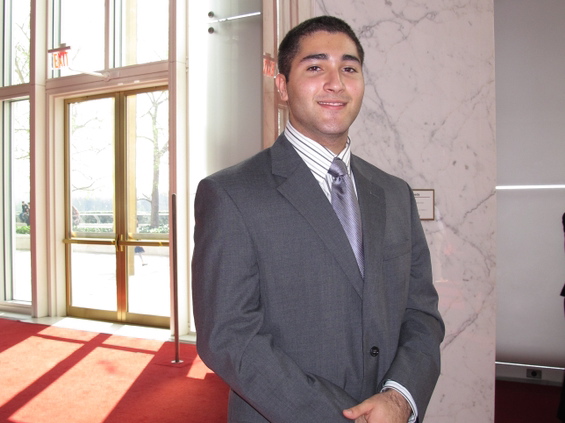 WASHINGTON—Young musician Alborz Shirmohammadi of Fairfax, Virginia identified with the artists of Shen Yun Touring Company when he saw them at the Kennedy Center Opera House on March 25. He, too, has performed at the Kennedy Center, but he felt an affinity for a deeper reason.
"I play a traditional Iranian instrument … called the santur," he said. Playing it is a way of keeping in touch with his own Eastern background, and in that respect he could relate to the performers. Like him they were born in a new technological era, yet they were devoting time and effort to keeping their artistic heritage alive.
Mr. Shirmohammadi said he felt the effort Shen Yun performers were putting into their traditional culture was a very important development in society, and to him it also meant "just being better people."
The santur, which is often compared to a dulcimer, is like one of the instruments in the Shen Yun orchestra. Mr. Shirmohammadi said that he enjoyed Shen Yun music which is unique because it includes Western classical and traditional Chinese instruments.
"It's similar to one of the Chinese instruments. I can't remember the name, but I listened closely to the music and I thought it was incredible how it all came together. The timing that was with the dancing was just dead on, which made it so spectacular," said Mr. Shirmohammadi.
According to the Shen Yun website, "A Western philharmonic orchestra plays the foundation, while traditional Chinese instruments lead the melodies. The sound produced is uniquely pleasing to the ear."
Mr. Shirmohammadi said Westerners were very open minded, and therefore would welcome the experience of Shen Yun. He said he thought news of the performance would spread throughout society, and he planned to help spread the word.
After "seeing a performance like this and the dedication that the performers have and making such a spectacular performance, it just shows that you know, you have the opportunity and a chance to spread it." He said he definitely planned to tell his friends about New York-based Shen Yun.
"I enjoyed it thoroughly, yes, yes. It's good that they keep having original compositions each year, so that keeps it fresh and you know, always inviting people to come back."
Reporting by Flora Ge and Mary Silver.
Shen Yun Performing Arts, based in New York, tours the world on a mission to revive traditional Chinese culture. Shen Yun Performing Arts Touring Company will perform at The Kennedy Center Opera House, Washington, D.C., through April 1.
For more information visit ShenYunPerformingArts.org