Musician and Lawyer Find a Perfect Home
April 15, 2013 10:46 am Last Updated: April 15, 2013 10:46 am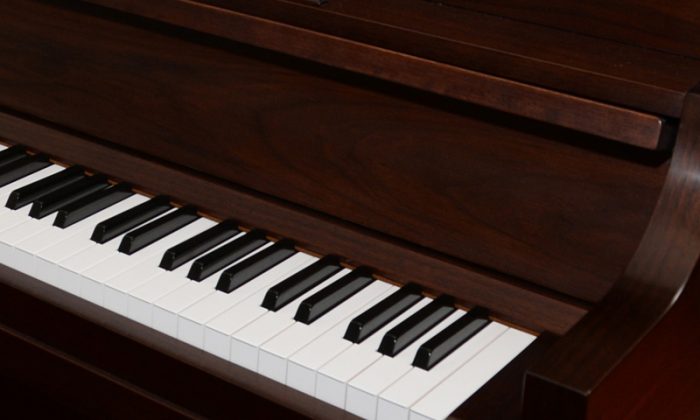 NEW ORLEANS—When Herb Larson and Julianne Nice were looking to buy a house 17 years ago, she had one stipulation. The house needed a room large enough to accommodate both her grand piano and her harpsichord, so she could host concerts and teach voice lessons. The property they found on Gen. Pershing Street with a double parlor and excellent acoustics fit the bill.
The house was one of at least six built around 1894 on then-named Berlin Street that were designed in Edwardian style, most likely by architect William C. Fulham for the David McCan family. Edwardian design was simpler than Victorian and evolved in reaction to the previous period's elaborate ornamentation.
On the outside, spindle railings, jigsaw brackets and a broad staircase create a welcoming, homey facade. Inside, an open floor plan gives a modern sense of airy spaciousness.
It was an arrangement that perfectly suited the needs of Larson and Nice, who sought a harmonious flow from living room to dining room for entertaining. While Nice might showcase young artists from Loyola's piano competition, Larson could preside in the dining room with guests from his law practice or Tulane Law School, where he heads its international legal studies program.
An elaborately decorated, elliptical plaster arch creates a sense of separation between the two rooms, while freeing the space for reception or recital. Hidden pocket doors allow the option of closing off the area from the hallway to retain heat or maintain privacy.
Into the light
Edwardian style reflected a desire for a healthful living environment, including larger windows and lighter window coverings that invited sunlight and fresh air. The upstairs sleeping porch where one might inhale the pure night breezes was another of the era's "healthful" inventions.
The couple's architect, Jim Farr, recommended painting the walls with colors that were typical of the period, a palette of eggplant, gold and blue-gray. To draw more attention to the exquisite plaster work and stairway banister, they were painted white.
When the couple bought the house in 1996, the Milan neighborhood had not yet experienced a renaissance.
"My mother was concerned it wasn't nice enough because the houses were rundown," said Nice, who at first was reluctant to take on a renovation project. But several new families moved in about the same time and began refurbishing their homes as well.
The couple's idea was to restore the house as closely as possible to its original condition, while incorporating modern amenities. The home had been heated with coal-burning fireplaces before floor heaters were installed. Larson and Nice completely rewired the electrical system and installed central heat and air conditioning. "You can't get homeowners insurance with floor heaters," Larson said.
A chandelier in the front room retains fixtures for both gas and electric light. Nice speculates that many late 19th-century homeowners thought electricity might be just a passing fancy.
Outside upgrades
The back porch had disappeared, and the concrete front steps were sinking. "We wanted to be able to walk out on the back porch," said Nice, who loves to cook. They built a deck in the backyard, adjoining the kitchen, for outdoor gatherings.
"We use the back deck as overflow space for parties in the house, especially when the international LLM (Master of Laws) students from Tulane Law School come over a couple times a year — it could be 30-40 people then, and we put long tables on the porch and serve drinks there," she said.
Brackets that had been removed from the facade were discovered underneath the house. To recreate the original exterior, the couple was able to re-mill railing parts and other missing architectural decoration.
The home is furnished with antiques typical of the 19th century. Larson found online an African mahogany dining table made before the Civil War. It had languished in a Virginia barn for 30 years until Larson agreed over the phone to buy it, on condition the owner would personally deliver it to New Orleans — which he did.
The table, which seats 10, is often used as a conference table for Nice's fundraising consulting practice and board meetings.
"It seems to be somewhat a feature of New Orleans hospitality that you need to invite visitors from out of town into your home, especially if it is an older home that reflects the wonderful domestic architecture of New Orleans," said Nice, who each year hosts one of the piano competition finalists.
Larson and Nice have bought other dark wood furnishings at Morris Antiques in Keo, Ark., outside Little Rock, to which they make occasional expeditions for new finds.
A place for art
Though the home is decorated in traditional style, the couple owns art pieces that reveal their unusual artistic tastes.
For "fun," they commissioned a portrait by local artist Alan Gerson, who is known for painting dinosaurs, aliens, fantastic flora and humans resembling plastic dolls.
In the painting, which hangs over the living room fireplace mantle, Nice is depicted wearing a medieval costume in teeth-gritting union with Larson, who is suited to face a courtroom jury. The musical score they jointly hold, "Climb Every Mountain," literally refers to Larson's ascent to the Mount Everest base camp, but also, presumably, symbolizes their marriage.
In the dining room, a print of a painting by Norwegian artist Odd Nerdrum strikes a personal chord with Larson. Mesmerized by Nerdrum's work after seeing it in museums and galleries, Larson finally bought a print portraying an existential scene showing several men confronting life's daunting challenges.
Nice explained that the figures are Norse saga-singers wearing ceremonial capes. "I look at it almost every day, and see something new each time I look at it," Larson said. "It is a strong piece, which makes it a good match for the Gerson hanging above the other fireplace."
The couple's home is highly personal and comfortable, supporting their mutual interests in art, literature, music and community. In restoring it to the original architect's vision, Larson and Nice gave the historic house new life and new meaning.
"We learned from one of our neighbors, the late Harry Pelias — who had lived on this block for over 80 years when we first met him and his lovely wife Magda in 1997 — that this house was always a 'happy house' and the families in it were happy people," Nice said. "We hope to uphold its stellar reputation."