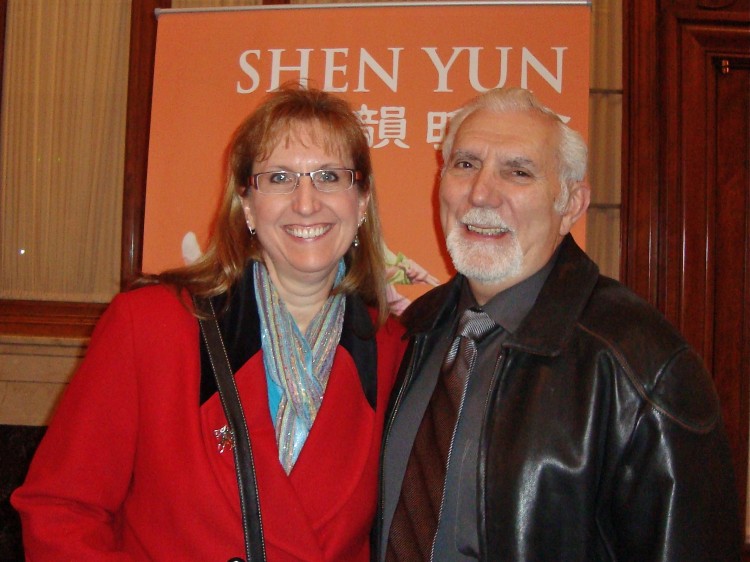 PITTSBURGH—"I probably was driving the people behind me nuts," said Joyce Gindlesperger of her behavior in the audience, on Feb. 16, at Benedum Center for the Performing Arts. She said she kept leaning forward to see the Shen Yun Performing Arts Orchestra. "It was just so beautiful," she said of the music.
Based in New York, Shen Yun Performing Arts was established in 2006. Its mission: to revive traditional Chinese culture—a rich history that has been all but wiped out by decades of communist rule, especially since the Cultural Revolution.
"I just appreciate a live orchestra anywhere because … it's just so wonderful to be able to watch that synchronization," Ms. Gindlesperger said.
Ms. Gindlesperger owns a private piano studio and has trained students in classical music for more than 27 years. She attended Shen Yun with her husband, Don, who is now retired.
"It was a chance for me to really … see a different culture that I am not familiar with and it was just breathtaking—all of it. It was so powerful, it was just beautiful," she said.
Primarily known for being the world's best classical Chinese dance company, Shen Yun tours with a full orchestra composed of both Western and Chinese instruments. The company also boasts three award-winning soloists.
Ms. Gindlesperger explained that what made the orchestra so powerful for her was a composite experience: "It was everything; it was the choreography with the music, it was the original music; it was the traditional Chinese instruments that I have not heard before. It was just everything. It was wonderful!
She said she was deeply impressed by the vocalists' accompanist. "That pianist was incredible—the girl who was doing the accompanying, … A pianist never get enough credit. Everybody is concentrating on that soloist out front; … they are not watching what's going on behind the scenes—that girl was just incredible."
Speaking in more detail about pianist's technique, she said: "She was just a very good pianist to begin with, but she was very in tune with the soloist. She could almost feel what they were doing and she was just a very excellent accompanist. It takes a special person to accompany. I mean, anyone can solo because it's all about them, but an accompanist almost feel what's going on with the soloist out front, and she was very, very good."
Similarly, Ms. Gindlesperger praised the synchronization of the live orchestra with the dancers. "It was just amazing. I have never seen anything like it."
All of the compositions in Shen Yun's performance are original pieces, and there was a timeless quality to these that appealed to Ms. Gindlesperger
"When [the music] evokes an emotion in you and especially when there is an historical value to it, like there was with this, … it took me to a place I have never been and never thought about, and it evoked an emotion in me and I think that makes it timeless."
In fact, Ms. Gindlesperger thinks she will expand her horizons after seeing this performance: "I think that it will make me a little more willing to look at some composers that I might not have looked at—like some of the Chinese composers and the Japanese composers, and the Asian composers that I haven't even looked at."
Thus, even though she had no experience with Chinese culture before, she was still touched. In fact, the experience opened her up to the Chinese culture and people.
She said in some ways Americans feel wary of China as a rising economic power, but the Shen Yun performance made her think of Chinese civilization in a different way. The show … "gave me a little bit of a different feeling. In just coming here tonight, realizing that these people really have an incredible history—you know, we're babies next to [them]. We're what? 250 years old, compared to the 5,000 years of history that these people have. It's just humbling."
But what made her see past the differences between her own culture and China's was the universality of themes. "It made me realize that the people in China are not so different from me. … We just tend to think of them as they are over there, and we are over here and they are so different, but they're not. I think inside we all want the good to conquer the evil, you know.
We all have that desire to be somewhere higher, or to go somewhere higher, so it is a common bond that we have here, no matter what your religion may be."
Ms. Gindlesperger shared her opinion that the China she saw onstage is "a China, obviously, I think that a lot of Chinese people want."
Reporting by Pamela Tsai and Sharon Kilarski.
New York-based Shen Yun Performing Arts has three touring companies that perform simultaneously around the world. Shen Yun Performing Arts Touring Company will next perform in St. Louis at the Peabody Opera House, Feb. 18 to 19.
For more information, visit ShenYunPerformingArts.org.