Another "swarming" occurred this week in Toronto, with four 13-year-old teenage boys being charged with assault after an alleged attack against uniformed employees of the Toronto Transit Commission (TTC).
The TTC posted on Twitter that the alleged assault that started inside a bus in Scarborough, Ontario, was a "despicable swarming."
Swarming involves a group of individuals "working as a singular entity in a swarming mob mentality," Toronto Police Homicide Detective Sergeant Terry Browne explained on Dec. 21 at a news conference. Toronto police did not immediately return calls for comment.
Eight females aged 13 to 16 have been charged with the second-degree murder of Ken Lee, 59. The youth are accused of allegedly beating and stabbing Lee to death in a swarm on Dec. 18, 2022, reportedly to steal his bottle of alcohol.
Browne told reporters this sort of crime was rare for females in this age group. However, swarming-style attacks have been happening in Canada since the 1980s, according to reports.
On Jan. 19, Calgary police announced they had charged six teenage boys, aged 15 to 17, with one count of assault each, and one count of aggravated assault each, in a swarming attack against two drug store employees that occurred in November 2022.
The attack caused "significant injuries" and police said they expected to charge two more youths.
The males had been asked to leave a Shoppers Drug Mart after causing a disturbance, according to police, and waited outside, eventually physically assaulting an employee "repeatedly" when he left the store.
A second employee who tried to intervene was also assaulted in that attack. Calgary police were unable to respond by press time with more details.
Attacks in 2022
In August 2022, a Richmond, B.C., father said teenagers lured his 14-year-old daughter to a dog park with the intent to attack her.
An unrelated mother in the park with her own 13-year-old daughter told reporters she heard "horrible, God awful screaming and yelling" and saw a young girl "running for her life."
The woman said 10 to 15 youths were chasing the girl, calling her "horrific names." Even after another woman and their children tried to protect the victim, the mother said the youth group was "reaching over us, trying to grab her hair, punch her, screaming, yelling."
According to the father, five youths were arrested in connection with the alleged attack.
In July 2022, ten teenagers were charged after multiple swarming-style robberies near Canada's Wonderland in the Vaughan, Ontario, region. All of the victims were teenagers, as were the alleged attackers.
In May 2022, a Surrey, B.C., 15-year-old was lured on the promise of meeting friends for birthday cake and instead attacked by a swarm of teenage girls. A video later posted on social media showed multiple attackers kicking and punching the girl on the ground, then forcing her to kiss their shoes.
The victim suffered a fractured nose, two black eyes, a swollen face, a sprained ankle, swelling that left her struggling to eat, and various bruises and scratches, in addition to emotional trauma, her mother said.
Police said that despite many witnesses, no one called the police. A youth that police called "the primary aggressor" was later arrested.
In February 2022, Vancouver police released video of a "violent swarming" involving two men punching and kicking a 44-year-old victim while bystanders watched and filmed. A 19-year-old male was later arrested. The victim suffered "significant facial injuries that required hospitalization."
Earlier Cases
Browne said that in the 1990s and early 2000s, Canada had a string of swarmings where mostly male youths in groups would attack individual victims to steal or harass them.
In 2005, there was a spate of swarming incidents in Vancouver, with eight attacks within a six-week time frame between June and July 15. Ten suspects were arrested and eight faced criminal charges.
At the time, detective Cieran Feenan, now an inspector with the Delta, B.C. police, said a swarming was "police jargon for when multiple suspects are on one person at one time. It's like a pack of wolves, and it's vicious and fast."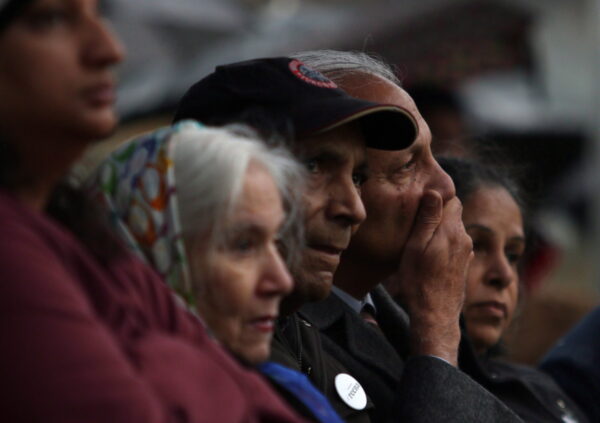 One of the most tragic swarmings in Canada occurred in 1997. Reena Virk, 14, was swarmed and beaten by a group of teenagers, and was ultimately killed by a 15-year-old girl who drowned the victim in a waterway.
A 2000 report, Group Assault or Swarming Discussion Paper, published by the Uniform Law Conference of Canada, a legal organization, noted swarmings had received increased attention due to the "perceived increase in frequency and brutality of these types of assaults, as well as their senseless and random nature."
Even in 1999, said the report, Toronto police statistics suggested that there were 6.7 swarmings—then defined as street robberies involving three or more suspects—a day in Toronto.
Swarmings first appeared in the late 1980s in Canada, connected with youth gangs, said the paper. While most attacks involved youths attacking other youths, there have been adult victims and perpetrators.
Many swarmings are spontaneous, unorganized, and motivated by prejudice, and sometimes have no motivation at all, said the report.
It said courts have described swarmings in a variety of ways, which include groups of gangs or groups in general surrounding a victim to steal clothing or money, groups attacking a victim due to a prior dispute, an attack on an innocent good Samaritan, and unprovoked attacks on public streets by a group.
"There does not appear to be a consistent definition of swarming," but it attracts "heavy media coverage," added the paper.