The number of dead in the shootings Wednesday evening rose to nine, a police statement said.
At least eight people are dead and five others are critically injured after two shootings in Hanau city in west Germany, some 15 miles east of Frankfurt.
An unidentified attacker or attackers began shooting at a shisha bar in central Hanau on Wednesday night, according to regional public broadcaster Hessischer Rundfunk.
The broadcaster said that witnesses reported hearing eight or nine shots and seeing at least one person lying on the ground. The same attacker or attackers later drove to Hanau's Kesselstadt neighborhood and opened fire again at another shisha bar.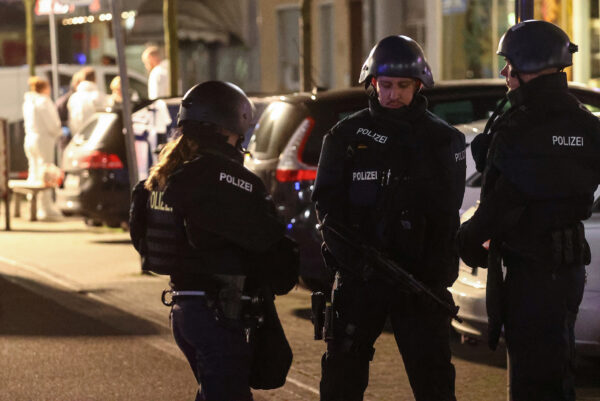 The attacker or attackers have fled the scene and their motives are unclear, according to a short police statement. The statement said that authorities are searching for the perpetrators.
Special forces were chasing the gunmen who fled in a dark-colored car, police said, Reuters reported. Police have set up a hotline for members of the public with information that could lead to the perpetrators.
Heavily armed police sealed off two streets in the city of Hanau where ambulances had rushed, according to the news wire service. A police helicopter hovered over the city, east of the financial hub Frankfurt.
Hanau is in southwestern Germany, about 12 miles east of Frankfurt. It has about 100,000 inhabitants.
The Associated Press and Reuters contributed to this report.