MTA, Transit Workers Tentatively Resolve Contract Dispute Without Fare Hikes
April 17, 2014 4:53 pm Last Updated: April 18, 2014 12:45 pm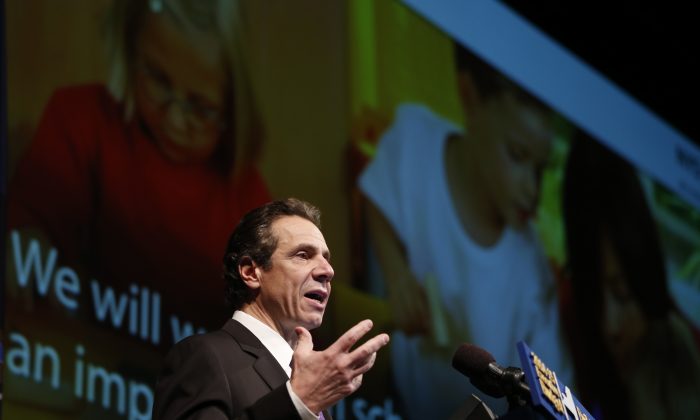 Transit officials and union representatives announced an agreement Thursday that settles a two-year contract dispute.
Transit Workers Union Local 100, which represents 34,000 transit workers, had asked Governor Andrew Cuomo's office to get involved in negotiations with the state-run Metropolitan Transportation Authority.
"The transit system is the lifeblood of New York City, and the MTA employees are the ones that make the system work," Cuomo stated. "They showed their dedication time and time again during Superstorm Sandy and its aftermath, working in difficult conditions to get the system up and running in record time. The resolution of this contract dispute is fair to transit workers, fiscally responsible for the MTA, and will have no impact on fares."
The five-year contract will give the workers increases of 1 percent beginning with 2012, and increases of 2 percent for the last three years. There will be no impact on MTA fares, as the authority previously indicated.
Unions had previously voted for a strike, which would have taken place mid-July at the earliest, if they could not reach an agreement with the MTA. The contract dispute had reached a point where the MTA called for a second Presidential Emergency Board.
TWU Local 100 president John Samuelsen said it was an equitable contract that gave the workers important improvements to their health benefits. "I commend the hand of partnership extended by Governor Cuomo and I appreciate his leadership in helping bridge the divide and bring us to this contract agreement."
The raises will come from changes in the MTA's financial plan and workers will be paying higher health care costs, increasing from 1.5 percent to 2 percent of their salary. Workers will also receive more health benefits, like paid maternity or paternity leave, improved dental and optical benefits, health coverage for spouses surviving deceased union workers.
MTA CEO Tom Prendergast called it a fair and responsible contract. "The MTA's finances are always our foremost concern, and this contract is a responsible one that acknowledges and reflects that the MTA's budget and projected budgets."
The agreement will still need to be approved by the union and MTA boards.