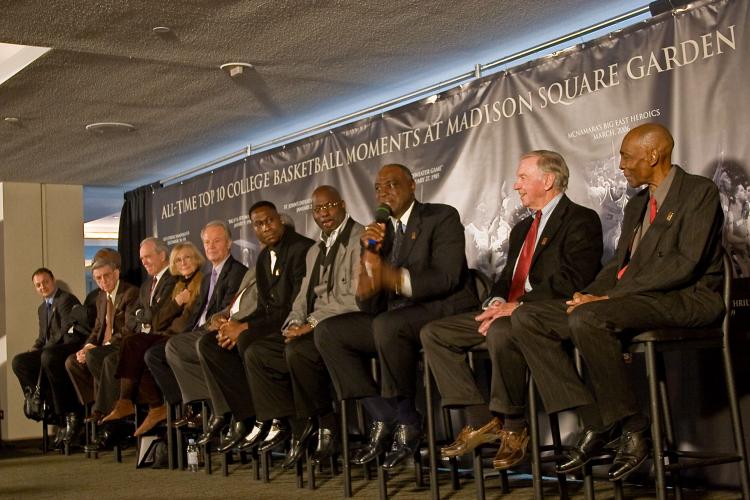 NEW YORK—In honor of the 75th anniversary of college basketball at Madison Square Garden, the Garden announced its "All-Time Top 10 College Basketball Moments" on Wednesday. The Garden's number one pick was the City College of New York (CCNY)'s 1950 double win of both the NCAA and NIT titles, a feat that was never repeated.
"It's rare that a college team can captivate a city like New York. City College of New York did on the way to making college basketball history," reads a Garden statement.
A panel of local basketball insiders, including past and present sports reporters, broadcasters, coaches, and game officials, narrowed down the many moments of basketball greatness.
The Garden began its countdown on Nov. 16 at the Coaches vs. Cancer Tournament and continued revealing each moment in the arena and on ESPN.
The second moment selected by judges was Syracuse's six overtime-period win over Connecticut in the 2009 semifinals.
"The game nearly took four hours to complete, and at the end the Orange won 127-117 in the longest college basketball game ever played at Madison Square Garden," according to the Garden. "There weren't many empty seats when the game ended at 1:22 a.m."
The third moment was Bill Bradley's 41-point effort on Dec. 30, 1964. Though Bradley's team, the Princeton Tigers, eventually lost, his efforts go down in history.
"The future U.S. senator totaled 41 points prior to fouling out with 4:37 left and the Tigers led by 12 points. Without Bradley as the focus of its passing offense, Princeton struggled against the more athletic and taller Wolverines, and Michigan advanced to the finals with an 80-78 victory," according to the Garden.
The fourth moment was Gerry McNamara's stellar performance at the 2006 Big East tournament that lead Syracuse to the title.