Law enforcement officers on Long Island, New York, are on high alert after a threat by MS-13 gang members against police officers emerged.
Long Island is a known hotbed for MS-13 activity, and the gang is connected to at least 17 murders that took place within 18 months in the region.
Nassau County Police Commissioner Patrick Ryder said the department is investigating the threat and taking precautionary steps to ensure officer safety.
"I will not tolerate any threats against my officers, and the Nassau County Police Department will continue to protect our residents and communities," Ryder said in a statement on April 19.
He encouraged residents to call 911 immediately if they "see or hear anything suspicious regarding any threats."
An expert on MS-13 said the threat is likely retaliation for the recent extradition of Miguel Angel Corea Diaz (aka "Reaper")—a reputed major MS-13 East Coast leader—to Long Island to face a series of charges.
"As a response, a lower-level MS-13 clique leader out of Long Island—either independently or in consultation with senior gang leadership in El Salvador—has apparently decided to strike back at the Nassau County Police Department and teach it a lesson for crossing the gang," said Robert Bunker, an adjunct research professor at the Strategic Studies Institute of the U.S. Army War College.
"Such an action would be in line with the gang's motto of 'mata, roba, viola, controla' (kill, steal, rape, control) and the fact that it can act with impunity in El Salvador and kill police officers there at will."
Bunker said MS-13 is "delusional" in thinking its members can intimidate U.S. law enforcement this way.
"I suspect the blowback on local MS-13 leadership and their cliques for even contemplating such a kill order will be swift and overwhelming," he said.  
It's not the first threat MS-13 has made against law enforcement.
Peter Fitzhugh, deputy special agent in charge of Long Island's Homeland Security Investigations, said a street agent was "greenlit" by MS-13 several years ago.  
"They put a hit out on him," Fitzhugh said in May 2017. "And so his life was in jeopardy because, I believe, how effective we were in eradicating and taking down members of the MS-13 gang."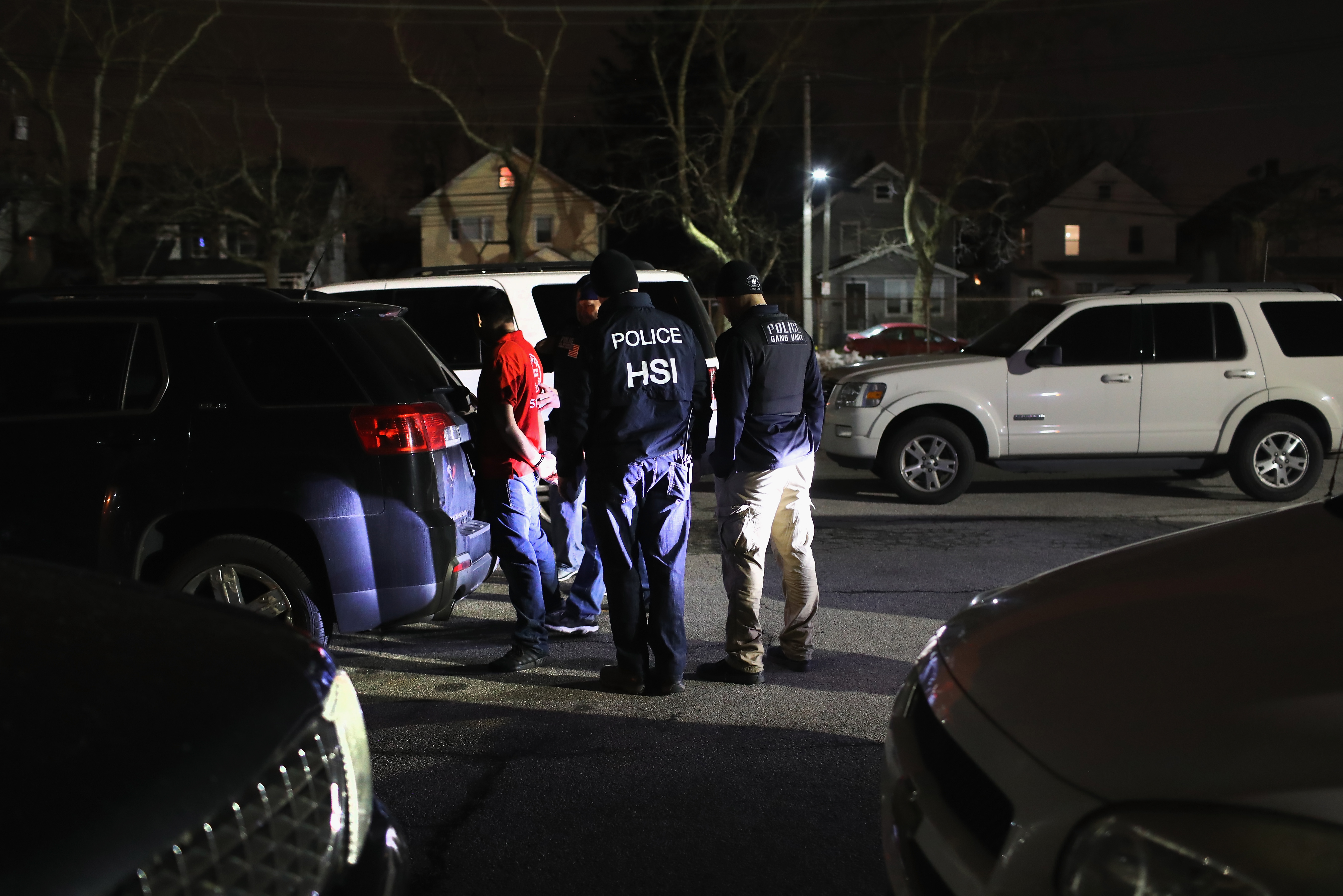 President Donald Trump has been outspoken about his intent to eradicate MS-13. He traveled to Long Island in July last year to support law enforcement efforts against the gang, calling its members "animals."
"They kidnap, they extort, they rape, and they rob. They prey on children. They shouldn't be here. They stomp on their victims. They beat them with clubs, they slash them with machetes, and they stab them with knives," he said.
"They have transformed peaceful parks and beautiful, quiet neighborhoods into bloodstained killing fields. They're animals. We cannot tolerate as a society the spilling of innocent, young, wonderful, vibrant people."
Trump said MS-13 has exploited America's weak borders and lax immigration enforcement for years.
MS-13 gang members often recruit newly arrived unaccompanied minors from Central America who crossed the southwest border illegally and claimed asylum. Gang leaders in El Salvador use loopholes in the unaccompanied minor program to send members to the United States.
According to Rep. Peter King (R-N.Y.), almost 30 percent of MS-13 arrests are members who entered the United States as unaccompanied minors.
The Department of Justice (DOJ) estimates around 10,000 MS-13 gang members live in the United States.
"They're primarily composed of immigrants or descendants of immigrants from El Salvador, and they have infiltrated our entire country," said John Cronan, acting assistant attorney general for the DOJ's Criminal Division, on Feb. 6.
"It is estimated that there are upwards of 2,000 MS-13 members in Los Angeles; between 800 and 1,200 in Dallas and Houston; 2,000 in Long Island; 800 and 1,000 in Boston; and 3,000 members right here in the D.C. metropolitan area," Cronan said.
In 2017, Cronan said the DOJ secured convictions against more than 1,200 gang members, including many MS-13.
Recommended Video:
What is MS-13?