A teenager part of the MS-13 gang was stabbed 100 times by his fellow gang members before his body was dumped in Virginia at the weekend.
Stafford County Sheriff's deputy found the body of Jacson Pineda-Chicas, 16, on the morning of March 16 in a remote and grassy area, according to a police statement.
Investigators say the teen died inside of a home in the 7000 block of Varnum Street in the Landover Hills neighborhood before his body was driven to Stafford County.
A preliminary police investigation reveals the victim and suspects are all members of a MS-13 gang that operates in Fairfax County, Va.
A 16-year-old whose body was found in Stafford County over the weekend had been stabbed as many as 100 times by his fellow MS-13 gang members, before his body was taken to Virginia to be dumped and burned, according to Prince George's County police.https://t.co/QyP19VeaV1

— FOX 2 Detroit (@FOX2News) March 16, 2019
The confrontation allegedly happened on March 8 when the victim and several members traveled to Prince George's County to the home of a gang leader to attend a meeting.  
At that meeting, a confrontation is believed to have resulted in Pineda-Chicas being attacked and killed. Police are still investigating reasons behind the clash.
Police say all five suspects are being charged with first-degree murder and other related offenses.
VIDEO: Teen stabbed about 100 times and set on fire in MS-13 gang murder https://t.co/uBNsQxxUAT

— Dennis Michael Lynch (@realDennisLynch) March 16, 2019
The suspects are Jose Ordonez-Zometa, 29, of the 7000 block of Varnum Street in Landover Hills, Jonathan Castillo-Rivera, 20, of the 4000 block of America Drive in Annandale, Va., Kevin Rodriguez-Flores, 18, of no fixed address, Christian Martinez-Ramirez, 16, of the 2000 block of Dover Lane in Falls Church, and Jose Hernandez-Garcia, 25, of no fixed address according to the statement.
All suspects are being charged as adults. Ordonez-Zometa is in the custody of the Prince George's County Department of Corrections. The four remaining suspects are in custody in Virginia.
MS-13 Gang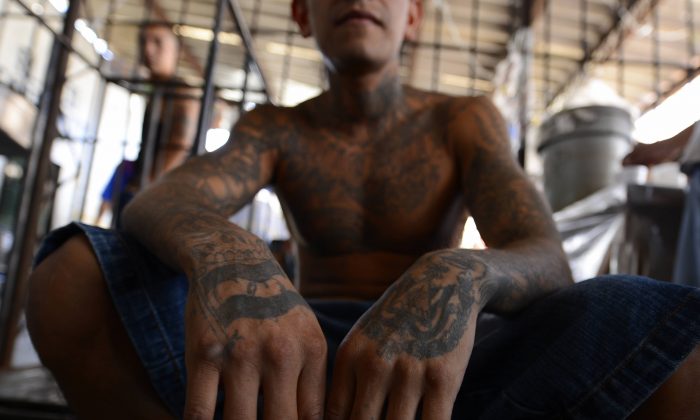 More than 90 percent of the MS-13 members arrested by Immigration and Customs Enforcement (ICE) this year were staying in the United States illegally.
MS-13's motto is "kill, rape, control."
The gang, also known as Mara Salvatrucha, was initially formed by Salvadoran immigrants who fled to Los Angeles during the civil war in their home country.
"The gang became increasingly violent—drawing upon the Salvadoran wartime experiences of its members and their cultural use of the machete—to protect its members from Mexican-American street gangs and their rival, the hybrid 18th Street gang," said Adjunct Research Professor Robert J. Bunker, from the U.S. Army War College's Strategic Studies Institute.

A huge deportation effort in the early 2000s, which expelled thousands of MS-13 members from the United States back to El Salvador, contributed to the gang taking hold in Central America. El Salvador is now the gang's operational base. The Justice Department estimates around 40,000 members live in Central America and 10,000 live in the United States.
The Epoch Times reporter Charlotte Cuthbertson contributed to this report.