Opposition MPs pressed government officials on Wednesday to explain why a Chinese state-owned company embroiled in alleged bribery scandals was awarded a standing offer to supply security equipment to Canada's embassies.
In July, high-tech Chinese company Nuctech was awarded a $6.8 million contract with the federal government to install X-ray security equipment for 170 Canadian embassies, consulates, and high commissions around the world.
But the deal raised immediate concerns related to security due to Nuctech's connection to the highest levels of the Chinese Communist Party (CCP), having been founded by the son of former CCP leader Hu Jintao, as well as its links to the Chinese military.
"My problem is still that the Government of Canada accepted to go forward with a request for standing offer with Nuctech," Conservative MP Pierre Paul-Hus said at a meeting of the Standing Committee on Government Operations and Estimates on Nov. 17.
"How can we do business with a company that is directly related to the Chinese Communist Party without going ahead with an in-depth security assessment?" Paul-Hus asked Lorenzo Ieraci, Acting Assistant Deputy Minister, Procurement Branch at Public Services and Procurement Canada.
"In terms of process on our end, the procurement processes are based on the security threats and risks identified by our client, which in this case was Global Affairs," Ieraci replied.
"Our procurement approach currently does not exclude companies or businesses from specific countries. At the time of the procurement process, there were no identified security risks, and that's why the process went ahead as it did."
When asked by Paul-Hus why a security review on Nuctech was not in place, Dan Danagher, Assistant Deputy Minister, International Platform at Global Affairs said a review had been carried out based on two questions: whether the equipment would be handling sensitive information or be connected to Canada's information network.
"When those two questions were considered negative, this was considered low-risk, and it was the paradigm that existed at that time," Danagher said.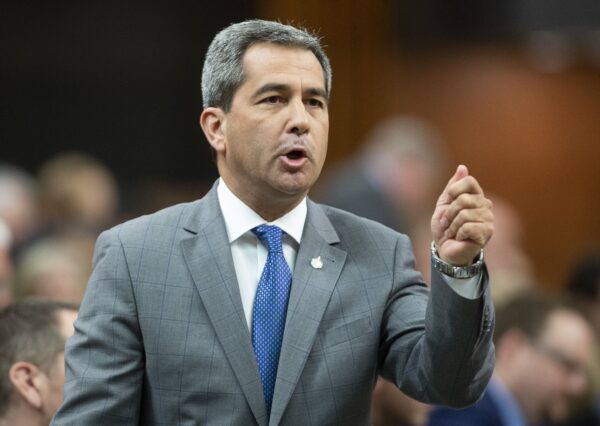 In 2014, the U.S. Transportation Security Administration banned Nuctech equipment from the country's airports due to security concerns. Officials in the EU have also raised concerns about the risks Nuctech poses to airport security.
Nuctech has been dubbed the "Huawei of airport security" for its role providing security equipment such as X-ray machines, scanners, and explosive detection systems to airports and customs offices in over 150 countries, giving it access to the strategic infrastructure of those countries in sensitive areas such as aviation and border security.
The company has long been accused of alleged unfair business practices and corruption, including numerous allegations of bribery in Taiwan and Namibia. In 2010, the EU imposed a five-year tariff on Nuctech products for alleged dumping on the European market.
Danagher said that as of the present time, Global Affairs has not purchased the conveyor belt X-ray that the government had awarded a standing offer to Nuctech for and has no Nuctech equipment in its overseas offices.
When questioned by Conservative MP Kelly McCauley about the standing offer, Ieraci said that if it had gone through, it would have gone to Nuctech, not another competitive bidder.
In July, the National Post reported that Nuctech's $6.8 million bid had been successful, and Nuctech was chosen ahead of at least three Canadian companies—KPrime Technologies, Smiths Detection, and VOTI Detection—as well as California-based Rapiscan Systems. At least one of the companies, KPrime, had made a lower bid than Nuctech.
A slew of other media outlets did follow-up stories on the issue, raising concerns about the security risks involved.
"[U]nless the media brings this up and this doesn't explode, [Nuctech] would have received the contract. Am I correct?" McCauley asked Ieraci.
"If call-ups would have been issued against the standing offer, yes, they would have," Ieraci replied.
"But a five-year-old would know, 'I'm not going to bring a piece of Chinese technology that's owned by the Chinese Communist Party into Canadian property where they could have a WiFi signal sending out to be collecting the information,' their workers could come in and put a USB drive in," McCauley said.
Danagher responded that "we are a learning organization we'll learn from whoever brings items like this to our attention. And in this instance, we conducted, I would say, a responsible review and we've taken the correct action moving forward."
The Canadian International Trade Tribunal, which governs the government's procurement process, launched an inquiry into the Nuctech bid after a complaint was made by Calgary-based KPrime.