MPs are praising the top public health doctor serving Haldimand and Norfolk counties in southwestern Ontario for saying he is against "any attempt to foment hate," as some politicians and others have spoken in anger or vitriol about those who have chosen not to be vaccinated against COVID-19.
Dr. Matt Strauss, acting medical officer of health (MOH) for the region, posted a screenshot on Twitter on Jan. 8 showing the status of those in the intensive care unit in Ontario on that date, with 123 unvaccinated cases, 18 partially vaccinated, and 137 fully vaccinated.
"There are 123 unvaccinated Ontarians in an ICU bed with Covid-19 today," wrote Strauss, who is also an assistant professor of medicine at Queen's University and the former medical director of the critical care unit at Guelph General Hospital.
"I have looked after some of them. I am deeply uncomfortable with any attempt to foment hate against these of my patients."
Strauss said his health unit has always tried to look after people without judgment regardless of vaccination status.
There are 123 unvaccinated Ontarians in an ICU bed with Covid-19 today.

I have looked after some of them.

I am deeply uncomfortable with any attempt to foment hate against these of my patients. pic.twitter.com/YGJVcYYG2W

— Matt Strauss, MD (@strauss_matt) January 8, 2022
Conservative MP Leslyn Lewis, who represents the riding of Haldimand and Norfolk, said on Twitter she is "so proud" to have Strauss serve as MOH in her riding.
"We must engender unity, understanding, compassion and science to get through this pandemic — together," she said in a tweet on Jan. 9.
Conservative MP Kyle Seeback, who represents Dufferin-Caledon riding in Ontario, posted his support for Strauss's message on Twitter, saying that "everyone should read" the resulting social media thread.
Seeback added that the unvaccinated have become scapegoats for pandemic policy failures.
"Politicians blaming the unvaccinated know exactly what they are doing. Trying to blame someone other than themselves for their failures. It's wrong and deeply shameful," he tweeted on Jan. 9.
Rhetoric Ramps Up Against the Unvaccinated
The federal government has been highly critical of unvaccinated Canadians for their refusal to get the shot, and in the past week has indicated a preference to make COVID-19 vaccinations mandatory.
In a press conference on Jan. 5, Prime Minister Justin Trudeau said that Canadians are "angry" and "frustrated" with the unvaccinated.
"When people see that we are in lockdowns or serious public health restrictions right now because of the risk posed to all of us by unvaccinated people, people get angry," he said.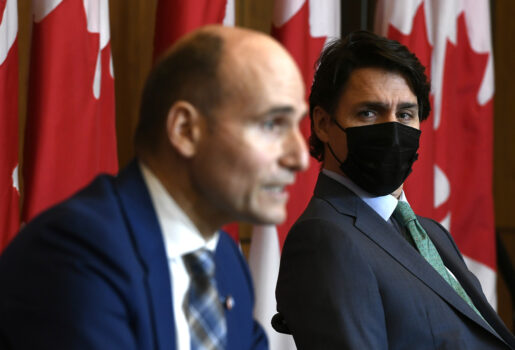 In another interview on Quebec talk show La Demaine des 4 Julie on Sept. 17, 2021, Trudeau told host Julie Snyder in French that people who are opposed to vaccines "don't believe in science," and are "often misogynists, racists." "Do we tolerate these people?" he asked.
On Jan. 7, federal Health Minister Jean-Yves Duclos told reporters in a press conference that he's in favour of making vaccination mandatory across Canada.
In Quebec, Health Minister Christian Dubé said his government will soon extend the vaccine passport mandate to shopping malls and other "non-essential services" in order to put pressure on the unvaccinated to get the jab.
"The message I'm sending to non-vaccinated people [is]: if you don't get vaccinated, stay home," he said in a press conference on Jan. 6.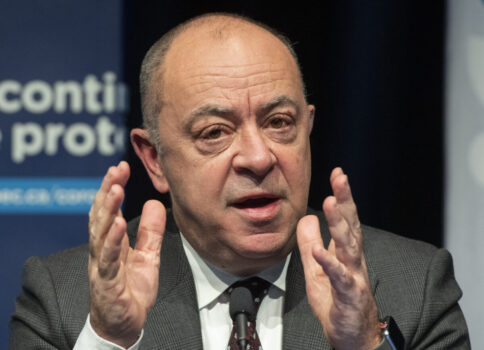 In addition to governments, Quebec's physician regulator Collège des médecins du Québec (CMQ) recently urged the provincial government to "step up the pace" of introducing measures that limit the public's exposure to unvaccinated people.
"The number of cases will be on the rise, hospitalizations too, as will the reduction of surgeries and other care … this is why we must do better and faster to vaccinate the population and expand the scope of the vaccination passport," CMQ said in a press release on Jan. 7.
Dr. Katherine Smart, president of the Canadian Medical Association said the unvaccinated have led to the country's health system becoming overwhelmed.
"We have this small minority—about five to 10 percent of the population—that are leading us to where we are right now, and I think we need to get serious about what we're going to do about that," she told the Big Story Podcast, reported on Jan. 5.
Strauss said that in his medical experience, there are many different reasons why some Canadians choose not to get the shot.
"Some of them haven't had the educational opportunities you have had. Some of them don't trust authority. Some of them have been hurt and have reasons not to," he wrote, calling for a more tolerant approach.
"Education, support, and listening work a lot better than judgment. I promise."