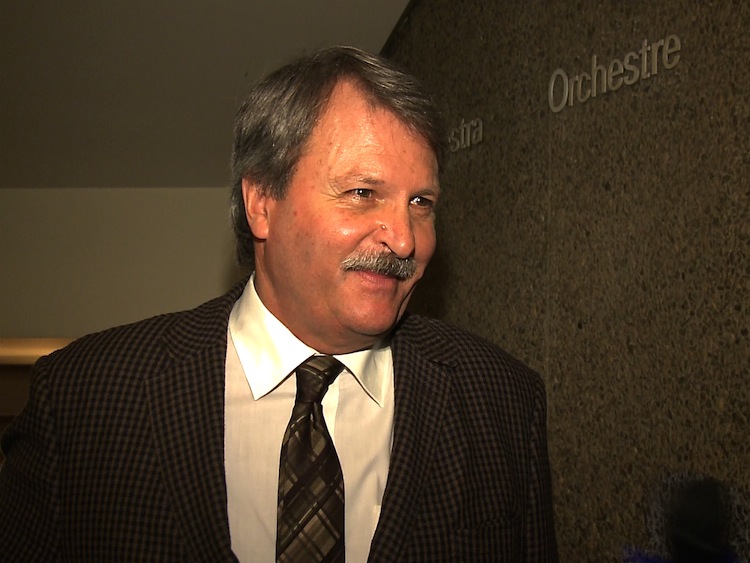 OTTAWA, Canada—Shen Yun Performing Arts was so good last year that Carleton-Mississippi Mills member of provincial parliament (MPP) Jack MacLaren brought his wife and one of his daughters to see the acclaimed classical Chinese dance and music production this year.
"I love the beautiful costumes, the dancing, expression of the culture, and the music was wonderful too," he said.
"My daughter's visiting us for Christmas right now. She lives in California, and she was very impressed. She really liked the piece about the phoenix bird [Phoenix Fairies]. She enjoyed that."
Last year Mr. MacLaren also came with his wife, but brought a different daughter to see the show.
"I just enjoyed the whole show. I thought it was wonderful," he said.
Shen Yun was founded on a mission to revive 5,000 years of divinely inspired Chinese culture, a heritage nearly all but destroyed in Middle Kingdom.
Shen Yun's website details the historical circumstances that inspired a group overseas Chinese artists to establish the performing arts company.
After more than 60 years of Communist rule in China, and especially after the Cultural Revolution, Chinese traditional culture has been all but completely demolished.
Nevertheless, the deeper spiritual core of the ancient culture, with its values of benevolence, honour, propriety, wisdom, and sincerity, as well as a reverence for the gods and the heavens, are not ideals that can be destroyed.
Mr. MacLaren said that Shen Yun gave an interesting and entertaining glimpse into 5,000 years of cultural history.
"I think it was wonderful. I'd recommend it to anybody to come and see it," he said.
"I was just very impressed by it all. Very meaningful presentation."
Of the 22 dance and music performances in the production, Mr. MacLaren was particularly moved by the two dances dealing with the modern-day persecution of practitioners of the Falun Gong (also known as Falun Dafa) meditation practice in China.
"There's a problem in China, and there's abuse of people," Mr. MacLaren said.
"There's been different peoples, different groups that over the time have been persecuted in China. And the Falun Gong are the one we were talking about the most today," he said.
"I'm very bothered by the fact that the Falun Gong are being so persecuted in China," he added.
Falun Gong grew in popularity throughout the 1990s, attracting between 70 million to 100 million believers before being outlawed in 1999. The spiritual discipline is based on self-improvement, or self-cultivation, through adherence to the principles of truthfulness, compassion, and tolerance.
Mr. MacLaren said it was important for the western world to understand China's long history and rich culture, and that the communist regime has suppressed that culture.
"A lot of it has been torn down and lost, and it's wonderful that this show is … reminding people that this is part of the Chinese history, the culture and the history of China."
He said Shen Yun was doing a wonderful job of reviving China's traditional culture while educating people about its rich history.
"I think it's a wonderful thing and everybody would enjoy it."
Mr. MacLaren has a history of community involvement. Before entering politics, he was the president of the Ontario Landowners Association, Carleton Landowners Association, MacLaren's Landing Community Association, Director of the Canadian Justice Review Board, along with involvement in many other community organizations.
Reporting by NTD Television and Matthew Little
New York-based Shen Yun Performing Arts has three touring companies that perform simultaneously around the world. Shen Yun's New York Company will be in Montreal Jan. 3-6 before going on to Toronto, and other cities in eastern Canada. For more information, visit ShenYunPerformingArts.org
The Epoch Times is a proud sponsor of Shen Yun Performing Arts. 
The Epoch Times publishes in 35 countries and in 20 languages. Subscribe to our e-newsletter.