Member of European Parliament Meets Chinese Human Rights Lawyer Zheng Enchong
November 28, 2008 8:49 pm Last Updated: October 1, 2015 10:37 pm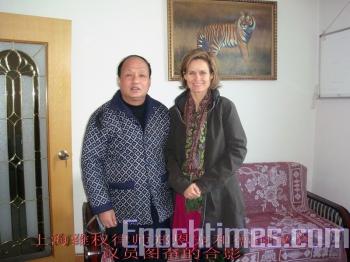 Member of the European Parliament Helga Truepel met with renowned Chinese human rights lawyer Zheng Enchong at his place of residence in Shanghai on November 25. Mrs. Helga Truepel, German member of the European Parliament, was also a member of the Green Party. During their two-hour meeting, they exchanged views on several sensitive issues including China's human rights record, Tibet, Falun Gong, Internet freedom and the global Quitting the Chinese Communist Party (CCP) movement.
Originally, Truepel failed to meet with Hu Jia's wife Zheng Jinyan in Beijing, due to the Chinese communist authorities' interference.
Regime Withdrew Police to Create False Impression of 'Freedom'
"At 10:09am Helga Truepel and a German translator knocked on my door. I found they were very nervous because they failed to meet Zeng Jinyan in Beijing two days ago and worried about if the same thing happened again," remarked Zheng.
He continued to say that the police were specifically ordered to not interrupt their visit, and recounted how they left before the meeting began and returned when it concluded.
"Before they arrived at my house, all policemen around my home were gone abnormally at 8:00a.m. After Mrs. Helga and her translator left at 12:00pm, they appeared again. The government tried to create the false impression of my freedom."
CCP Authorities are Concerned About Pressure from International Societies
Regarding being able to successfully meet with Truepel, Zheng commented, "First, the Chinese Communist regime felt pressure from the international society after the scandal about them hindering the woman MEP from meeting Zeng Jinyan was exposed. Secondly, recently the China-EU relationship has changed a lot. The French President agreed to meet with the Dalai Lama and the CCP requested they postpone the China-EU meeting in December." [caption id="attachment_77065″ align="alignleft" width="320″ caption="Mrs. Helga Truepel has her photograph taken with Shanghai petitioners at Zheng Enchong