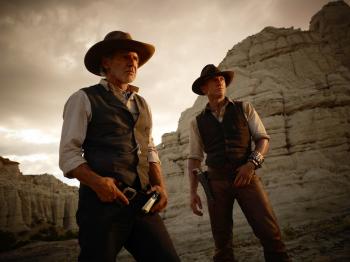 January
Black Swan and True Grit
January stands as a really strong start to 2011 with award favourites and a couple of blockbusters to look out for. Such as: Danny Boyle's adrenaline-infused survivalist story 127 Hours, Buffy alums Joss Whedon and Drew Goddard's 3D horror Cabin in the Woods, Michel Gondry's Seth Rogen-penned version of The Green Hornet, The Coens' take on classic John Wayne revenge Western True Grit, Darren Aronofsky's festival-favourite Black Swan and the workaholic Clint's latest Hereafter. The pick of that distinguished lot if you could really, truly only see one? It'd be Black Swan, by Portman's poise. Or perhaps True Grit, by Bridges' eye-patch? Arrgghh…
February
Never Let Me Go
February is a toss up between the serious and the sidesplitting. There's Mark Romanek's overdue return to cinema screens via his adaptation of Kazuo Ishiguro's acclaimed sort-of sci-fi novel Never Let Me Go. Then Pegg & Frost reunite with added Rogen vocals in Greg Adventureland Mottola's very much sci-fi road movie Paul. Never Let Me Go's uniquely tragic tale about kids in a secretive and secluded British boarding school growing up and turning into Keira Knightley, Carey Mulligan and Andrew Garfield is unmissable. Doesn't sound sci-fi? You'll see, because revealing any more would be telling. Probably best you avoid the spoiler-heavy trailer too.
March
Sucker Punch
There's one film that stands out from the rest in March: Zack "not everyone's cup of tea" Snyder's "Alice in Wonderland with machine guns" Sucker Punch. Snyder has as many detractors as he does fans, but he certainly knows how to bring the graphic panel to the big screen whatever you think. Sucker Punch will mark the first time he hasn't adapted someone else's work, so is the first proper real insight into his (arguably) mental man-teen mind. Expect mucho slo-mo, fetishised female flesh and bouts of uber-violence.
April
Thor
First out of the trap in summer 2011? Marvel's latest character launch Thor. The Norse God of Thunder who speaks like an outcast from a lost Shakespeare play, Thor is going to have a difficult time fitting into the post-Nolan superhero era of realism. It's probably a good thing they've hired the completely leftfield choice of serial Shakespeare-adaptor Kenneth Branagh to bring his larger-than-life origin story to reality then. The man shouldered with the responsibility of bringing the blonde-haired, blue-eyed Asgardian to the screen is the relatively unknown Chris Hemsworth. Much is riding on his bulked-out shoulders, but if Branagh has faith then so do we.
May
The Hangover Part II
Gut-busting comedy wins out over relaunched Pirates of the Caribbean in May, as long as Todd Phillips' inevitable sequel can get anywhere near the heights of hilarity the surprise original package retched. Not much is known about the prospects for our favourite "three best friends that anybody can have" (Bradley Cooper, Ed Helms and Zach Galifianakis) at this early stage about their return, other than this time the heavy heads and unsettled stomachs will be across international territories: L.A. and Bangkok. The specifics themselves are under wraps and really that's where they should stay; you don't want the surprises spoiled now do you?
June
X-Men: First Class
And so we hit the summer silly season proper. The pick of the blockbuster crop? X-Men: First Class. Loosely based on the graphic novel series of the same name, First Class reveals the origins of the X-Men we've come to know and love, back when Charles Xavier and Eric Lensherr were friends and not the archenemies known as Professor X and Magneto. It's the talent involved in this one that makes it so enticing though: Matthew Vaughn behind the camera, his partner in cine Jane Goldman behind the Martin Luther King and Malcolm X-aping screenplay and such prestigious actors as James McAvoy and Michael Fassbender bringing the soon-to-be-rivals to life.


Continued on the next page…