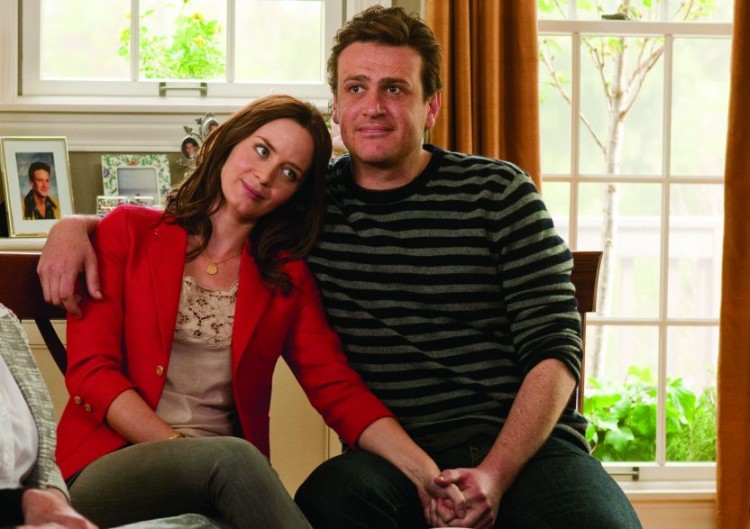 Here comes another wedding comedy following the immense box office success of Bridesmaids. Once again from producer Judd Apatow, The Five-Year Engagement not only is fresh but also has perfect proportions of a romantic comedy with guy-friendly humor that will have you laughing one second and "aww"ing the next.
It opens with Tom (Jason Segel) attempting to surprise his girlfriend of one year, Violet (Emily Blunt), with a proposal he had planned with his fellow sous-chef buddy, Alex (Chris Pratt). Tom and Violet are a happy couple. They met at a New Year's Eve costume party and quickly hit it off.
Naturally, after engagement, everything takes a turn with a series of events. Although Tom and Violet had planned to be married after a year, the career-driven couple decide to postpone the wedding after Violet is offered a two-year post-doc job in Michigan. Tom sacrifices his upcoming head-chef promotion and leaves San Francisco with Violet.
More bumps come along Tom and Violet's path, including their meddlesome colleagues, career choices, and unfortunate family deaths, to name a few. It all boils down to the question of whether Tom and Violet will ever make it.
The Five-Year Engagement hides elements of the usual cliché climax point but does so tastefully, with the help of a strong cast and fresh screenplay (co-written by Jason Segel and Nicholas Stoller).
It is difficult not to love star and co-screenwriter Jason Segel as the supporting fiancé. His cute onscreen chemistry with Emily Blunt carries the film and pushes you to root for them. Segel is fun to watch and easy to sympathize with when his character Tom gets lost in the Michigan lifestyle and falls into depression. He is only working at a sandwich shop and befriending another pathetic local named Bill (Chris Parnell).
Blunt flawlessly delivers her portrayal of Violet, who eventually spends more and more time with her colleagues (comical personalities portrayed by Mindy Kaling of The Office, Randall Park, Kevin Hart, and Rhys Ifans), who all serve as the source of many laughs throughout. Tom's emotional downfall and Violet's time spent away drives a wedge between the two. Together, Segel and Blunt are dynamic and amusing as an engaged pair, never tacky.
Ending at just a little over two hours, the movie nails a steady narrative pace with fitting use of flashbacks and hits all the marks for a refreshing rom-com. Each character was cast well, but the screenplay could have been stronger if it had tilted its focus slightly more on Tom and Violet at times and less on the subplot of Alex (Pratt) and Violet's sister, Suzie (Alison Brie).
Those who are expecting this film to be like the hit Bridesmaids may feel somewhat underwhelmed but nonetheless entertained. The Five-Year Engagement brings realistic, relatable characters to the big screen in a light-hearted whimsical story that wins you over without trying too hard and grasps your attention from the opening title.