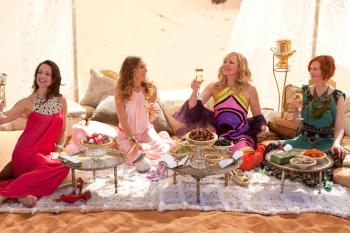 What happens after you think you got everything that you've ever wanted? SATC2 tries to answer this question and seamlessly segues from the first film to two years following the heartfelt conclusion of SATC. At the end of the first film, Carrie and Big finally tie the knot, Charlotte gives birth to biological daughter, Rose, Miranda forgives Steve after he cheats on her, and Samantha moves back to NY after breaking up with Smith Jerrod.
Without skipping a beat, SATC2 immediately re-engages you, starting from Stanford and Anthony's outlandishly lavish wedding, with a surprise cameo by Liza Minnelli (singing Beyonce's Single Ladies!). Our fabulous foursome are still stylish as ever, and while their lives appear to be the image of perfection, it becomes evident that there are cracks in the veneer as the women come to terms with reconciling what's expected of them—as mothers, wives, career women in the workplace—to their own definitions of their dreams, goals, and self-identities.


Where New York City has so faithfully and successfully played a fifth lead character in the first film and the series, SATC2 introduces us to the glitz and glamour of Abu Dhabi in the United Arab Emirates (UAE). Samantha's potential client, a chic sheik, invites her and her pals to a weeklong, all expense-paid, and completely over-the-top trip to Abu Dhabi. It's hard not to feel a twinge of envy watching the girls each get their own private suite on their plane then whisked away to their six-star hotel in their individual Mercedes Maybachs. And, it gets worse (or better for Carrie and crew)—each woman has her own personal butler.
Director/writer/producer Michael Patrick King chose Abu Dhabi not only because it provides our characters relief from the not-so-glamorous after-effects of a recessionary NYC, but more importantly, it serves as the perfect backdrop to help further contrast Carrie and crew's battle against traditionalism.
Will Miranda stay at her law firm despite the long hours and a chauvinistic new boss? Will Carrie be content with forgoing fancy nights out on the town for take-out and couch-time with Big? Will Samantha have to change who she is because of menopause? And will Charlotte's sexy nanny ruin her seemingly perfect life?
SATC2 proffers some very relatable and real issues that women of all ages face, but it smooths the edges with the wit, humor, and glamour that we've all grown to love in the original series. A thoroughly enjoyable sequel that leaves you wanting more.