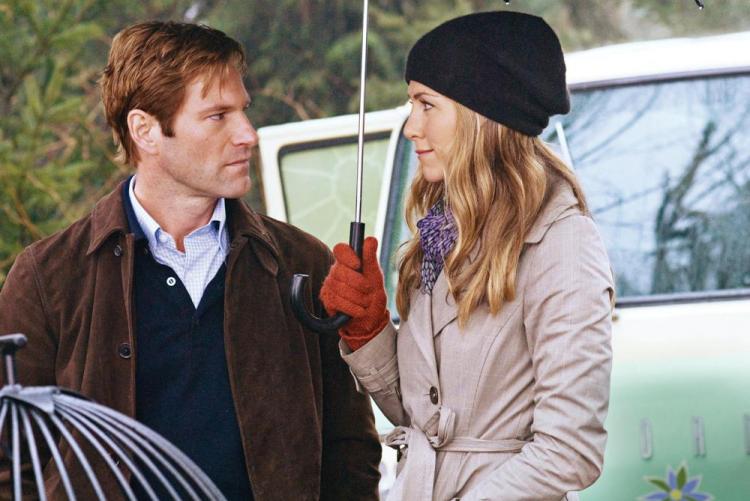 Just when I'd given up on the existence of original, cleverly written romantic dramas, newbie director Brandon Camp (and co-author for the script), along with producers Mike Thompson and Scott Stuber (Role Models, The Break Up) prove that there is hope yet for this genre.
In Love Happens, widower and grief guru/counselor extraordinaire Burke Ryans (Aaron Eckhart), meets free-spirited florist Eloise (Jennifer Aniston) during a weeklong grief-help workshop that he teaches in Seattle. Incidentally, Seattle is where his wife died three years ago in a tragic car accident. Initially, we're given the impression that Burke has fully healed and has put his grief behind him. He is witty, charming, suave and everything you'd expect a self-help guru to be. As the movie progresses, however, we begin to realize that Burke is somewhat of an accidental hypocrite; he hasn't actually followed his own advice and as a result has not successfully come to terms with his wife's death. In fact, it would also seem that the teacher is learning from his pupils.
Love Happens is surprisingly touching, despite its predictability. I'm not proud to admit it, but I tend to tear up when it comes to sappy films, and I can guarantee that I wasn't the only one sniffling (I even heard stifled sobs!). Eckhart and Aniston, in their first film together, are perfectly cast and delightful to watch. Their onscreen personas complement one another and help each other grow. As we watch these once broken characters rebuild and redeem their lives, we're reminded of the wondrous, magical resiliency of the human spirit and of our innate ability to heal ourselves and those around us.