Movie Review: '42'
The treacherous journey of an american Hero '42'
April 11, 2013 8:56 pm Last Updated: April 11, 2013 11:12 pm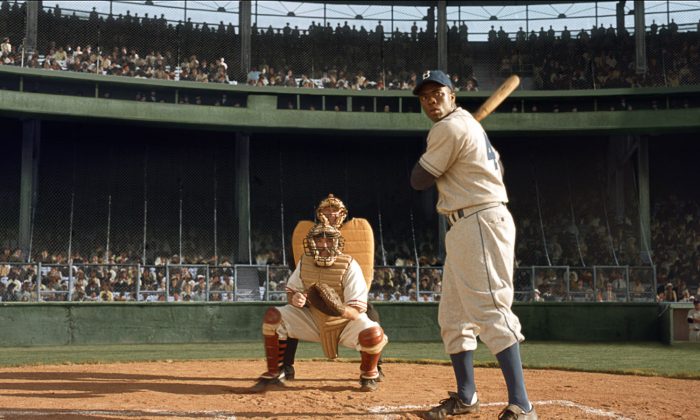 Jackie Robinson's life and world-changing career resonate with bravery and perseverance. And the film "42" paints the picture of the tormenting challenges that Robinson faced as the first black athlete in a white-dominated sport and a segregated nation.
In the mid-1940s, Branch Rickey (Harrison Ford), the general manager of the Brooklyn Dodgers, realized that the sport he loved was not a fair game. When he signed Jackie Robinson (Chadwick Boseman) to the Dodgers, it not only violated the notorious color segregation among baseball clubs, but it also caused uproar among the teams and audiences alike.
Robinson endured racism from everyone, including members of his own team. In order to stay in the game, Robinson had to show restraint and maintain his temper. Rickey pushed him to use his talent to prove the world wrong, rather than fight back. Their efforts won over fans, teammates, and eventually everyone as it paved the road for future generations to follow his courage.
Fresh-faced Boseman delivers a perfect portrayal of Robinson. He not only embraces the serious dramatic tones of the scenes but also meets the physically demanding qualities that Robinson himself possessed on the baseball field with his feet shuffles and finger fidgeting.
Ford is a delight to watch as Rickey and delivers most of the film's wittier lines, often stealing the scene. Rachel Robinson's (Nicole Beharie) undying love and support for her husband provides a glimpse of Robinson as a man, not just a ball player. Beharie is strong and captivating on her own, embracing the kind and powerful personality of the woman behind Jackie Robinson.
Director Brian Helgeland knew all the right elements to incorporate in "42," especially since he both wrote the screenplay and directed. There is a level of finesse and grace that gives the film all the right marks.
Considering how much content from Robinson's life was cut down to fit in one film, the movie is edited skillfully. Helgeland is able to vividly portray the pivotal moments in Robinson's career and keep your attention with the progression of each baseball game.
Every aspect of this film, from the script to the soundtrack, falls together and melts into awe and admiration for a true hero's journey. This wholesome and inspiring film salutes Jackie Robinson and is sure to touch your heart, whether you are a baseball fan or not.
Director: Brian Helgeland
Cast: Chadwick Boseman, Harrison Ford, Nicole Beharie, Christopher Meloni, Andre Holland, Lucas Black
Running Time: 2 hours, 18 minutes
Rating: PG-13
Star Rating: 4.5/5