A woman has been arrested after allegedly putting a note on a parked ambulance outside her house and making comments to paramedics attending to an emergency.
The note, which told the drivers to "move your van from outside my house" caused a stir after British paramedics posted it to Twitter on Sunday, Feb. 18.
The next day, although no complaint had been officially lodged, local police announced that they had tracked down the 26-year-old woman and arrested her for a Public Order offense.
We've arrested a 26yo Stoke-on-Trent woman after paramedics were subjected to verbal abuse and an offensive note on their ambulance attending a medical emergency yesterday (18 Feb). She was arrested on suspicion of a Section 4 Public Order offencehttps://t.co/oTaYRgJx5v pic.twitter.com/UvxrgM2IXh

— Staffordshire Police (@StaffsPolice) February 19, 2018
In addition to the 37-word note, the ambulance service said that she was verbally abusive.
The West Midlands ambulance had parked in the street on Sunday, Feb. 18, in the city of Stoke-on-Trent while paramedics attended a call.
When they returned they found a note, which said the following:
"If this van is for anyone but Number 14 then you have no right to be parked here.
"I couldn't give a [explitive] if the whole street collapsed. Now move your van from outside my house."
Very angry to see yet again people getting grief for doing their job. We don't block the road for something to do ?? pic.twitter.com/6fFURlNabs

— Mike Duggan (WMAS) (@wmasmikeduggan) February 18, 2018
Paramedic mentor for the West Midlands Ambulance Service, Katie Tudor, posted the note to Twitter on Sunday afternoon.
"So upset to be sent this by one of our crews this morning!" she wrote. "Along with this note left on their [ambulance] they received a load of verbal abuse."
She later added: "They weren't blocking the road, they were in a parking space … just obviously annoying someone that an ambo was outside their property."
The ambulance service was flooded with comments of support.
"Feel free to drive over my lawn and break the sprinklers if that's what you heroes need to do your job. Pathetic that you should ever have to see a single sign like that," wrote Twitter user Mike Haydon in a typical post.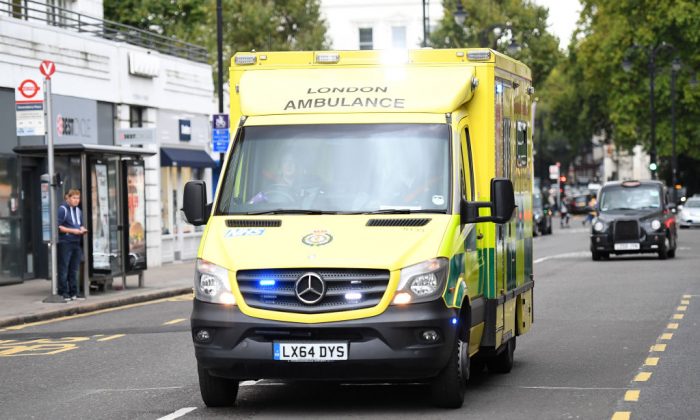 Another Twitter user by the name of Andy, had a note of his own:
"Dear ALL Emergency Services. If and when needed please feel to block my driveway, car or anything else for that matter. If you want a brew.. the kettle is always on. Need the loo? No problem. Kind Regards, Just one of the majority of folk."
On Monday morning, in a statement on Twitter, Staffordshire police confirmed that the woman, 26, had been arrested for a Section 5 public order offence.
Such offenses include "persistently shouting abuse or obscenities at passers-by."
"To avoid any confusion, the arrest relates to matters of verbal abuse that could constitute an offence under the Public Order Act. It does not relate solely to the note," wrote Chief Inspector for Stoke-on-Trent North, John Owen, on Twitter.
Recommended Video:
Cookie-Crazed Squirrel Attacks New York Policeman