A motorcyclist died on June 9 after being struck by lightning on Interstate 95 in Florida, according to the Florida Highway Patrol
Troops said the incident took place at around 3 p.m. near mile marker 271 in Volusia County, WFTV reported.
FHP: Motorcyclist dies after being struck by lightning on I-95 in Volusia https://t.co/VgRhZhwKol pic.twitter.com/dhjzSBwMO0

— WESH 2 News (@WESH) June 9, 2019
The rider was identified as a 45-year-old male from North Carolina, officials said. He crashed after the lightning strike, they also stated.
A spokesperson for the Florida Highway Patrol said the lightning struck the man's helmet, shattering it.
#BREAKING | Florida motorcyclist killed by lightning strike, FHP says >> https://t.co/uU9k1ywnN8

— ABC Action News (@abcactionnews) June 9, 2019
The lightning strike was witnessed by an off-duty Virginia State trooper, said the highway patrol.
According to WJXT, the driver of the motorcycle died at the scene.
Burn marks were found on the helmet, which confirmed that the motorcyclist was hit by lightning, highway patrol spokeswoman Kim Montes told the News-Journal.
Many parts of Central Florida are under significant weather advisories this evening, experiencing severe weather, including lightning, heavy rainfall & wind gusts up to 40 mph. Please follow these tips from @NFPA to ensure you and your family remain safe during thunderstorms. pic.twitter.com/DMRGjTqZjD

— OCFire Rescue (@OCFireRescue) June 9, 2019
The victim's name has not been disclosed. Other details about the incident were not provided.
On June 9, officials issued warnings for severe weather in Central Florida, which included lightning and thunderstorms.
Not the First Time
While rare, there have been other instances of motorcycle riders being struck by lightning.
In Colorado, Eugene Villines survived being hit by a bolt of lightning while on his motorcycle, ABC News reported in 2015.
Villines said he wasn't driving in a thunderstorm and only saw a dark cloud. Witnesses said that he went limp, crossed two lanes, and crashed.
"I feel pretty good," Villines told ABC News at the time from his hospital bed.
He added, "Partially punctured lungs and bruised ribs make everything more difficult but I'm doing pretty well."
His wife, Katie, said that it's a miracle that he wasn't hit by another vehicle while he was unconscious.
"I feel just like it's a miracle," Katie Villines added to the network. "He's just so lucky to have survived this, because not many people survive getting struck by lightning and a motorcycle accident at the same time."
It wasn't clear if he was stuck in the helmet. According to KMGH, he and his wife believe he was struck in the left hand or shoulder.
"The witnesses said it was rush hour and all of a sudden there was a clearing," Katie said. "He was able to go right off of the road and crash," she said.
The U.S. National Weather Service (NWS) says that lightning "is s a major cause of storm-related deaths" in the United States.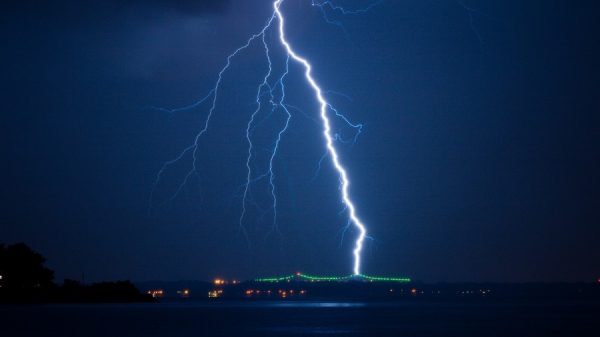 "A lightning strike can result in a cardiac arrest (heart stopping) at the time of the injury, although some victims may appear to have a delayed death a few days later if they are resuscitated but have suffered irreversible brain damage," according to the weather agency.
The average number of lightning-related deaths reported in the U.S. is 29 per year. About 243 people are injured annually, it adds.
"Over the last 30 years (1989-2018) the U.S. has averaged 43 reported lightning fatalities per year. Only about 10 percent of people who are struck by lightning are killed, leaving 90 percent with various degrees of disability. More recently, in the last 10 years (2009-2018), the U.S. has averaged 27 lightning fatalities," the agency says.