Mothers Sleep Outside to Fundraise for Homeless Teens
May 4, 2014 8:07 pm Last Updated: May 4, 2014 8:11 pm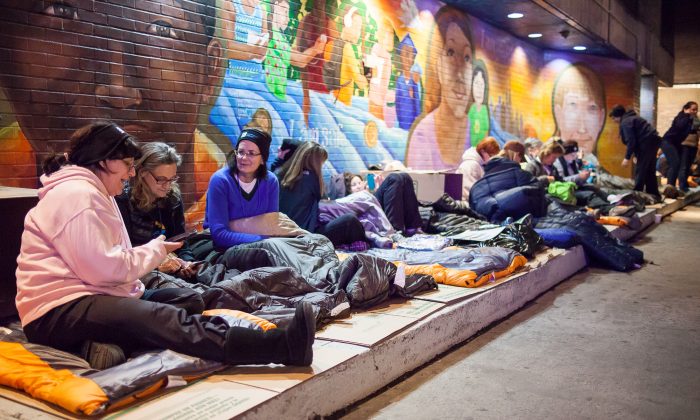 NEW YORK—Shatia couldn't hold her tears back talking about the bright future she envisions for her daughter. She was optimistic about her own future too, planning a career in animal care. But things could have been quite different, as just months ago Shatia was facing homelessness.
Having a mother addicted to drugs, Shatia (who declined to give her last name) grew up feeling abandoned. Before long she was acting up against her guardian, skipping school, and roaming the streets instead.
But everything changed when she got pregnant. "I have to do something different now," she realized. "I had to find a better way to live."
She was no longer a minor, however, and society expected her to take care of herself. Then a friend of hers told her about the Covenant House.
Covenant House has been around for 42 years. It is a non-profit that provides shelter and support to 50,000 young homeless people in 21 cities in the United States, Canada, and Central America.
Shatia was accepted to a Covenant House program for young mothers in New Jersey. "I'm so grateful to have a roof over our heads," she said. Perhaps even more importantly, she said she felt loved and supported there.
"I am focused on being the best mother I can be to my daughter," she said on Friday, sharing her story with a room filled with mothers. "I'm giving her a great childhood and a life that I never had."
Almost 100 ladies in the audience listened attentively, some with tears in their eyes.
Soon after Shatia and others grabbed their sleeping bags and cardboard sheets and hit the streets. All of them participated in the Covenant House Sleep Out, a fundraiser that brought home some $240,000.
The concept is unusual, yet it works: Participants spend a night outside in sleeping bags in a parking lot in front of the Covenant House facility. They tell their friends about their decision and ask for donations for the cause: "I sleep out so homeless youth don't have to."
Mothers Edition
This time the sleep out was dubbed Mothers Edition—that is, only mothers were invited to participate. Each mother had a goal of raising at least $2,000 through their donation web pages set up by Covenant House.
Some struggled to solicit the sum, saying they learned about the event too late. On the other hand, some of those who started early went much further. Jennifer Satz Enslin from the Upper West Side scored at the top, raising over $20,000. "It's just something that resonates with people," she said. Two of her friends joined her, together rising over $30,000.
The atmosphere of the event was both intense and encouraging. Participants enjoyed a short reception followed by numerous stories shared by Covenant House staff and some of the 400 young people sheltered in the West Side Manhattan facility.
Kevin Ryan, president of Covenant House International, told a story of a girl he met in a Covenant House facility in 1992. She never knew her father, lost her mother when she was 12, and was raped and forced into prostitution at 15. At 17 she became homeless. Thanks to Covenant House the girl was able to get a job, put herself through nursing school, and now she's a charge nurse in a New Jersey hospital. "How does that happen?" Ryan asked. His answer is that Covenant House tries to be the "love in the world for young people, who haven't felt that or touched that."
Next Morning
Around midnight the mothers were ready to say good night, getting a mild taste of what sleeping on a street is like. The sleeping bags were warm enough, but due to a busy Manhattan street just a few feet from their heads, they didn't get a good sleep.
"I was happy, but very tired," said Pam Hess, a special education teacher from New Jersey. "I tried to put myself in the shoes of a homeless teenager facing their first night without a home," she said in an email.
"As we were settling down for the night, my friends and I reflected on how loneliness is one of our greatest fears. The teenagers … spoke of how the Covenant House staff really listen to and care about them, something their parents were not able to give to them. What a wonderful gift of 'being present' Covenant House has given them."