SAN FRANCISCO—Pro-life advocates lined up at the Civic Center on Jan. 25 for the annual Walk for Life, where speakers talked about their personal experiences and the choices they made.
Kathleen Folan shared her experience of giving up her son for adoption decades ago.
Folan was a junior in college when she had a crisis pregnancy. She was sexually assaulted by an acquaintance and discovered that she was pregnant one month later.
"Everything I planned came to a halt," she said.
She said it took her 11 days to tell her parents what had happened, and they were supportive when she told them. Folan felt that adoption would be the best option for her baby at that time.
She searched through hundreds of potential families before coming across the Sullivan family.
"The first year I placed him for adoption, I went back to college. I did cry like every night, wondering, 'Should I have kept him?' Because it's still a loss, you know," she said.
"But then, when I went and spent spring break with their family in their home when he was 10 months old, and I saw that he had everything I couldn't provide at the time … I knew that I made the right decision."
Nathan Sullivan, the baby she had given up all those years ago, was at the Walk for Life with her. "[My mother] chose adoption. She chose life, and every blessing I've had flows from this choice," said Sullivan.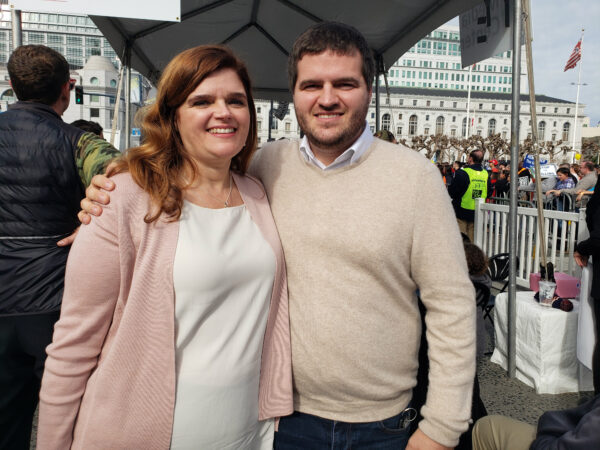 He first lived in Maryland and then moved to San Jose, California, after college. He now lives in Daytona Beach, Florida, and works as a software engineer.
Folan said that her other children now look up to Sullivan.
"Adoption was a blessing for me," Sullivan said. "In the family I grew up in, there were a lot of adopted children, so it wasn't unusual at all. It wasn't a taboo thing."
"There are far more parents looking to adopt than there are babies placed for adoption in this country," said Sullivan.
According to the Adoption Network, about 135,000 children are adopted in the United States each year. Though no statistics have been compiled on how many Americans are waiting to adopt, the Network's website states, "experts estimate it is somewhere between one and two million couples. Every year there are about 1.3 million abortions. Only 4 percent of women with unwanted pregnancies place their children through adoption."
Folan said that while Sullivan was growing up, "we always exchanged letters and pictures and phone calls. We didn't have FaceTime then … We probably would have talked more," said Folan.
"In the face of darkness and difficult circumstances, adoption chooses life," Sullivan said. "I'm living proof of this."
'The Minute I Heard My Daughter's Heartbeat'
Tjana Barrios-Chandler, another mother at the Walk for Life, considered the option of abortion 10 years ago. "I had an unplanned pregnancy in the past, and [abortion] was something that was presented to me at the time as an option," she said.
"Upholding the dignity of my child's life was always very, very important to me, even though I was an unwed young mother, even though I didn't have an education, even though I lived a long ways from family and didn't have family support at the time. … I knew the minute I heard my daughter's heartbeat that it was never an option for me," she said.
"I can honestly say that choosing life for my daughter was the biggest blessing, and it definitely paved the way for me having this wonderful child that we have here now," she said. She was holding her baby, Aurelius Chandler, whose heartbeat she had broadcast to last year's Walk for Life while he was in the womb. Barrios-Chandler met her husband five years after her daughter was born.
To women who are dealing with unexpected pregnancies, Barrios-Chandler said: "Reach out. There's so many different organizations that want to help. Get the help that's out there, as these lives are so precious."
On Jan. 24, President Donald Trump gave a speech at the annual March for Life rally in Washington, D.C. It was the first time a U.S. president has attended the event.
He said, "We look forward to all of the blessings that will come from the beauty, talent, purpose, nobility, and grace of every American child."