A Canadian mother leaped into action when a mountain lion latched onto her 7-year-old son in their backyard. She said divine intervention was what finally ended the attack.
Zack Bromley was playing out the back of their rural Vancouver Island home on March 29 when a juvenile cougar broke through their wire fence, pounced on the boy and began mauling his arm.
His mother, Chelsea Lockhart, was upstairs at the time. She heard a racket coming from the yard—the mesh fence rattling and the sound of her son's voice. Rushing outside, she found her son fighting for his life.
"I ran down the stairs and ran to his voice and turned the corner, and I see this animal on my child," Lockhart told CTV.
Lockhart said the male lion was trying to drag her son away. She said her motherly instincts kicked in: she launched herself onto it, and tried to open its jaws with her bare hands to free her child.
"He was on the ground and the cougar was over him and it was attached to his arm. I had a mom instinct, right? I just leaped on it and tried to pry its mouth open."

Posted by CTV Vancouver on Tuesday, April 2, 2019
"He was on the ground and the cougar was over him and it was attached to his arm," she said. "I had a mom instinct, right? I just leaped on it and tried to pry its mouth open."
She said she realized in that moment she could be fighting for her son's life; the animal's strength was too much for her. She said it was then that she decided to ask for help from a higher power.
"I knew that in my own power and my own strength, I wasn't going to be able to pry its mouth open. So I start praying," Lockhart told the news station.
"I'm just crying out to the Lord, just this really deep from the depths of inside of me," she said. "Three sentences into me praying, it released and it ran away."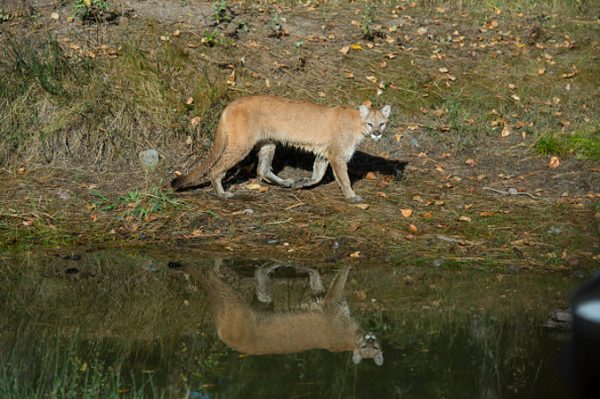 Zack suffered injuries to his head, neck, and arm but is expected to make a full recovery. The loose hoodie he was wearing at the time helped prevent further injuries. He now has stitches on his arm and behind his ear on his head, reported Global News. He is currently recuperating at his grandparent's home.
The boy's father, Kevin Bromley, said as soon as he saw his son after the attack, he started bawling. "[T]here was blood everywhere," he told Global News. If the panther had been any bigger, he said, his son might not have made it. "[I]t would have been over."
The family says the boy's mother had to pry the cougar's jaws off her son's arm in order to save him https://trib.al/qYXpDRU

Posted by Global BC on Saturday, March 30, 2019
In another interview with CBC, Bromley said his son was grappling with the idea of his own mortality as he heals. "He's old enough to grasp that. And that's a big pill to swallow, just to digest that mentally."
"I think today it's starting to sink in for him what happened. We're just trying to focus on him and make sure this doesn't impact him mentally or traumatically," Bromley told Global News. "We took him out for a big dinner last night, and that made him happy."
Bromley said his younger daughter had spotted a second cougar nearby.
Officials from British Columbia Conservation Officer Service since euthanized two mountain lions—one of which was responsible for the attack, reported Global News.
The family has now set up a live trap and camera in their backyard and also plans to get a dog, CTV reported.
As for Lockhart, she suffered injuries to her arm. She told the news station that she knows divine intervention helped save her son's life.
"Absolutely. There's no mistaking it. I'm trying in my own strength and when I pray, it released. It was just me on the animal. It wasn't my strength that did it," Lockhart said.