A mother whose 3-year-old son froze to death has pleaded guilty to involuntary manslaughter.
The North Carolina woman was sentenced to 245 days—the time she has already spent in jail—on Monday, Dec. 11.
Jamie Basinger has been in jail since April.
On March 15 her son, Landyn Melton, was spotted lying on the porch by a neighbor who then alerted authorities.
The boy had died of hyperthermia in 22-degree temperatures the morning after his third birthday celebration, apparently trying to get back into their home in Morganton, Burke County.
Prosecutors say Basinger was asleep inside.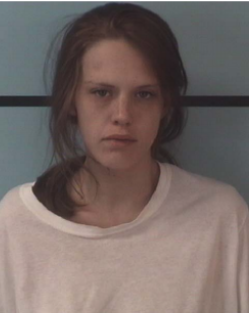 She later admitted to using meth two days earlier and marijuana the day before, according to ABC 13.
"She didn't hear him," said Assistant District Attorney Michelle Lippert. "She didn't hear him leave the room. Didn't hear him leave the house. Didn't hear him banging on the door. She was asleep while he was freezing to death."
The prosecution said that the toddler's fingerprints were found smudged on the outside of the door by investigators,  indicating he had tried to get back inside the house.
Frank Webster, Jamie's attorney, said he believes Landyn's death would have been ruled an accident if it hadn't been for the admission of drug use two days earlier.
"I certainly don't see the foreseeability of somebody using meth and then two days later expect something like this to happen," Webster said, according to the Morganton News Herald.
"Had this case gone to trial, some of the things that are said, I believe, would not have been admissible. But nonetheless, here we are."
He told the court she admitted this to authorities and cooperated because she herself wanted answers.
"She didn't understand this — it didn't make sense to her," Webster said.
"When this happened, when she saw Landyn laying on the porch, she broke down in tears — falling on the ground. She's really never stopped crying since, your honor."
Jaime rejected a plea deal in November and continued to maintain her innocence.
Breaking Morganton- Jamie Basinger pleading guilty to involuntary manslaughter in death of 3-year old son who froze to death earlier this year. pic.twitter.com/EmrX5Lfzlf

— Dave Faherty (@FahertyWSOC9) December 11, 2017
On Monday, she accepted a plea bargain, giving a guilty plea to involuntary manslaughter in exchange for the felony charges of child abuse to be dropped.
Judge Nathaniel Poovey gave Basinger a split sentence, according to the Herald. The sentence includes 36 months of supervised probation and between 19 and 32 months of prison time.
She was given credit for the 245 days already spent in custody, and will only be imprisoned if violates her probation.
"I love my kid to death and I would never do nothing to hurt him," said Basinger in TV footage shown by ABC13.
Despite Jamie's release, her mother Brenda Basinger said that the family has yet to find closure, and has unanswered questions.
"She's going to have to live with this the rest of her life," Brenda said. "She's going to have a battle — we all are," she told the Herald.
"She was a good mom," said Brenda Basinger, Jamie's mother, reported ABC13. "She didn't mean for none of this to happen and she loved her babies"
Have something to say about this story? Remember to comment or share by hitting the buttons!