An Australian woman was repeatedly sexually assaulted on a commuter train in Melbourne by a man who remains at large and police are calling on the public to help identify.
Victoria Police released security video on June 21 that shows 49-year-old Jill Perrett being followed out of the Flagstaff Station by her alleged attacker.
Perrett was allegedly assaulted by the man after both boarded a packed city-bound train at a station in Thornbury on May 16.
"[It was] terrifying. This was the middle of the day. I was really shocked," she said, according to Yahoo news.
The 49-year-old mother of three recounted the incident to reporters, saying that what she initially thought was a 'crowded train' turned into a disturbing assault that escalated over time and left her leery of using public transportation.
"I won't be catching the train for some time now," she said.
Perrett said she was standing on the train when the suspect began touching the back of her leg and pressing up against her.
"At first I thought it was a crowded train but by the time we reached Clifton Hill I was very aware he was touching me on the back of the leg. He was behind me and touching me just under my buttocks, my leg and rubbing and pressing up against my back," she told reporters on Friday.
She said she tried to get away from the alleged offender several times during the ride but he continued to stalk her and touch her. "I tried to move within the crowd to let him know I wasn't happy about him."
Perrett eventually got off the train, with the suspect in pursuit.
"The victim got off the train at Flagstaff Railway Station, where she was followed by the offender," said Detective Senior Constable Andrew Paulet of theTransit Safety Division, speaking at a press conference.
"He came right up alongside me, so I confronted him and asked, 'are you following me'," said Perrett.
The offender reportedly replied with a rude comment about giving her a "lap dance."
"The victim then walked toward an escalator, where she was cornered or confronted by the offender," said Paulet.
Police said the suspect got on an adjacent escalator and rode alongside Perrett.
"As they moved up the escalator, the offender was looking at the victim the entire time, staring at her," Paulet said.
When she reached the concourse, Perrett called the police.
"It just kept escalating until I was actually quite terrified. That's when I called Triple-0. I was quite afraid," Perrett said.
She said she has been left traumatized by the incident and wanted to speak out.
"I don't think women should feel like this," Perrett said. "Any behavior to women, any time of the day, anywhere, that's not acceptable. We've got to call out these creeps."
Along with the security camera footage, police released a description of the suspect.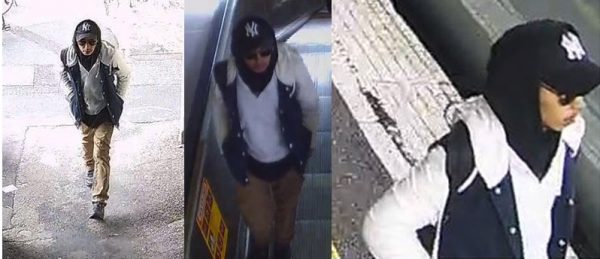 He is described as having an Asian appearance, aged 20-25, about 160cm (5 feet 3 inches) tall, slim, with a thin mustache.
He was wearing a navy New York Yankees baseball cap, navy baseball style jacket with white sleeves, and beige pants.
Watch the security camera footage:
"I'd certainly describe his actions as being very confident," Paulet said. "This was peak hour on the train, there was quite a few of people around."
Watch the press conference: