Mother Jailed to Ensure 'Stable' Transition in China
November 13, 2012 11:27 pm Last Updated: October 1, 2015 11:52 am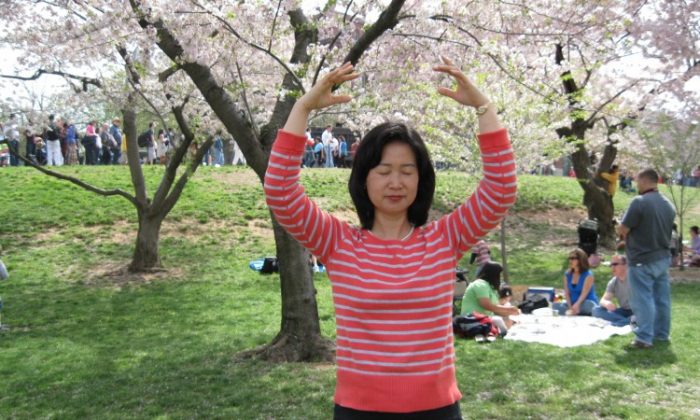 WASHINGTON—Cui Aimin had just dropped her daughter off at school when Chinese security forces arrested her, ransacked her home, confiscated the family computer, and threw her into a detention center in her hometown of Jinan, the capital of Shandong Province.
The upheaval was carried out in the name of "maintaining stability" in China before the 18th Party Congress, an event that has taken place this week as a new generation of Communist Party rulers is unveiled.
As a practitioner of Falun Gong, a Chinese meditation practice that has been persecuted since 1999, Cui was a target for the authorities. Somehow, she was identified as an "unstable element" that needed suppression.
Cui's sister, Cui Aidong, who lives in Washington DC, doesn't think so. "Hah," she muttered in a recent telephone interview. "This is old propaganda. I think my sister is the most stable member of society. If everyone practiced Falun Gong then society would be peaceful and honest. There would only be kindness."
Falun Gong's teachings hold that the principles of truthfulness, compassion, and tolerance are the essence of the cosmos, and adherents of the practice try to live by those principles.
(In)stability
The arrest of Cui was part of a widespread crackdown on Falun Gong practitioners and other groups and individuals before the Party's Congress, which is being held from Nov. 8 to 14. Such persecution is typical of large-scale Party events, which are often used as an "excuse" to persecute Falun Gong practitioners, according to Levi Browde, executive director of the Falun Dafa Information Center.
The persecution of Cui Aimin also provides a glimpse of the day-to-day difficulties that are created in the lives of Chinese people touched by the regime's suppression campaigns.
Though such arrests are carried out in the name of "social stability," the capture of this unarmed housewife certainly didn't help the stability of their family. Cui's daughter now washes the dishes, cleans the house, gets herself ready for school, and has had to learn to cook. Since the computer was taken, the daughter, who is 12, hasn't been able to use it for her homework.
Meanwhile, Cui's husband has spent the last nearly two weeks bouncing between communist security and bureaucratic organs in Jinan, asking for answers about where and why his wife is being held. Few officials will see him, and those responsible for the arrest have not made themselves available for questioning. He travels long distances on buses and trains, given that the family lives on the outskirts of a major suburban area.
He eventually found that his wife is in a detention center in the Huaiyin District of Jinan. He is allowed to visit once a week, but any visits outside that designated time slot are charged at 200 yuan per half hour, according to Cui Aimin's sister, Cui Aidong.
Details about the circumstances of Cui's daughter and husband were relayed by the sister, who lives in Howard County, Maryland. The Cui family's phone in China is almost certainly being tapped by Chinese security forces, and speaking with a foreign journalist would endanger them.
Falun Gong Calling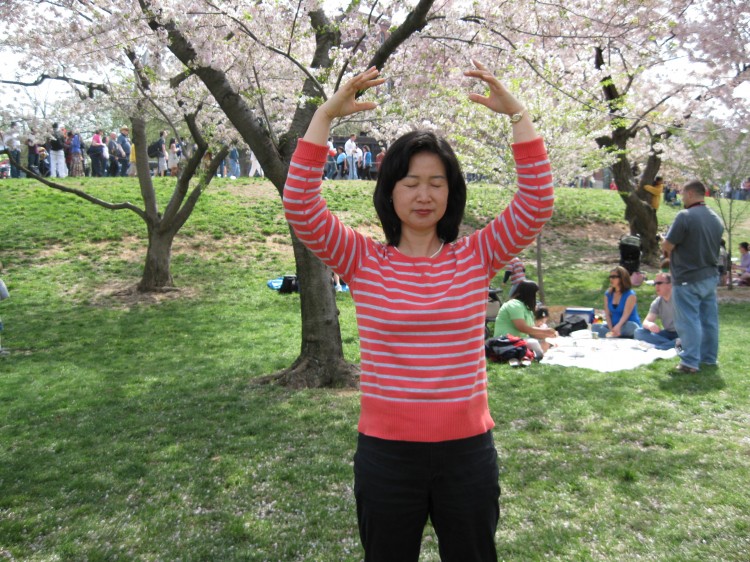 Cui Aidong, a former software engineer and also a Falun Gong practitioner, is now organizing a grassroots campaign among her peers in the United States to put pressure on Chinese authorities to release her sister.
This includes making multiple phone calls to a variety of agencies in the local government, police, and public security forces in the area. She sends out phone numbers obtained by her sister's husband, and Falun Gong practitioners in Washington and Maryland make calls after they get home from work, when it's daytime in China. They explain to the bureaucrats and functionaries they reach why the treatment of Cui Aimin is unjust, and explain the persecution of Falun Gong generally.
Her compatriots have the names and job titles of the specific men that persecuted the sister—Director Qiu and Team Leader Zhang, for example, led the persecution of her sister—and have called around, asking for them.
According to the Falun Dafa Information Center, it is a tried and true tactic of Falun Gong practitioners to expose the perpetrators of the persecution in front of their colleagues and peers.
Once a community knows, for example, that there is a one among them—even a police officer—arresting and torturing other innocent Chinese citizens simply because of their beliefs, the officials' appetite for continuing the persecution often dries up.
"This is all the Communist Party's doing," Cui Aidong said. "They made Falun Gong its enemy. They've done so many bad things now. Their regime is about deception and violence. So they see these good people as a threat to them. It's just the stupidest thing."
Editor's Note: When Chongqing's former top cop, Wang Lijun, fled for his life to the U.S. Consulate in Chengdu on Feb. 6, he set in motion a political storm that has not subsided. The battle behind the scenes turns on what stance officials take toward the persecution of Falun Gong. The faction with bloody hands—the officials former CCP head Jiang Zemin promoted in order to carry out the persecution—is seeking to avoid accountability for their crimes and to continue the campaign. Other officials are refusing any longer to participate in the persecution. Events present a clear choice to the officials and citizens of China, as well as people around the world: either support or oppose the persecution of Falun Gong. History will record the choice each person makes.
The Epoch Times publishes in 35 countries and in 19 languages. Subscribe to our e-newsletter.
Click www.ept.ms/ccp-crisis to read about the most recent developments in the ongoing crisis within the Chinese communist regime. In this special topic, we provide readers with the necessary context to understand the situation. Get the RSS feed. Who are the Major Players?