A relative of the Australian mother and three children killed in a car fire in Brisbane on Feb. 19 has said the children's father who allegedly set alight their car is a "monster" who the family "exhausted themselves" trying to escape.
Mother-of-three Hannah Baxter, 31, was taking her children Aaliyah, 6, Laianah, 4, and Trey, 3, to school in a family car when the children's father, Rowan Baxter, 42, allegedly doused the white SUV in petrol and set it on fire.
By the time police arrived at the scene on Raven St. in Brisbane's Camp Hill at 8:30 a.m. Wednesday, the children had already died inside the vehicle, and the mother was transported to a hospital but succumbed to her injuries.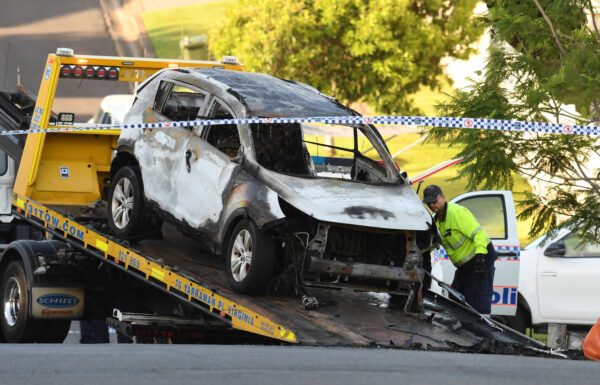 Witnesses say, Mr. Baxter—a former member of Auckland's New Zealand Warriors squad in Australia's National Rugby League (NRL)—ambushed his family by jumping into the vehicle's passenger seat. He reportedly set the car alight after emptying a gas can full of fuel. He shouted at bystanders not to help and stabbed himself to death.
Emergency crews attempted to revive him, but he was pronounced dead at the scene.
Baxter's sister-in-law, Stacey Roberts, wrote in a Facebook fundraiser set up overnight to help cover funeral costs, that the family had been desperately trying to flee the 42-year-old.
"As you may be aware my beautiful sister-in-law and my nieces and nephew had their lives taken by a disgusting human being they called their father," Roberts wrote. "For all those who knew Hannah or had even just met her once would know how much of a beautiful soul she was, her children were her life."
"All she ever wanted was happiness. Her children were only a reflection of her. Gorgeous happy kids who held a massive piece in my heart and I'm sure many others cause that's exactly what they were like. We will miss them all more than anything!"
The slain mother's brother, Nat Clarke, described how she attempted to escape the clutches of her abusive partner …"
"Yesterday … I had my sister, nephew and two nieces taken from me in the worst way possible …" he wrote.
He said his sister had lived with parents, Lloyd and Suzanne Clarke, since December—when the pair allegedly separated. Her estranged husband remained in their former family home and the pair were reportedly in a custody battle.
"My sister Hannah Clarke/Baxter always tried her best to bring joy to all those around her and only ever wanted the best for her kids," he said in an emotional tribute.
"This was all from a great upbringing from my loving mother and father Suzanne Clarke and Lloyd Clarke, they too always do (their) best to help out others in need and have exhausted all there energy and money into trying to help my sister and her kid(s) …"
A witness described the horrific moment the mother was dragged out of the burning car by a resident, the Courier-Mail reported.
She reportedly screamed, "He's poured petrol on me!''
Australia's Prime Minister Scott Morrison described the news as "devastating" on Twitter.
Devastating news out of Camp Hill. My heart goes out to the families and community going through this tragic time and the emergency responders confronting what would be a shattering scene. If you or anyone you know needs support, call Lifeline on 13 11 14. https://t.co/qJDieLMRiN

— Scott Morrison (@ScottMorrisonMP) February 19, 2020
"My heart goes out to the families and community going through this tragic time and the emergency responders confronting what would be a shattering scene," he wrote.
Detectives say they are still working to establish how exactly the fire started.
"How the fire actually occurred has not been ascertained at the moment, so for us to call it a murder-suicide or a tragic accident, it's inappropriate at this stage," said Detective Inspector Mark Thompson, SBS reported. "I've seen some horrific scenes—this is up there with some of the best of them."