A mother and her boyfriend from Ohio have been sentenced to life in prison for the death of her 4-year-old daughter on March 20.
Sierra Day, 24, received life in prison without parole, while her boyfriend Deonte Lewis, 27, was sentenced to life in prison with the possibility of parole after serving 20 years, reported ABC 5.
Mother and her boyfriend to be sentenced for killing 4-year-old Aniya Day-Garrett. More here >> http://bit.ly/2YcRSiP

由 News 5 Cleveland 发布于 2019年3月20日周三
Day and Lewis were arrested and charged with aggravated murder in the death of Aniya Day-Garrett, who died on March 11, 2018. On that day, authorities were called to Cultural Garden Apartments in Euclid, where they found Aniya unresponsive. She was rushed to the hospital and pronounced dead.
According to the Cuyahoga County Medical Examiner's Office, Aniya had suffered a stroke that was allegedly caused by a subdural hematoma from blunt impacts to the head more than a week prior to March 11, reported the news station. Her death was eventually ruled as a homicide. Officials also found evidence that Aniya was malnourished and only weight 29 pounds at the time.
According to testimony from a deputy medical examiner, Aniya was suffering from chronic physical abuse and neglect.
The jury found Day and Lewis guilty on charges of aggravated murder, murder, felonious assault, permitting child abuse, endangering children and tampering with evidence on March 7, after taking less than a day to deliberate.

During Day's sentencing, Judge Timothy McCormick described Day's actions as "callous." He said, "In my 24 years, I don't think I've seen such a callous disregard for human life that Sierra showed Aniya," reported the news station.
"I cannot temper justice with mercy," he added, reported Fox 8.
'[They] Ruined My Entire Life"
Aniya's father, Mickhal Garrett, spoke before the sentencing. He said, "These two monsters ruined my entire life."
He also spoke about how Aniya was stolen from him and how he would never get the opportunity to watch his daughter grow up. Garrett was fighting for custody at the time of his daughter's death.
"I truly hope this never happens to no other child," Garrett said, reported ABC 5.
Last year, Garrett shouted at the couple during their first court appearance in March.
"You killed my [ommited] daughter," Garrett shouted at the couple, reported Fox 8. "You hurt my baby."
Garrett said he petitioned for custody of his little girl and had tried to warn authorities that she was being abused. Garrett's family had made a number of complaints to the Cuyahoga Cuyahoga Children and Family Services to report bruises on the girl's body, such as rug burns and black eyes.
The agency confirmed that it had received three calls about Aniya in 2017 and was investigating the claims. However, the agency concluded that there was not enough evidence to warrant removing the child from her mother's home, reported the news website.
"I did everything in my power to let them know you know that I was a standup dad and that my daughter was being harmed and abused at home and this was an emergency," Garrett said at the time.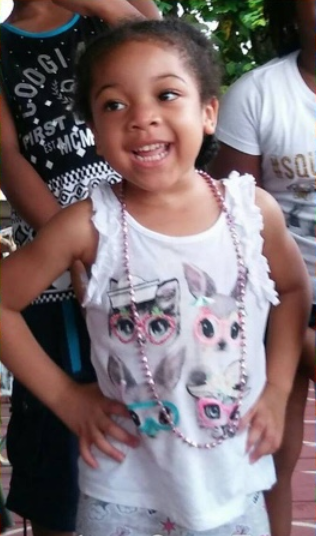 Aniya's paternal grandmother, Rachael Garrett, told reporters last year that, "this beautiful 4-year-old daughter's life was cut down, senselessly."
"Beaten, abused, battered, starved … you have to be heartless," she added.
A GoFundMe account set up by Garrett last year raised over $23,500 to cover the expenses of Aniya's funeral.
Police Report Details Chronic Abuse
Tamika Robinson, the administrative assistant of Aniya's daycare facility, Harbor Crest, told police that she noticed what she believed were signs of abuse in May 2017, according to a police report (PDF).
"I was like, Niya, what happened to your face? Oh my God. And she was like, 'Mommy pushed my face in carpet, but mommy said I fell at the park,'" Robinson told WOIO. "Three days later … Niya comes walking in the door. Niya has three lumps in her head with blood clots in them. Niya is bleeding from her ear."
Robinson called 911 and the child was rushed to the hospital for treatment. It was there that she told a county Children and Family Services worker that "mommy hits her and hurts her," according to the police report.
At the daycare center, Robinson went through the girl's file and found similar incidents dating back to 2015, including bruises, scrapes, and even handprints on the child's body.
The police report cited the files, stating there were 14 reports and in eight of those Aniya had verbally reported that "mommy hit me" or "mom did it."
Despite the reports, it appears that no charges had been filed prior to the girl's death.
Reporter Zachary Stieber contributed to this report.