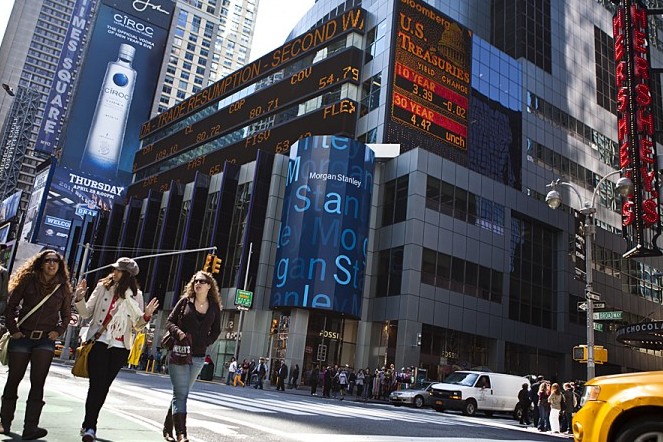 Salaries for senior investment bankers and traders at Morgan Stanley Co. are being targeted for a 20 to 30 percent pay cut in 2012, the company revealed this week.
For the New York-based bank, more than half of its revenues in 2011 were dedicated to paying staff. The investment firm spent $16.5 billion on staff pay, constituting 51 percent of its $32.4 billion revenue, last year.
James Gorman, the chief executive officer and chairman, has been in the position since 2010 after replacing longtime executive John Mack. Despite his aim to decrease staffing costs, in 2011 the firm's compensation-to-net-revenue ratio was still 62 percent. This amount is comparatively higher than at competitors such as Goldman Sachs Group Inc., which had a compensation-to-revenue ratio of 42 percent, and JP Morgan Chase and Co.'s investment arm, which had a 34 percent ratio.
Gorman said that the profit margins "aren't where we hoped they'd be," in a conference call with analysts this week. The world's largest brokerage announced that its fourth-quarter earnings dropped due to a substantial amount of money, $1.7 billion, being channeled to settle a legal dispute with bond insurer MBIA.
Overall, its revenues fell 26 percent in the fourth quarter to $5.7 billion, compared to the same quarter a year ago. This constitutes the lowest revenue for the bank since the second quarter of 2009.
According to Reuters, Morgan Stanley Smith Barney brokers gained more pay last year, compared to its traders and investment bankers. Compensation for brokers was a combined $2.1 billion, or 62 percent of the firm's wealth management net revenue, as opposed to $1.55 billion, or 42 percent, of net trading and investment banking revenue allocated to its traders and bankers. These figures do not factor in the high costs of the major litigation settlement.
Morgan Stanley made a policy of limiting employee cash bonuses to $125,000 and converted higher value payments into stock and options for senior executives.