The campaign to recall California Gov. Gavin Newsom is approaching its deadline to submit the number of signatures required to trigger an election.
But even if it does, the work won't stop there, said a Recall Newsom official.
The campaign has until March 10 to gather signatures, and until March 17 to turn the signed petitions into each county's Registrar of Voters Office.
After all the signatures are submitted, there's a long process that must happen before a recall election is scheduled, said Anne Hyde Dunsmore, campaign manager for Rescue California, a group behind the recall effort.
When final signatures are submitted, registrars have 30 days to notify the secretary of state's office about the total number of signatures submitted and validated. This will happen April 29, Dunsmore said.
Once the secretary of state is notified, things become more complicated, Dunsmore said, since it's up to state legislatures to determine when other recall-related events will occur.
Also, after April 29, there will be a 30-day period where voters will have the option to withdraw their signature.
"Now that's a fairly expensive process when you want to remove [signatures]," Dunsmore said. "It's one thing if you want to do it in a state Senate recall, it's another thing if you want to do it on something where there's millions of signatures involved. We do not believe that they are going to engage in a big effort to get people to withdraw their signatures."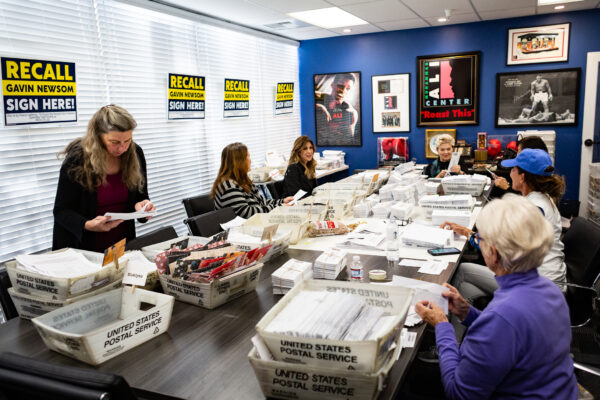 Next Steps
After voters are given an option to withdraw their signatures, county elections officials will report the number of signatures withdrawn to the secretary of state, who will then determine if there are still enough signatures collected. The Department of Finance will be notified if there are.
"We're estimating that by sometime at the end of June, might be as late as mid-July, they will have to call an election for 120 to 180 business days from that point … then you're looking at an election that will probably be sometime mid-September, as late as October, [or even] as early as August," Dunsmore said.
Officials could try to hold a special election during a time that best suits their interests, Dunsmore said.
"They may look at it and decide that [Newsom] does more damage to himself and that prolonging the election doesn't make any sense and they don't want [other candidates] to raise their name ID," she said. "They may decide to string it out, they may decide to make it sooner rather than later. Fact of the matter is that the people don't decide that. The supermajority of both houses and the governor's office and all the Democrats in statewide office get to decide that interest."

Candidates in the special election can file to run 60 to 80 days before the election.
It might be a smart move for Newsom to call the elections sooner rather than later, Dunsmore said, because it would allow candidates less time to raise money that will be used against him.
Dunsmore said that the circumstances of counting ballots are different than a typical election.
"Unlike regular elections, we don't get to watch them count," she said. "Some counties may let us watch them count, but it's not mandated like it is on a regular election. So we don't know who they're throwing out or why. We can't challenge it.
"There's no such thing as a recount on a recall."
These factors could make the election "susceptible to games," said Dunsmore. She added that turning over more than the required number of signatures will "take care of a lot of those shenanigans."
"I believe that our results will be indisputable, and I think they will reflect how people and the voters feel, and the shenanigans won't," Dunsmore said. "The shenanigans are further going to inflame the upset that the voters are already feeling.
"If [Newsom] doesn't handle it properly and doesn't instruct his legislators and his statewide officials, his director of finance and so forth, to do what they can to support the people as well to have a special election, he will stand to lose for that."