At least 38 UK Cabinet ministers and ministerial aides tendered their resignations on July 5 and 6 as Conservative MPs called on Prime Minister Boris Johnson to go.
The Whitehall exodus was triggered on July 5 after the prime minister admitted that it was a "mistake" to keep Chris Pincher in government roles despite sexual misconduct allegations against him.
It started with the shock resignations of Health Secretary Sajid Javid and Chancellor of the Exchequer Rishi Sunak on July 5 and has continued to snowball since then.
Conservative Party Vice Chair Bim Afolami and Solicitor General Alex Chalk also resigned on July 5.
By July 6, at least 15 ministers, three trade envoys, and 17 parliamentary private secretaries had handed in their resignation letters.
Besides Javid and Sunak, the ministers who resigned include Minister for Children and Families Will Quince; Minister for School Standards Robin Walker;  Minister for Housing Stuart Andrew; Minister for Agri-Innovation and Climate Adaptation Jo Churchill; Minister of State at the Ministry of Justice and Minister for Afghan Resettlement Victoria Atkins; Economic Secretary John Glen; Minister for Local Government, Faith, and Communities and Minister for Equalities Kemi Badenoch; Minister for Levelling Up, The Union, and Constitution Neil O'Brien; Minister for Skills Alex Burghart; Government Whip, Lord Commissioner of HM Treasury and Minister for Industry Lee Rowley; Minister of State for Media, Data, and Digital Infrastructure Julia Lopez; Minister for Employment Mims Davies; Minister for Safeguarding Rachel Maclean; and Minister for Exports and Minister for Equalities Mike Freer.
Nadhim Zahawi became the new chancellor on July 5, while Johnson's chief of staff, Steve Barclay, became the new health secretary.
Michelle Donelan, previously the minister for higher and further education, filled the vacancy left by Zahawi to become the new education secretary.
The rest of the jobs remain vacant, but Johnson's press secretary said the prime minister will be able to fill all the posts.
"There will be further appointments over the coming days," she said.

Javid: Enough Is Enough
Pincher, MP for Tamworth, England, resigned from the whips' office and had his Conservative Party membership suspended last week over the alleged groping of two male guests at a Conservative Party private members club on June 29.
The allegations have put Downing Street under pressure to explain why Pincher, who had resigned as a junior whip in November 2017 following a complaint that he had made an unwanted pass at former Olympic rower and Conservative candidate Alex Story, was given the job of deputy chief whip in February.
Downing Street stated last week that Johnson wasn't aware of any formal complaints against Pincher, only to admit this week that the prime minister was told about an investigation and had forgotten about it, triggering the mass resignation.
It's a major blow to Johnson, who narrowly survived a vote of confidence last month that saw 41 percent of Conservative MPs voting to oust him.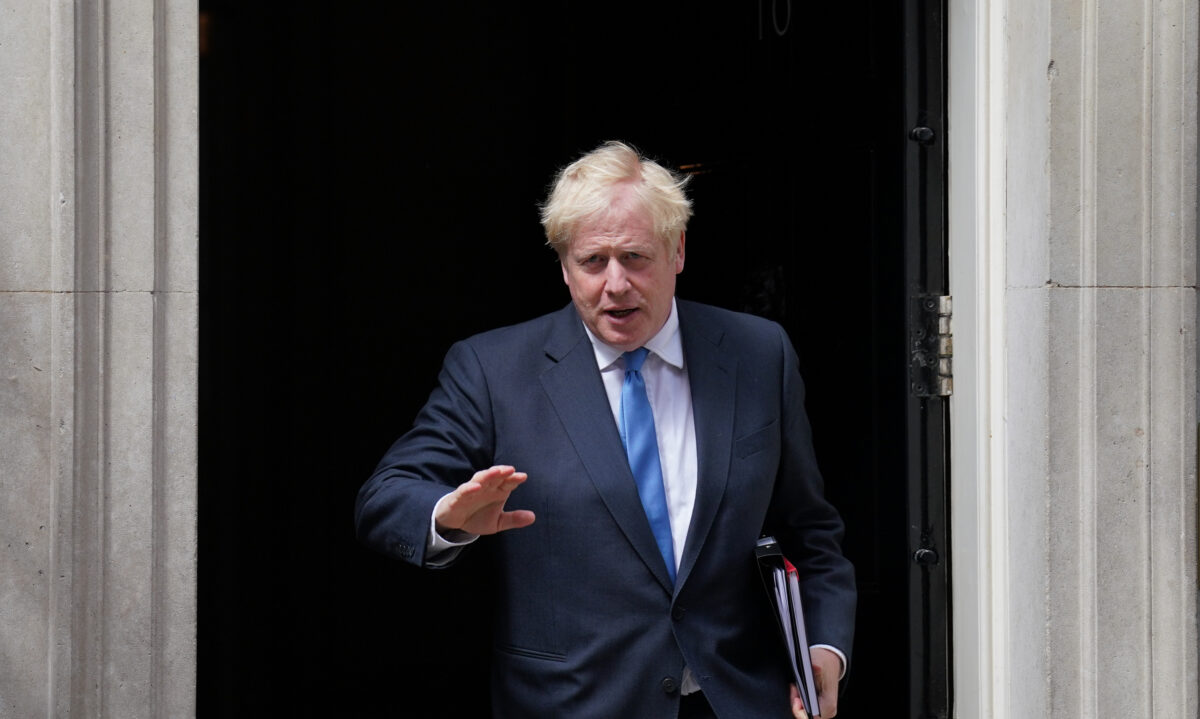 MPs demanded on July 6 that Johnson resign during Prime Minister's Questions in Parliament, with a number of Conservative MPs who had backed Johnson last month saying that they no longer have confidence in him.
Reading a personal statement on his resignation, Javid was critical of the prime minister: "Treading the tightrope between loyalty and integrity has become impossible in recent months."
He said he had given Johnson and Downing Street the benefit of the doubt a number of times during the "Partygate" saga, when Johnson initially assured Parliament that there had been no parties.
"Now this week, again, we have reason to question the truth and integrity of what we've all been told," Javid said. "And at some point, we have to conclude that enough is enough."
Conservative MP Tim Loughton asked Johnson, who has resisted pressure to resign for months, whether there are "any circumstances" in which the prime minister believes he should resign.
Johnson cited "being frustrated in our desire to support the Ukrainian people" as a possible scenario in which he may resign, but vowed to "keep going."
"If there were circumstances in which I felt it was impossible for the government to go on and discharge the mandate that we've been given or if I felt, for instance, that we're being frustrated in our desire to support the Ukrainian people," Johnson told Parliament."But frankly, Mr. Speaker, the job of a prime minister in difficult circumstances, when he's been handed a colossal mandate, is to keep going. And that's what I'm going to do."
Johnson later told a select committee of MPs that "I really don't think that anybody in this country wants politicians to be engaged in electioneering now or in the immediate future."