More Than 350,000 Chickens Killed In Xinjiang Bird Flu Epidemic
July 23, 2006 12:00 am Last Updated: July 23, 2006 12:00 am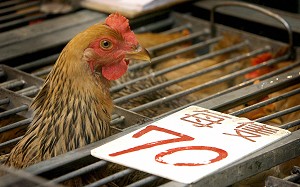 The Chinese Ministry of Agriculture announced that a bird flu epidemic broke out in northwest China, Aqsu City, Xinjiang Uygur Autonomous Region, killing more than 350,000 chickens.
According to a statement on the website of the Chinese Ministry of Agriculture, a bird flu epidemic broke out in Aqsu City on July 14 where three thousand and forty-five chickens died. The specimens of the dead chickens were sent to the National Bird Flu Laboratory for examinations. On July 21, it was verified that these poultry were infected with H5N1 virus, Highly Pathogenic Avian Influenza (HPAI). The statement did not mention anything about local residents.
To stop the epidemic from spreading, Xinjiang Animal Health Division has sealed a radius of 1 kilometer as the core blockade area, a radius of 3 kilometers as outer blockade area and a radius of 5 kilometers as forced immunity area. The authorities killed the rest of the domestic fowls in two farms and all domestic fowls in the other 30 farms. In all, 356,976 chickens have been killed.
Since last May, there have been 37 bird flu epidemic outbreaks in China killing12 people.