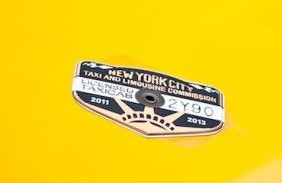 NEW YORK—A bevy of new yellow taxis will be popping up around Manhattan this year, while new licenses will be sold to livery cabdrivers in the outer boroughs for the first time.
Yet the numbers and specifics of the five-borough taxi plan can get a little overwhelming.
To start with, the 2,000 new medallions (licenses) that would increase Manhattan's licensed fleet by 15 percent will not all be issued this year. The Taxi and Limousine Commission (TLC) must submit an Environmental Impact Statement, which they currently have a private firm working on, before any medallions get issued.
A detailed traffic analysis of 52 intersections and the impact on taxicab fare revenue and medallion value are key parts of the statement.
Provided the statement is approved, the commission will be allowed to issue 400 medallions this year. Then, 800 would be issued in 2013 and 2014, respectively. Each medallion will be auctioned off for about $700,000. All newly licensed taxis must be wheelchair accessible.
However, more than 400 medallions cannot be issued before the completion of a Disabled Accessibility Plan, which needs approval by the state Department of Transportation.
The commission is working on the plan, said Allan J. Fromberg, deputy commissioner for public affairs, though he could not provide any details.
These 2,000 new medallions, if all goes well, are projected to bring in $1 billion for the city.
Then there are the outer borough licenses. Livery cabs with medallions will now be able to legally accept hails, avoiding the fines they currently face.
TLC observers watching hot spots outside Manhattan recorded people illegally hailing livery cabs on the street—for instance, at Mermaid Avenue, Stillwell on Coney Island, 65 illegal hails were observed, while outside of the ferry terminal in Lower Manhattan, a daily average of 300 illegal hails occurred.
Up to 18,000 outer-borough licenses are being made available for the first time. The TLC wants to issue the first 6,000 this year for $1,500 each—good for three years.
"The main goal is to get the service out there," said TLC Commissioner Yassky, "[even] if that means that there's a little money left on the table … from the view of the taxpayers. As it is, we will face a real challenge in getting the people who are doing this illegally now to get legal."
The new outer-borough cabs will also have to install credit card machines, meters, and GPS units.
Outer-borough means outside of airports and north of West 110th Street and East 96th Street in Manhattan, where 95 percent of all yellow taxi street hail pickups happen.
At least one-fifth of the new licenses will go to wheelchair accessible taxis. The TLC is offering grants up to $15,000 for retrofitting vehicles or purchasing accessible vehicles.
After this year, the commission plans to release 6,000 more outer-borough licenses in 2013, with the price climbing to $3,000 each. In 2014, they plan to issue the remaining 6,000 for $4,500 each.
Two public hearings about the proposed plan will be held, one on March 22 and the other on April 19.