Faced with long waits at the ports in Los Angeles, more companies are delivering goods to East Coast and Gulf Coast ports to save time and money.
The Port of Baltimore welcomed the arrival of a ship on Dec. 14 that delivered 1,800 new Mercedes-Benz vehicles, including about 600 that were scheduled to be delivered to the West Coast. The port also announced two new contracts with some of the world's largest shipping companies.
November marked the sixth straight month that imports at East and Gulf coast ports grew more rapidly than West Coast ports, according to container shipping expert and founder of Blue Alpha Capital John McCown.
"The pandemic pushed West Coast growth ahead, "McCown said in a report released Dec. 16, "but it has subsequently fallen behind again. The last six months have shown a pronounced move away from the West Coast as shippers direct container routings to minimize congestion."

East and Gulf Coast ports imports increased nearly 10 percent during November, while West Coast ports decreased by nearly 8 percent, according to McCown.
The ports with the largest increases were Charleston, South Carolina, up 36 percent; Houston, up 25 percent; and Norfolk, Virginia, up 13 percent.
At the same time, Los Angeles and Long Beach imports decreased by 13 and 5 percent, respectively.
One reason for the increased traffic to eastern seaports is the lower cost, McCown said.
Shipping from Asia or China can cost $20,000 or more per container once companies charge premium fees to deliver goods faster. Then the goods must be transported across the country, adding to the time and cost of the delivery.
Eighteen months ago, the all-inclusive rate to ship an ocean freight container was about $2,400 to the East Coast and $1,500-$1,600 to the west, according to shipping logistics expert Jon Monroe, of Monroe Consulting.
The cost to deliver containers to most eastern ports is typically much lower compared to hauling goods by rail from the west, McCown said, adding that backups in Los Angeles were caused by operations at the terminal.
"The actual data underscores that the bottlenecks in Los Angeles are inside the terminal," he said.
On Dec. 16, 94 container ships were waiting to offload goods at the twin ports of Long Beach and Los Angeles.
Ships were also waiting an average of 20 days to dock after they arrived near Los Angeles, the Port of Los Angeles reported Dec. 20.

By comparison, at the New York/New Jersey port, ships wait less than 1.5 days, that port agency said last month.
Despite record backups this year, the Port of Los Angeles has processed record numbers of containers, including more than 1 million in May, the most ever by a Western Hemisphere port, according to a port spokesman.
"So far, that's the most we have been able to do, but we're always looking at ways to improve efficiency," Port of LA spokesman Phillip Sanfield told The Epoch Times. "Either with infrastructure improvements, better use of data, or any other ways we can improve flow."
While Southern California ports continued to struggle with backups, other ports reported increases.
The Port of Houston imported 27 percent more containers in November compared to last year, taking in a total of 1.5 million.
Two major shipping companies began delivering goods to Baltimore this year, including Maersk, which started a new Southeast Asia/Vietnam and China service through Baltimore.
Maersk plans to run up to 13 ships carrying 4,500 containers each through that route, Baltimore port authorities said.
The Danish carrier announced earlier this year that it would start a new weekly service to the Port of Virginia at Norfolk from China and Vietnam to meet shipping demands.
Baltimore also welcomed deliveries of aircraft components from Airbus that traveled from China through the Panama Canal. The parts are headed to a plant in Canada.
The port has also started to receive ships carrying farm and construction equipment from Japan-based Kubota. Since July 2020, 26 ships have been diverted to the port because of ports that have become congested nationally, according to the Maryland Port Administration.
William P. Doyle, the Maryland port's executive director, said the port's ability to offload ships loaded with vehicles—plus its ability to get cargo to warehouses and distribution centers—made the port an attractive option for cargo owners to avoid supply chain slowdowns.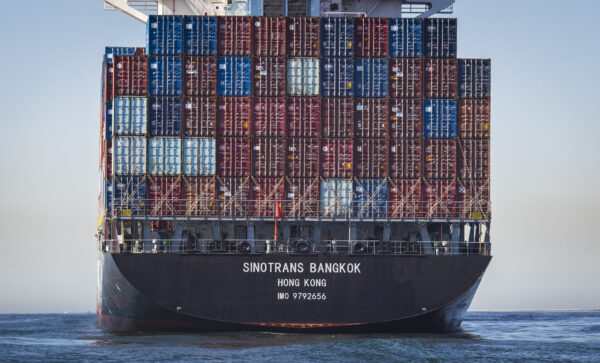 In addition, Baltimore started a tunnel expansion project enabling double-stacked container rail cars to use it.
Other ports are responding to the unprecedented surge in demand by U.S. consumers for goods, by improving port access for mega-ships. Jacksonville, for example, is spending $484 million to deepen its canal.
Houston, additionally, is investing $1 billion to expand and deepen its shipping canal, widening it enough to allow larger ships to dock.
The improvements to the ports of Houston and elsewhere won't mean that more ships will start to divert to these areas right away. Major changes to the supply chain distribution could take up to a year, Jim Kruse, director of the Center for Ports and Waterways at the Texas A&M Transportation Institute, told The Epoch Times.
"These things don't happen overnight," Kruse said. "It's going to take a while for that to happen. It may be six months or more before a permanent change would happen."
The Port of Los Angeles is also investing more than $430 million in port infrastructure.
Much of that will be invested in the wharves, but officials say plans include deepening berths and improving at least one terminal facility.
The port also has plans to make rail and other business and cargo improvements, port spokesman Sanfield said.