A person who can provide more details on Las Vegas shooter Stephen Paddock is his live-in girlfriend, Marilou Danley, who was cleared as a "person of interest" on Sunday—hours after Paddock shot and killed 59 people from his hotel vantage point.
Clark County Sheriff Joseph Lombardo said on Monday, Oct. 2, said that Danley, 62, was in Tokyo, Japan. It's unclear if she will return to the United States, Fox News reported.
"She was reported to have been in the Philippines at the time of the incident, but there are unconfirmed reports that she is no longer in the Philippines at this time," Philippine Department of Foreign Affairs spokesman Robespierre Bolivar told the Sydney Morning Herald.
He added there was "no official confirmation yet on her nationality, original or acquired." Danley was described as an Australian national who is originally from the Philippines.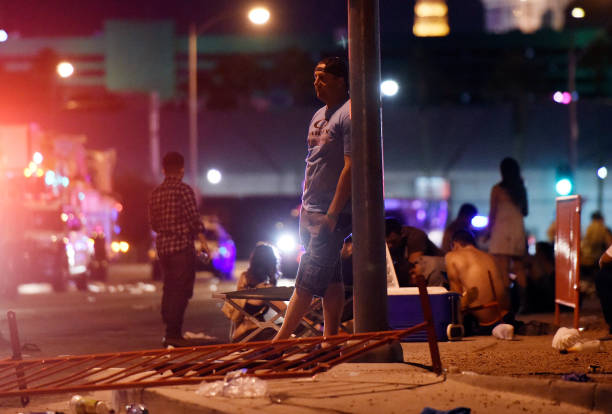 "I've met her three or four times," Paddock's brother, Eric, was quoted by CBS News as saying. "She's got a Facebook page; she sends my mom cookies."
Danley worked as a "high limit hostess" at Atlantis Casino in Reno from 2010 to 2013, Fox reported.
Danley was originally married to Arkansas Geary Danley and they divorced two years ago. A person who was listed as a witness in the divorce said she's not connected with Paddock's behavior.

"She had nothing to do with this psycho," the man told the Reno Gazette-Journal. "The poor lady, she is in the Philippines visiting family."
The Sunday night shooting spree from a 32nd-floor window of the Mandalay Bay hotel, on the Las Vegas Strip, killed at least 59 people before the gunman turned a weapon on himself. More than 500 people were injured, some trampled, in the deadliest mass shooting in modern U.S. history, Reuters reported.
Paddock was not known to have served in the military, to have suffered from a history of mental illness, or to have registered any inkling of social disaffection, political discontent or radical views on social media.
"He was a sick man, a demented man," President Donald Trump told reporters. "Lot of problems, I guess, and we're looking into him very, very seriously, but we're dealing with a very, very sick individual"
"We have no idea what his belief system was," Sheriff Lombardo told reporters on Monday. "I can't get into the mind of a psychopath."
Reuters contributed to this report.