A man accused of killing his wife on a cruise ship in Alaska on Tuesday reportedly told a witness that "she would not stop laughing at me," according to reports.
According to a federal criminal complaint, Kenneth Manzanares was charged with murdering his wife, Kristy Manzanares, 39, of Utah, in an apparent domestic dispute, CBS News reported. Passengers told CBS that the couple was traveling in a group that included their children.
A witness told officials that when he entered Cabin D726, where they were staying, he saw Kristy on the floor. The man then said he saw Kenneth try to take his wife's body toward the balcony. The witness then grabbed the woman's ankles and pulled her inside the cabin until security arrived, CBS reported.
"My life is over," Manzanares then told FBI agents.

He is being charged with murder.
"I get to floor 9. I see this little girl sitting on—I assume—her grandma or somebody, sitting on her lap wrapped up in a blanket. And she's just sobbing," said another witness, Brian Eckstrom, KTUU reported. "A man came walking out from the hallway where it happened and he had, like, a white tank top on, and some jeans. His jeans were completely covered in blood and he came out saying, 'It's not good, it's not good.'"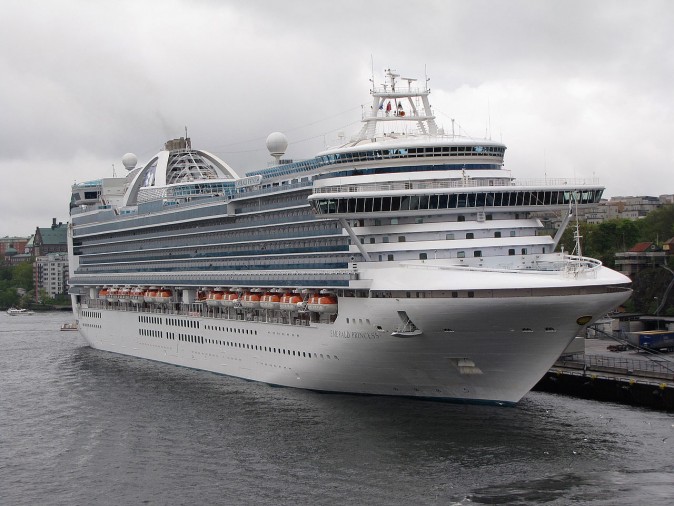 "It was evening for us, I had turned in and my wife was taking a shower and I heard terrible screaming, I mean you knew it wasn't normal," passenger Charles Rowlen told KTVA. "And it sounded like two or three ladies or girls, definitely women screaming."
The ship was carrying 3,400 passengers and 1,100 crew members as it traveled from Seattle on a seven-day round trip cruise. It had left Ketchikan, Alaska, on Tuesday but the slaying forced the crew to divert to Juneau.
In a statement, Princess Cruise said that "a domestic dispute occurred onboard Emerald Princess at approximately 9:00 p.m. on July 25, resulting in the death of a 39-year-old female guest from Utah."
"Our thoughts and prayers are with the family and all those impacted by this tragic event," Princess Cruises added.
The cruise operator later said the rest of the trip was canceled.
"Guests who had shore excursions booked for Tracy Arm fjord will have their shipboard folio credited automatically, and prepaid shore excursions will be refunded. Additionally, in light of the impact on guests' cruise vacations, Princess Cruises has issued each guest a $150 onboard credit," the cruise line said in a statement, ABC News reported.