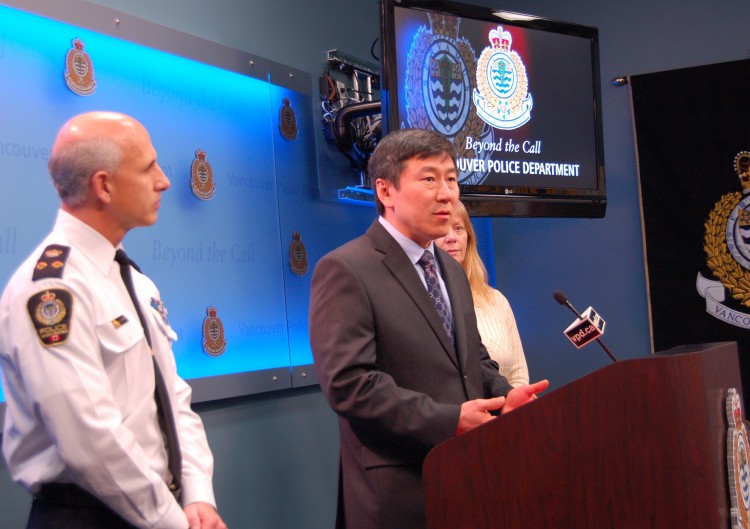 A former street nurse dubbed the "Erin Brockovich" of Vancouver's Downtown Eastside and "mom" to many of the sex trade workers slain by serial killer Robert Pickton, says much more could have come out of the Missing Women's Inquiry if the "right" witnesses had been given the chance to testify. 
Bonnie Fournier worked in the Downtown Eastside for over 30 years, including as the only full-time nurse for non-profit group DEYAS, where she operated a sex worker outreach van during the height of Pickton's killing spree between 1999 and 2003.
Fournier was the last to see slain sex trade worker Serena Abbotsway, and was personally close to 70 percent of the other women murdered by Pickton. She says she was one of the few authority figures the sex workers trusted and confided in. 
"I knew these girls, they would talk to me," she says, adding she often saw Pickton in the downtown eastside area. 
Pickton became known as dangerous to the women, who would warn each other not to go with "pig man" or "stinky," says Fournier. 
She claims that in 2000 she saw someone in a vehicle she believes was Pickton's dragging a screaming sex worker by the hair from the passenger side—implying that Pickton had an accomplice. The woman told Fournier she could not report the attack because "they would kill her."
However, she says she was initially shut out of the commission, and when she was eventually allowed to testify, she was asked few questions and her cross-examination was cut short.
"I was given no [time for my] testimony. Virtually none—just three questions by [Oppal's] own commission lawyers. And they were three specific questions and I was limited in my responses," she said.
"What I had to say was very relevant and it was first-hand—nobody saw what I saw."
Fournier also cites Bob Hiscox, who worked on the Pickton farm and tipped off police that he suspected the pig farmer was behind the murders, and RCMP civilian employee Bev Hyacinthe—who told police her son had seen bloody clothing in Pickton's truck—as a few of the many key witnesses who were shut out of the inquiry. 
"It was a decision by omission because the witnesses that should have been there were not allowed to stand," she says, adding she believes her and others' testimony would have revealed unflattering details about police.
"I know of police officers, correctional officers, others, who went to stag parties at Piggy Palace (a building on Pickton's hog farm). Now, I'm not saying they were involved in the murders or anything like that, or directly with [the women] going missing, but they went to Piggy Palace."
'Systemic Bias'
At a press conference in Vancouver Monday, former judge and B.C. attorney-general Wally Oppal released his long-anticipated report that examined the bungled police investigation into the dozens of Pickton murders.
In the 1,448-page report, Oppal cited "blatant failures" in police work and a fragmented policing system, as well as "systemic bias" and racism toward the mainly aboriginal victims, as major contributors to the mishandling of the investigation. 
Oppal's recommendations include creating a regional police force in Greater Vancouver by merging police departments, increasing funding for women's support services and shelters, and appointing a provincial "champion" for his report.
Based on Oppal's recommendations, Minister of Justice and Attorney General Shirley Bond pledged Monday to put $750,000 into a downtown women's drop-in centre to expand its hours of service.
She also committed to providing safer transportation for communities along the notorious Highway 16, or "Highway of Tears" in northern B.C., where many women have vanished or been found murdered.
Bond appointed former Lieutenant Governor Steven Point to look into implementing other recommendations from the report and chair a new advisory committee on the safety and security of vulnerable women.
She said "further discussion" is needed regarding Oppal's recommendation that the Lower Mainland adopt a more unified, regional policing model.
'It Was Not a Public Inquiry'
Criticism was constant and wide-ranging throughout the inquiry, with some arguing that Oppal's connections to the provincial government were too close for impartiality, that the inquiry was too narrowly focused, and that advocacy groups and those who worked closest to the victims weren't provided funding to participate.
Fournier says she thinks the inquiry was hobbled from the start due to political pressure and police favouritism. 
"I'm not against Wally Oppal, I'm against the commission itself. It was not a public inquiry. Under the public inquiry act it was abused, it was not followed," she says.
"If they had the right witnesses and the right combination, and dealt with it equitably and without bias and without prejudice, the inquiry could have been done [much earlier]. But instead it went into big bucks and [money] to lawyer's pockets, and a lot of expenses for the government."
However, she believes Oppal's recommendations can bring about improvement, and that Bond is sincere in her commitment to endeavour to incorporate them and improve conditions for marginalized women.
"We've got to make sure these recommendations are adhered to," she says. "The impression I got from Shirley Bond was that they intend to do just that." 
The remains of 33 women were found on Pickton's farm. He once told an undercover police officer that he had killed 49 in all. Pickton was convicted of six counts of second-degree murder and sentenced to life in prison.
On Tuesday, Vancouver Police Chief Jim Chu apologized for the force's failure to capture Pickton, telling reporters that they "could have and should have" caught the serial killer sooner.
The Epoch Times publishes in 35 countries and in 20 languages. Subscribe to our e-newsletter.