Monks' ID Cards, Other Security Discussed at Bombed Temple
July 10, 2013 4:16 pm Last Updated: July 10, 2013 4:16 pm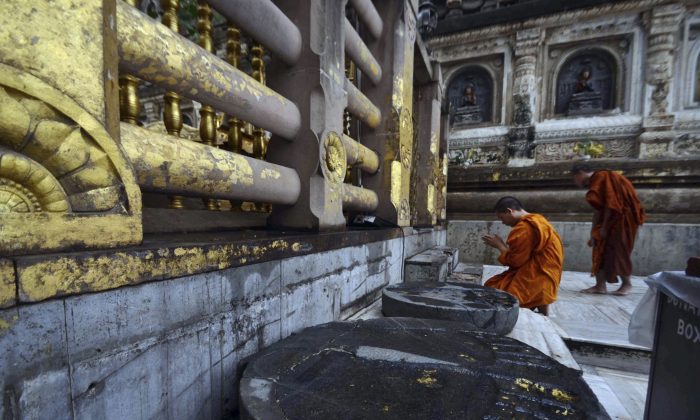 After Sunday's bombing at the Mahabodhi temple, said to be the site of Buddha's enlightenment, pilgrim and monk safety is a top priority. No one was killed in the nine blasts; two monks were injured.
Temple management is considering banning mobile phones, cameras, and bags on temple grounds, D. Balamurugan, Gaya District Magistrate and the Bodh Gaya Temple Management Committee (BTMC) chairman told Indian publication The Hindu. "There is a three-layered security in place now at the entry points," he said Tuesday.
A sub-committee formed after the blasts will give its recommendations for temple security soon. One recommendation is to provide identity cards to monks staying in various monasteries around the temple.
"Our temple is a little different from the others. We have thousands of devotees coming from the monasteries," Balamurugan said. "We have to engage the support of the monasteries to implement security measures. We don't want to hurt their feelings. There are resident monks in these monasteries and we cannot put them through multiple checks every time. So we are thinking about giving them identity cards. The BTMC has called for a list of resident monks."
A total of 13 bombs were planted on the site, though only nine exploded. One was planted 20 feet high on a Buddha statue.
The National Investigation Agency (NIA) has not ruled out the possibility that Indian Mujahideen, an Islamic terrorist group based in India, or ethnic Rohingya Muslims are responsible for the serial blasts. Rohingya Muslims have recently been under attack by Buddhist groups in Burma (also known as Myanmar).
Investigators announced a reward of 10 lakhs (about $16,700) for tips leading to the apprehension of the bombers.
Indian authorities had one suspect in custody on Monday.