A number of television shows are set for their winter premieres on Monday, January 5, including Gotham, Sleepy Hollow, and State of Affairs.
FOX's Gotham kicks things off at 8 p.m. EST, followed by the rest.
Check out official descriptions and spoilers below.
Gotham (8 p.m.)
In episode 11 of the first season, Detective Gordon reports to duty at Arkham Asylum. But his new assignment starts off rough when the murder of a guard ignites an investigation, although this does enable him to meet Dr. Leslie Thompkins (guest star Morena Baccarin). "We have a lot of plans for that relationship," executive producer Danny Cannon told TVLine.
The asylum is a dangerous place, but also a complex one. "Not only are there dangerously insane people there, but some people are put there for the wrong reasons," Cannon explained. "[Arkham]'s a big rug that corrupt Gotham can sweep people under."
Also in the episode, Cobblepot continues to build his arm, Bruce and Selina continue to bond, and some new information emerges about Alfred's past. 
Scorpion (9 p.m.)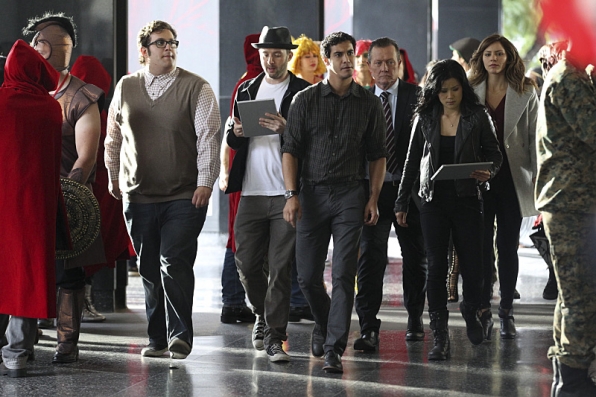 The team comes to Ralph's aid as the FBI questions him in "Kill Screen," or episode 13 of the first season.
Officials are concerned after Ralph's dark web game inadvertently reveals the location of a CIA safe house and results in the murder of CIA operatives.
EP Nick Santora previously told TVLine that Toby and Happy's relationship is complicated. "Toby is a student of human behavior and emotion, and Happy's an expert at hiding her emotions. We want to see them progress toward hopefully getting together one day, and while we can't promise if that will happen or not, we're moving that relationship along," he said. "And it might take a big step in Episode 15."
Sleepy Hollow (9 p.m.)
In episode 12 of the first season, titled "Paradise Lost," Moloch, Ichabod, and Abbie encounter an angel, Orion, who they believe can help them as they recover from their standoff with Moloch.
The trio will need assistance. There will be lots of creatures, and there are going to be plenty of trials and tribulations. But now they're trying to make sense of what it all means," showrunner Mark Goffman told TVLine. "Is there a plan? Did they thwart the plan? Is there somebody else behind it? We don't know."
Meanwhile, Katrina searches for the humanity in Abraham, while Irving will be back and the show will introduce Thomas Jefferson and Abigail Adams early in the season. 
NCIS: Los Angeles (10 p.m.)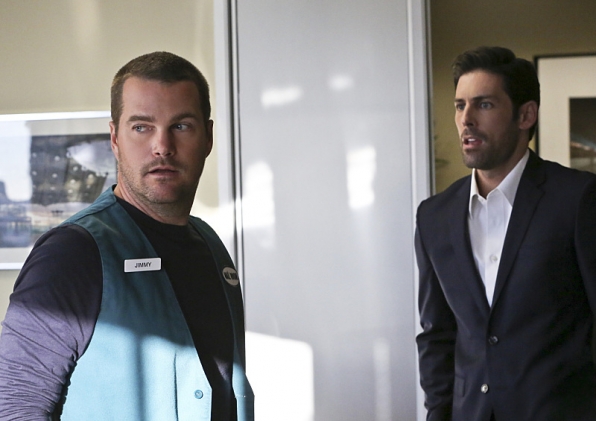 In episode 12 of season 6, "Spiral," Callen is undercover in the mail room of an office building to investigate an arms dealer.
But the building is taken over by terrorists, with Callen becoming a hostage.
The team arrives to help but they find the whole building wired with explosives.
State of Affairs (10 p.m.)

A slew of pictures of national landmarks suddenly surface in "Bellerophon, episode 7 of season 1, all featuring the symbol. And a college student claiming to be a group operative breaks into the White House.
The 7th floor team works to figure out the identities of the picture takers as the hunt for Al Moosari continues.
Meanwhile, Charlie, in Yemen, tries to contact her asset while evading the country's secret police.