For some, it will be little more than a blip in their holiday plans. But for thousands of others, the collapse of Monarch Airlines has been a cruel bolt from out of the blue: 2,100 jobs gone in the blink of an eye, dream holidays ruined, hundreds of pounds in replacement flights, and even a couple who couldn't get to their own £12,000 (US$16,000) wedding.
Monarch Airlines collapsed overnight into Monday, leaving 110,000 people potentially stranded abroad and hundreds more out of pocket.
For those who had already set off for the airport early on Monday morning, the news of the company's sudden collapse came as a shock, as hundreds arrived at Birmingham and Manchester airports to be told their flights were canceled and the airline a bust.
Monarch's 2,100 staff got little more notice, being informed by email that the jobs they had the night before no longer existed, as Monarch ceased trading, in the biggest ever collapse of an airline in the U.K.
Many passengers already abroad will barely be affected, however, with the government chartering 30 airplanes to bring back passengers from over 30 places over the next two weeks.
"We are putting together, at very short notice and for a period of two weeks, what is effectively one of the UK's largest airlines to manage this task," said  Andrew Haines, chief executive of the civil aviation authority (CAA) in a statement. 
"The vast majority of customers' new flights will be at the same time or later than their original booking, so they should continue to enjoy the rest of their holiday," said the CAA statement.
We have plans in place to get you back to the UK, if you're affected by the #Monarch situation. Visit: https://t.co/LcZLT4tkB6 @UK_CAA pic.twitter.com/Y265xp2sAm

— Dept for Transport (@transportgovuk) October 2, 2017
The CAA has been instructed by the government to handle the process, which was described by the Transport Secretary Chris Grayling as "the biggest ever peacetime repatriation."
One couple is having to cancel their wedding plans, after 30 family members arrived at the airport, only to be told the airline that was to take them to the dream wedding in Gran Canaria had gone into receivership.
"I have spent £12,000 on my wedding and now I can't even go and get married," Alan Jee told the BBC.
"I am gutted, absolutely gutted, and my missus is in tears, an emotional wreck," he said.
He added: "All my family has come from Lincolnshire by coach, now they can't even get home. We've got disabled children with us.
"I've got another 36 people coming out during this week and they are not going to be able to come out," he said.
The cruel twist of the insolvency announcement coming without warning in the middle of the night was because it had to be done when all aircraft are on the ground, said the KPMG, which has been appointed as joint administrators.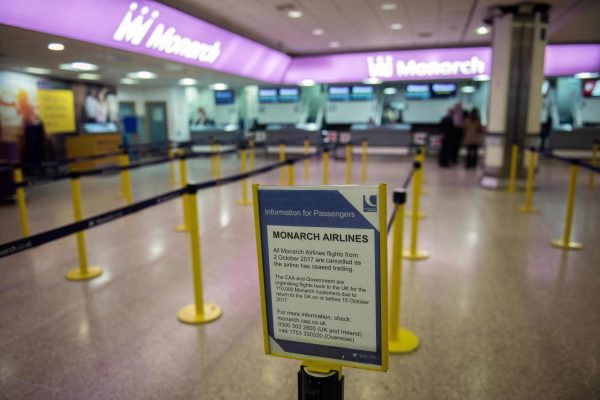 Blair Nimmo, partner at KPMG and joint administrator to the companies said, "Mounting cost pressures and increasingly competitive market conditions in the European short-haul market have contributed to the Monarch Group experiencing a sustained period of trading losses.
Monarch is the third major European airline to collapse this year. Some industry experts warn that it isn't going to be the last, either, with other airlines still battling with the same fierce economic winds driven by too much capacity within the cut-throat short-haul market.
"Overwhelmingly, though, this is a story of what happens when supply exceeds demand, which as all economists know, is that prices come down," said Ian King, Sky's Business Presenter.
"Ultimately, there are likely to be more airline failures, or at the very least more consolidation in the industry," he said in an analysis on Sky's website.
King said that is not possible for the old legacy carriers to survive against the newer large-budget airlines such as Ryan Air and EasyJet. "In the cut-throat European short-haul market, meanwhile, casualties are inevitable."
King quotes EasyJet executive Carolyn McCall, who outlined last week her expectation that the European airline industry would consolidate at the top, potentially putting the older, smaller airlines out of business.
"European governments are finally coming to grips [with the fact] that they can't protect their markets from more efficient airlines, such as low-cost carriers," King quotes McCall as saying.
"Wave one has already begun, with airlines such as Air Berlin and Alitalia that are in the midst of public sales. And this is just the beginning.
"It's going to take some time to play out, but I believe we will start to see mergers and consolidation between non-dying airlines to create real leadership positions and superior customer offerings."
After Monarch collapsed, people rushed to book new flights, and the prices on other airlines quickly went up, according to some people on social media, spawning angry outbursts and amusing memes on Twitter.
One spoof account, Elizabeth Windsor, tweeted: "Prince Charles saw the headline "monarch ceases trading" and got very excited. Sorry, dear. Mummy is still reigning."
Prince Charles saw the headline "monarch ceases trading" and got very excited. Sorry, dear. Mummy is still reigning. #Monarch

— Elizabeth Windsor (@Queen_UK) October 2, 2017
Many social media posts from those who had to fork out extra for flights or change travel plans noted that their misfortune was nothing compared to that of the airline staff.
One holiday-maker tweeted: "Nearly 3,000 staff at Monarch. For me it's just a cancelled holiday. For them it's their future. No ATOL protection for a job."
Nearly 3,000 staff at Monarch. For me it's just a cancelled holiday. For them it's thier future. No ATOL protection for a job.

— Kevin Osborne (@skinoverbone) October 2, 2017
Monarch Airlines staff were shocked when they were informed via email that they had lost their jobs overnight.
Natasha Slessor, a cabin crew member told the BBC: "Still can't believe it really, it's crazy. I just feel like I'm in a dream, it's a bit of a shock. We found out when we got the email this morning.
"How can you wake up and not have a job?" she asked.
About 250 passengers turned up at Leeds Bradford Airport to find flights canceled, the BBC said.
Phil Morcom from Leeds told the BBC: "Myself, my wife and my daughter were going to Dubrovnik for my niece's wedding on Wednesday.
"We are probably not going now but are busy scouring the web. We were not Atol-covered and had bought flights only so will lose the money it seems."
Several hundred passengers were also affected at Birmingham airport.
Ricky Lal, Tony Lal, and Steven Singh were traveling from Birmingham to Barcelona when they received a text from Monarch at 4:09 a.m., according to the BBC.
"No one's told us anything, just given us these leaflets with no information," said Lal.