A woman's letter and contract to her 13-year-old son has periodically surfaced, going viral over the years.
The woman, who went by the pen name Estella Havisham, said that her son disregarded her rules, saying he lied about his homework.
Her somewhat controversial letter reads as follows:
Dear Aaron,
Since you seem to have forgotten that you are only 13 and I'm the parent, and that you won't be controlled, I guess you will need to learn a lesson in independence. Also, as you threw in my face that you are making money now, it will be easier to buy back all the items I bought for you in the past.
If you would like your lamp/lightbulbs or access to the internet, you will need to pay your share of costs:
Rent: $430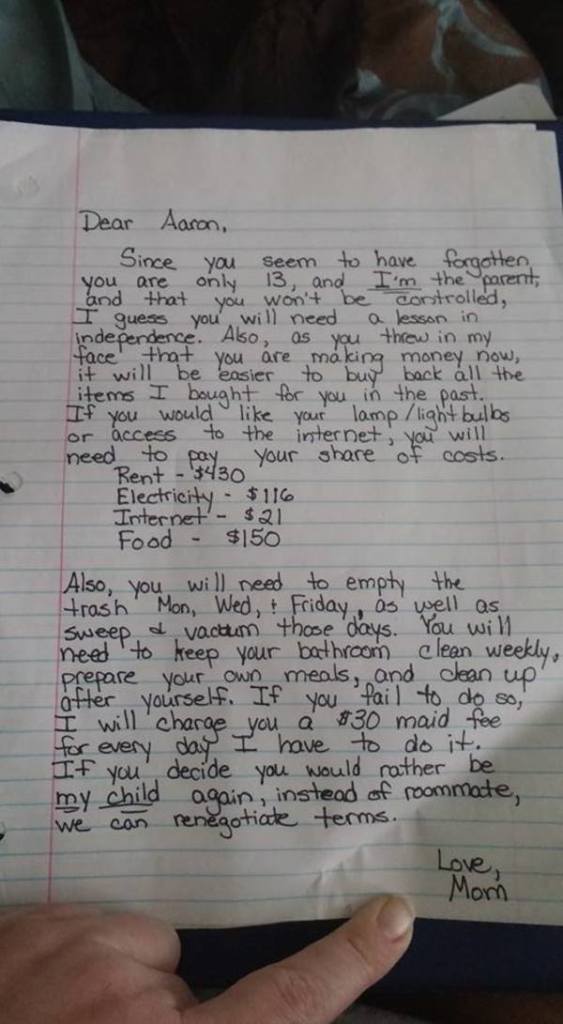 Electricity: $116
Internet: $21
Food: $150
Also you will need to empty the trash Mon, Wed & Friday as well as sweep and vacuum those days. You will need to keep your bathroom clean weekly, prepare your own meals and clean up after yourself. If you fail to do so I will charge you a $30 maid fee for every day I have to do it.
If you decide you would rather be MY CHILD again instead of a roommate, we can negotiate terms.
Love,
Mom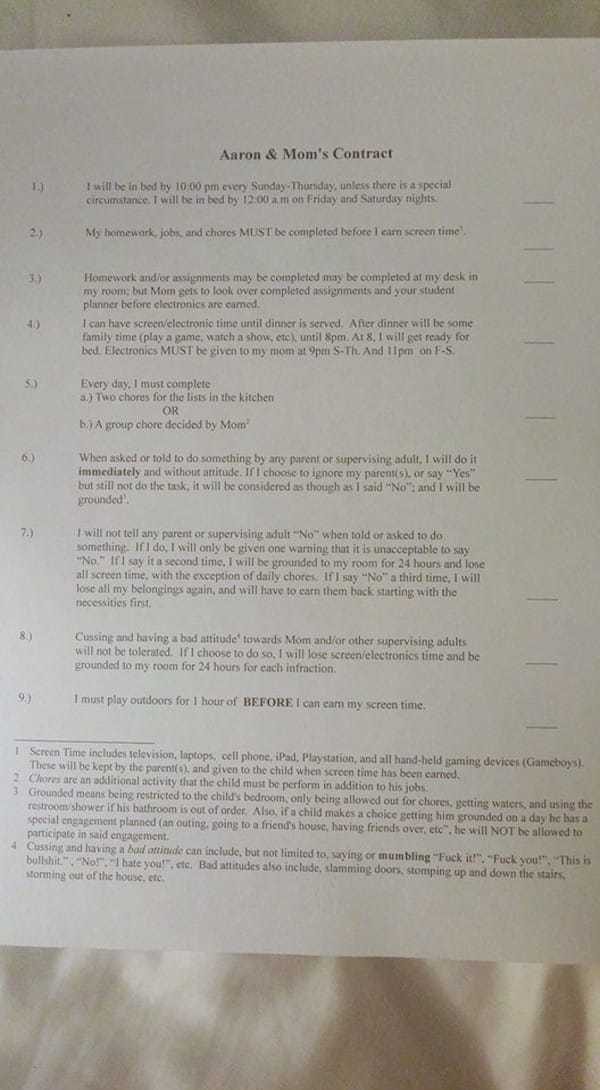 The woman said her son crumbled the note and got angry when seeing it. The boy, who was not named, then apologized to her and asked to earn back items that she had taken from his room.
She posted a follow-up note, saying, "I know my parenting style doesn't work for everyone. From the time he was little, I would have conversations with him on why behaviors were acceptable or not acceptable."
Her note came after some people criticized her parenting style, asking why she "shamed" him online. Some complained that she was going to force her teenage son out on the street, while others said she was posting the note for attention.
The mother said she posted the note as an accident and was meant for her family.
"Why publicly shame him? I'm not. It was an accident. I meant to post to just family and friends; and yesterday I couldn't figure out why I had over 100 friend request. I actually thought maybe my account got hacked or something. Yes, I could take it down, but so many people have already read and seen it at this point," she said.
Elaborating further, she said that "he will be a legal adult in roughly 4 years. I cannot send this child into college or the workforce with the attitude of 'I'll get to it when I get to it."
She also addressed the nature of the note.
"And people, let's get serious! I am not going to put my 13 year old on the street if he can't pay his half of the rent. I am not wanting him to pay anything. I want him to take pride in his home, his space, and appreciate the gifts and blessings we have," the mother said.
The bill was written to make a point that nothing in life comes for free, she said, adding that someone has to lose.
To clarify, she offered more expectations of her son, including doing his "best" in school, completing chores, being respectful, keeping good hygiene, making eye contact, and using proper manners.
"And, you know what… this hasn't hurt our relationship. He and I still talk as openly as ever. He has apologized multiple times," she continued.
Over the years, her Facebook posts have garnered thousands of "likes" and shares. A number of people have also praised her parenting style.