An English mother said she underwent a double mastectomy and chemotherapy after doctors diagnosed her with an aggressive form of breast cancer.
But it turns out that doctors had made a mistake.
Sarah Boyle, 28, said she was told that she was diagnosed with triple-negative breast cancer after having trouble breastfeeding her baby, the BBC reported on July 18.
Over several months, she underwent chemotherapy and had reconstructive surgery before doctors realized their mistake.
Mum undergoes chemotherapy and double mastectomy before being told cancer diagnosis was wrong https://t.co/KTh2yYn903

— The Independent (@Independent) July 19, 2019
The hospital that treated her blamed "human error" for the misdiagnosis. But it was too late as she already underwent several rounds of chemotherapy and had surgery at Royal Stoke University Hospital, the Mirror reported.
Boyle said that due to the reconstructive surgery, she might now be at a higher risk of developing breast cancer in the future.
The mother went viral in 2017 after she said she thought her baby son saved her life after rejecting her right breast during breastfeeding.
She said at the time: "He would completely freak out, he'd become extremely distressed and would scream the house down."
"He just wasn't having it. I had no problems with my left breast but every time I tried with my right he would start screaming and get very upset. He wouldn't go near it," she recalled.
In 2013, she also noticed a lump, but a doctor told her it was a cyst.
But after the breastfeeding issue, doctors made the fateful diagnosis that adversely impacted her family, she said.
"The past few years have been incredibly difficult for me and my family," she told the Mirror. "Being told I had cancer was awful, but then to go through all of the treatment and surgery to then be told it was unnecessary was traumatizing."
She added: "And while I was delighted when I gave birth to Louis, it was really heartbreaking when I couldn't breastfeed him. As if that wasn't bad enough, I am now worried about the possibility of actually developing cancer in the future because of the type of implants I have and I am also worried about complications that I may face because of my chemotherapy."
Related Coverage
Boyle said she now wants answers as to why it happened, and she wants to make sure that it doesn't happen to anyone else.
A lawyer representing Boyle, Sarah Sharples, said that the case is "truly shocking."
"The entire experience has had a huge impact on Sarah in many ways," Sharples said. "While we welcome that the NHS Trust has admitted to the clear failings, we are yet to hear if any improvements have been put in place to prevent something like this happening again."
Mother says baby son helped detect her cancer after he repeatedly rejected her right breast during breastfeeding https://t.co/5HXOh0vIdI pic.twitter.com/a5z2pn6YdR

— ITV News (@itvnews) February 20, 2017
The lawyers are also concerned about the reports about the type of breast implants she got after the surgery.
"Understandably, Sarah has a number of questions that need to be answered with regards to this and it has caused her significant distress," she said.
In a statement to the BBC, the University Hospital of North Midlands NHS Trust said that "the misreporting of the biopsy was a human error." The trust offered an apology to Boyle, saying it "understands how devastating this has been."
The hospital said that all cancer diagnoses are being reviewed by a second pathologist.
Chuck Norris Sues Over MRI
Actor and martial artist Chuck Norris and his wife, Gena O'Kelley, sued 11 medical companies, saying Gena was poisoned by a drug used in routine magnetic resonance imaging (MRI) scans, CBS News reported. The FDA months later announced it would issue a warning on "dyes" used in MRIs.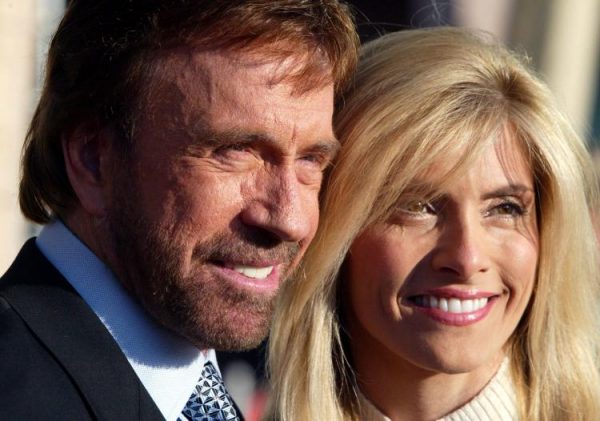 The companies that make the contrasting agent used in some MRIs say it is safe, adding that they're used in millions of MRIs.
"I couldn't think anymore, any type of cognition, being able to articulate, my memory, I had muscle wasting," O'Kelley told CBS, describing how she felt after some routine MRIs.
"She's dying, she's dying right in front of me here at this hospital," Chuck Norris, 77, said.
MRIs are used by doctors to diagnose diseases by taking pictures of the inside of the body. Sometimes, doctors inject a contrast agent into a patient during the procedure to get a sharper image. Norris and O'Kelley blame a gadolinium-based agent used in contrasting agents for O'Kelley's health issues.