Even the most experienced drivers can have trouble with icy roads, and those dangers became a reality for a young Wisconsin woman, her friend, and her 5-month old child.
Nineteen-year-old Nycole Stream lost control of her vehicle along a highway in Apple River, amid icy and frigid conditions, KARE-11 reported. Stream's vehicle careened off the road and flipped over as it landed in a freezing pond.
Luckily, several good Samaritans soon came to their rescue.
Terry and Pamela Blegen were the first to stop at the accident. Pamela called 911 while Terry waded into the freezing water to rescue the three passengers. As he tried to reach them, others pulled over to help.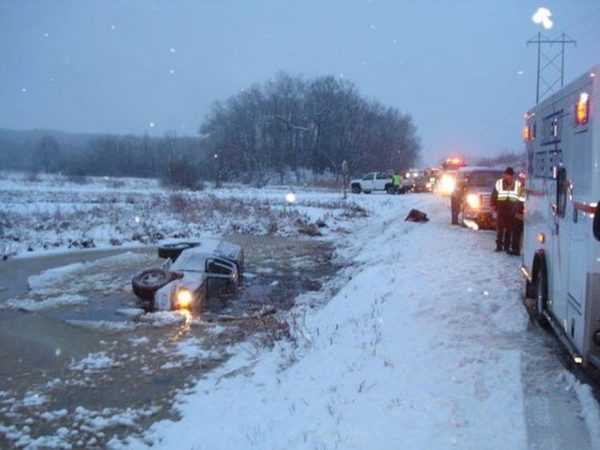 "My husband jumped into the water and the truck was filling up with water. Finally, a couple of gentlemen stopped and got out and were helping," Pamela told KARE. "The mother started screaming, 'My baby, my baby,' and it became more tense."
The 5-month-old boy, Ayidden, was underwater when Deb Penberthy and Lee Harr came upon the accident. Harr used a knife to cut the baby out of his car seat.
"That's what we do, we help. When you are in trouble, we help," said Penberthy, according to KARE-11.
Amazingly, no one was seriously injured in the crash.
"I could have died that day. Just 5 more minutes, I would have been completely frozen," said Stream's friend, 16-year-old Krystyna Walenczak. "That water was so cold and it makes you so grateful inside that this world isn't completely as corrupt as you think it is. There's perfectly normal people out there that will do anything for perfect strangers."
Both Walenczak and Penberthy noted the child could have easily died.
"It's heaven sent. This baby, that day, was so blue. He was the color blue of [his bib]," Penberthy told WBIR-TV a few days later.